7pm-4am curfew in 13 counties to remain until July 31: Uhuru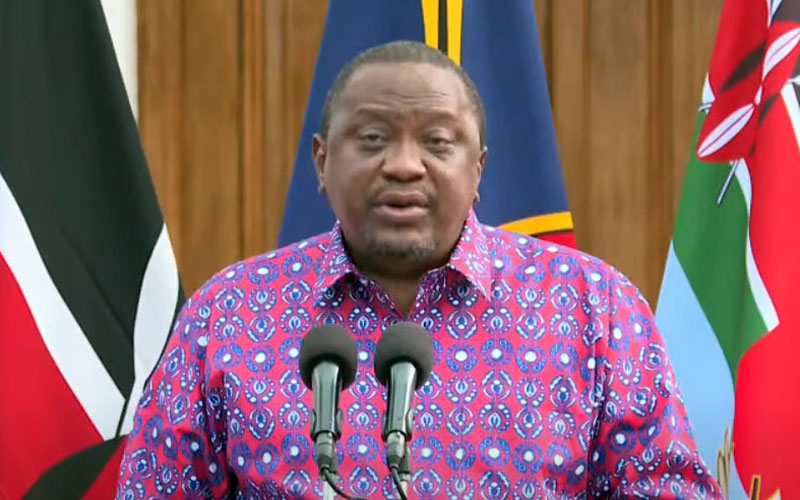 President Uhuru Kenyatta on Tuesday, June 29 extended the 7pm to 4am curfew in 13 Covid-19 hotspot counties until July 31.
These counties are: Busia, Vihiga, Kisii, Nyamira, Kakamega, Trans Nzoia, Bungoma, Kericho, Bomet, Siaya, Kisumu, Homa Bay and Migori.
In other parts of the country, the curfew restriction would continue running from 10pm to 4am for another 60 days, starting June 29.
Other measures that would remain in place are a ban on political gatherings, capping burial and wedding attendance to 100, and conducting of burials within 96 hours of death confirmation.
In the Public Order Number 4 of 2021, the President said patients' visitors in hospitals will continue being limited at one visitor per patient daily.
Kenyatta also directed that all persons arriving in Kenya from foreign nations must produce a valid certificate indicating they are not carriers of Covid-19. The certificate must be acquired 96 hours to the travel date, the President said.
The Head of State said worship in other parts of Kenya, besides the 13 Covid-19 hotspot counties, should be conducted by restricting congregants to a third of the worship centre's capacity.
Kenyatta said Kenya has ordered 13 million doses of single-shot Johnson & Johnson Covid-19, which will arrive in August 2021.
The President said Kenya had initially acquired ten million doses, but the vaccine distributor, out of good will, added an additional three million doses.
Kenyatta estimated that by December 2021, ten million adults would have been vaccinated against Covid-19.
"An additional four million adults would be vaccinated by June 2022," he said, projecting that by the end of 2022, 26 million adult Kenyans would have gotten the Covid-19 jab.
The Head of State lauded Kenyans' commitment to fighting the contagion, saying their efforts have complemented the policy actions put in place by the Government.
"The people of Kenya have exercised a very admirable degree of civic responsibility in this fight," he said.