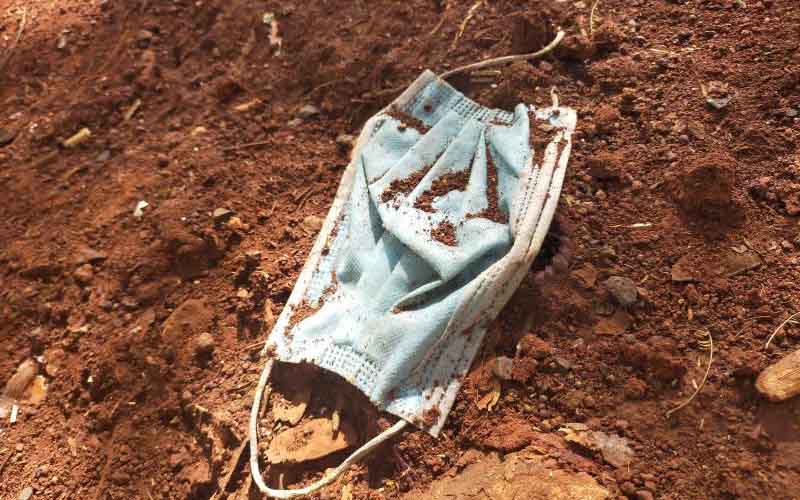 They are easy to access, part of fashion and comfort. They are meant to offer protection against Covid-19. But they are also likely to be the next big thing...in terms of destruction.
It is estimated that 75 per cent of the used face masks will not be properly disposed of. They are hence more likely to contaminate the environment.
This is the other crisis the Covid-19 pandemic is accompanying itself with.
Gilbert Atuga, a research scientist at Kenya Marine and Fisheries Research Institute (KMFRI), says according to models and accumulated data, 23.8 million disposable masks are used daily in Kenya. This translates to 714 million face masks a month. Globally, more than 129 billion face masks and 65 billion hand gloves are used and dumped monthly.
You don't have to be keen to spot a carelessly disposed face mask as you walk along the streets in many an urban area. This does not mean the countryside is safer. In some places, streets and corners are filled with dirty masks, occasionally moved even with the slightest change in the wind's strength.
On April 15, last year, the government made it mandatory for Kenyans to wear face masks, and imposed a fine on anyone found without one in public places. But the bigger risk of contaminating the environment, hence negatively affecting biodiversity if not well discarded, was not considered.
A lot of the face masks in circulation are made from long lasting plastic materials, and can therefore survive in the environment for years. According to available literature, plastics break down into micro-plastics and then to smaller nano-plastics. The tiny particles are polymers that can find their ways into food. A single mask can produce millions of such particles.
"Compounded with the element of Covid-19 and Covid-19-related waste, the problem can be magnified, especially with pollution arising from improper disposal of masks, sanitiser containers and all plastics-related waste like clothes, which are used in relation to Covid-19 prevention," says Mr Atuga.
A standard face mask, as per the Kenya Bureau of Standards regulations report titled DKS 2636: 2020, should be between 17cm and 19.5cm long and between 9cm and 10cm wide. However, this varies, as there are different types of masks.
Data from the Ministry of Environment and Forestry in 2019 showed that Kenyans generated an approximate 22,000 tonnes of waste daily. Of this, healthcare waste was projected to be 220 tonnes.
The Covid-19 pandemic has increased the burden with generation of many types of infectious wastes, including masks, gloves and other protective equipment.
According to World Wildlife Fund, plastic pollution was projected to double in the next 10 years, and this pandemic has only made a bad situation worse.
Face masks are light and easily moved by wind. Eventually they land in water channels or the larger environment.
Atuga says when plastics enter the ocean, they affect more than 800 marine species. "They tangle these plastics and through these entanglements they die. Also, some species mistake these plastics for food," he says, and adds: "We eat fish for protein nutrients, and eventually whatever gets into the ocean will come back to us."
Harm birds
Face masks not only affect marine life, they also harm birds. Recent images from watchers and scientists show that some birds end up entangling themselves on lying face masks, limiting their movement. This eventually causes more harm.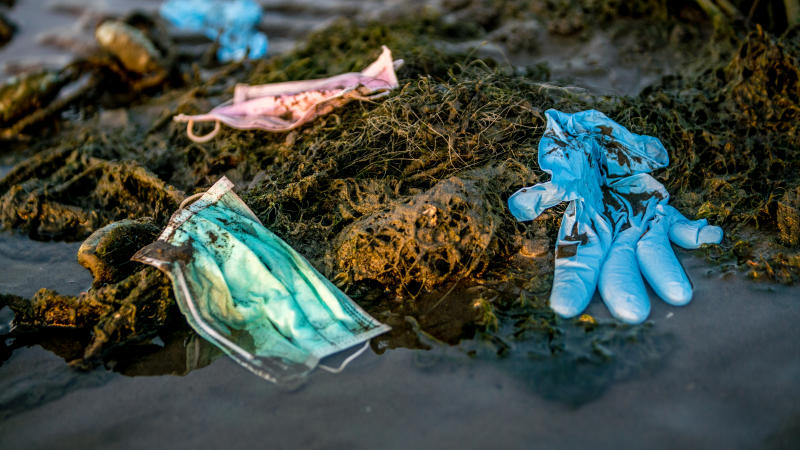 "We have this culture; people just like throwing things. We are the waste generators, but we want government to do something... We must take responsibility for our waste," notes Mamo Boru, the Director General of the National Environmental Management Authority (NEMA).
The Authority released national guidelines on waste management at the start of the pandemic.
According to the guidelines, waste ought to be disposed in five tiers. However, practically, especially in home settings, this is hard to achieve.
The Dandora dumpsite in Nairobi is one of the largest such facilities in Kenya and all kind of litter finds its way there. In 2020 there were allegations that street children were picking used and dumped PPE and using them as rain jackets, while others were said to be washing and reselling them to unsuspecting Kenyans.
But Samuel Kioko, the dumpsite's representative, told The Standard used face masks cannot be recycled.
"If you take a look at this dumpsite, there is no place where face masks are packed, unlike plastics bottles, which can be recycled. Those were propaganda messages," Kioko said.
He added: "There are some PPE that were brought in last year. We are told they came from some flower firms. Some airports and hospitals also use and dump PPE. If you use PPE, it is only fair that you dispose of it at your station as we are not able to differentiate used from unused."
He said no one working at the dumpsite had contracted Covid-19.
Mary Wangui finds used masks in a sack at the dumpsite. She is not wearing hand gloves and says masks are put together and thrown further inside. "I am aware that Covid-19 is here, but this dumpsite is what I rely on, and I can only hope I will not get sick," she says.
In an ideal situation, most of the dirt taken to the dumpsite should be decomposing, but due to plastics and face masks, huge mountain piles are forming.
NEMA says handling of waste is the responsibility of the county government.
"NEMA's work is to provide technical backstopping to the counties. Whenever they need our input we will be there to help the counties to implement waste management regulations," says Mr Boru.
Despite being a counties' responsibility, the institutions seem to have neglected the face masks disposal matter.
"Face masks disposal is not something many people think much about. In Makueni County, we are putting trash bins for collection of plastics on one side and biodegradables. Face masks, just like plastics, usually go together," says Mary Mbenge, the Chief Officer, Natural Resources, Environment, Sanitation and Climate Change at Makueni County.
She says face masks disposal is something many do not consider a big problem.
The challenge with face masks is their mass production and use. The masks are used in urban and rural areas.
"The county government should provide yellow coded bags so that all such masks, gloves or what we call the biohazards are separated at collection point and taken to facilities where we have incinerators," says Boru.
Incinerators necessary
In order for proper disposal of infectious waste to take place, incinerators are necessary. Experts say that ideally, all Level 5 hospitals should have incinerators.
In 2020, the World Bank released $3,387,600 (Sh367,554,600) for medical waste disposal, but the money was to ensure safe disposal of medical waste related to Covid-19 management.
The money was sent to selected hospitals in counties. This plan did not include handling of infectious waste from the general public.
"When we talk about groups that clean up the beach, it offers a short-term reduction strategy of reducing plastics. But you are reducing what is already in the environment. If we don't control the sources of such waste, it will continue to be there," says Atuga.
Related Topics