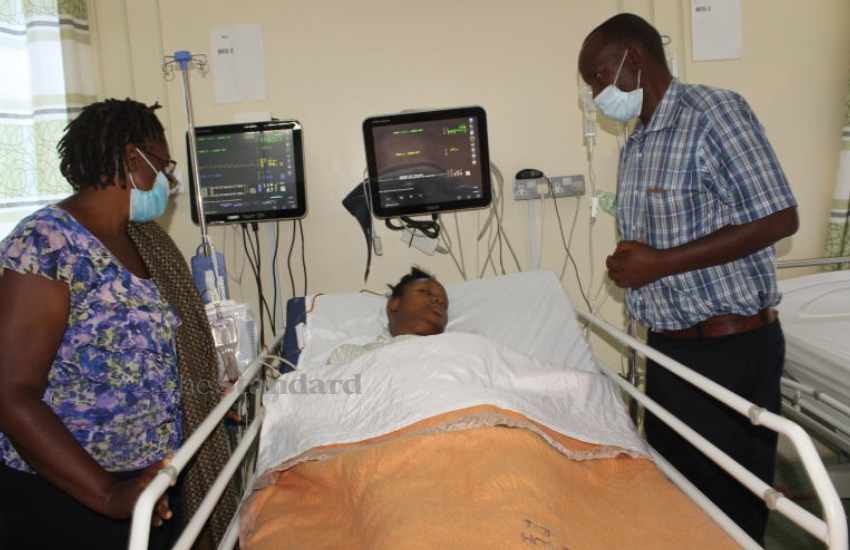 What began as a headache spiraled into a comma, a meningitis diagnosis and eventually into a brain condition that took her family to India seven times, blowing Sh20 million in the process.
Eventually, after seven years of seeking treatment abroad, Madlene Cherop was healed after an open-head surgery at a hospital in Eldoret, Uasin Gishu County. The six-hour surgery was the first of its kind there.
Cherop's father, sergeant Richard Biwott, told Health & Science that his daughter first complained of a headache in December 2014 while in Form Two.
But it was Dr Florentius Koech, an Eldoret-based neurosurgeon, who gave the now 23-year-old fourth-year Bachelor of Education student at Riara University, a new lease of life.
Cherop had been diagnosed with what medics suspected to be meningitis. But further examinations at the Moi Teaching & Referral Hospital (MTRH) revealed she was suffering from brain arteriovenous malformation (AVM).
The neurosurgeon at MTRH explained that the AVM was deep-seated on the right side of the brain and had caused large blood clotting and rupture.
Biwott flew his daughter to India where doctors preferred embolisation (bloodless surgery) and radiosurgery to an open-head surgery which had more medical dangers.
But here in Kenya, Dr Koech advised that an open-head surgery be conducted if Cherop was to heal completely from the recurring brain condition.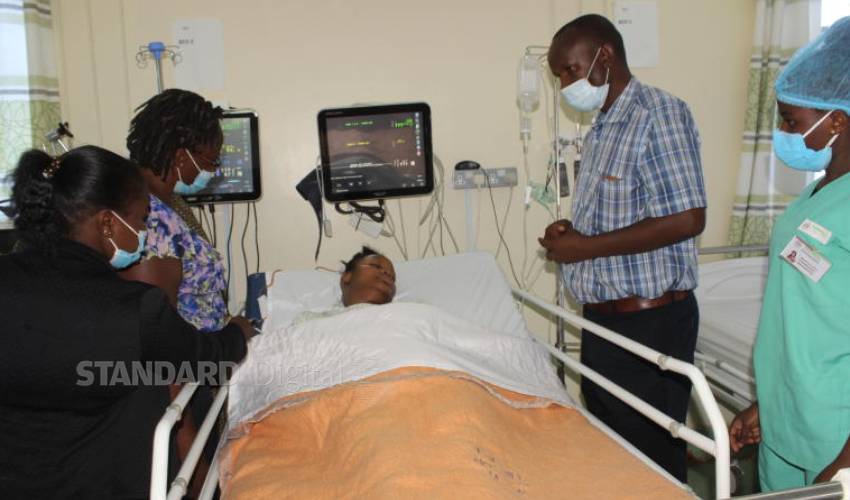 The open-head surgery was "the last option and is risky because the AVM had grown with time, but since we have removed it," explains Dr Koech. "We are sure that she is cured if she gets through this stage."
According to Dr James Munene, a cardiovascular surgeon, AVM is an abnormal tangle of blood vessels connecting arteries and veins, which disrupts normal blood flow and oxygen circulation. It can occur in any part of the body, "from the foot to the brain even including the tongue, lips and hands."
Dr Nikita Mehta, another cardiovascular surgeon, explains that AVMs are rare, affecting less than one per cent of the population. "There is no consensus on causative factors," she says. "But genetic and chromosomal abnormalities are implicated though not all AVM are inherited disorders and can occur sporadically."
But treatment can be costly.
Biwott says in India, the embolisation and radiosurgery cost them at least Sh3 million, but the open-head surgery in Eldoret cost Sh1.2 million at Tophill hospital which was affordable compared to the travel and living expenses that came with seeking treatment outside Kenya.
Biwott recalls that travelling abroad means "you have to pay for the air tickets, book hotels and spend on meals and treatment. We would spend Sh3 million at a go, and still go back to India that same year, for a medical review. That is very costly."
Ambulance came for her
Sergeant Biwott was lucky. The comprehensive medical cover from the National Police Service, took care of Sh16 million in his daughter's treatment. The family footed out of pocket, the remaining Sh4 million in travel, accommodation and living expenses in the times they travelled to India.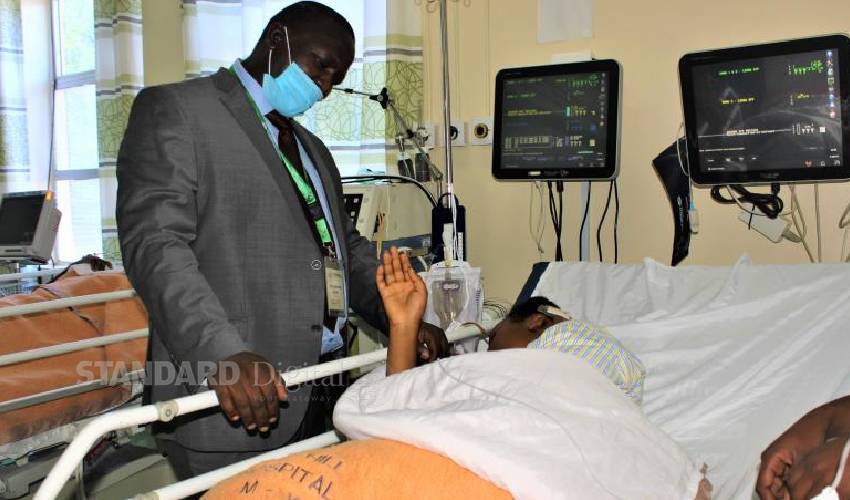 Six weeks after being discharged from hospital in Eldoret, Cherop's father says she has made tremendous progress and that "she is now fully recovered. She can do all the domestic chores like cleaning, cooking. Her hair is even growing well and she is back leading worship songs in church."
When Cherop complained of a severe headache in 2014, she was rushed to Likuyani hospital where she collapsed for hours. Medics suspected she had meningitis after the headache developed into convulsions.
Cherop was rushed to MTRH where "doctors did a CT scan and the results showed that she had a brain haemorrhage from the AVM," recalls Biwott, adding that she was given drugs to manage pain and the pressure in the brain resulting from the bleeding.
They were also informed that ensuing operations "would be a complicated and needed further treatment" which was how Cherop was flown to India where medics said that the AVM was located deep in her brain, in an area responsible for eyesight.
"They echoed what the doctors in MTRH had told us, that an open-head surgery would be very dangerous and that our daughter might lose consciousness and her sight," narrates Biwott.
The doctors in India opted for a bloodless operation called endovascular embolisation; a procedure which treats the abnormal blood vessels by blocking off blood flow to affected area in the brain.
The family travelled at least once or twice a year to India and a repeat embolisation was done. By 2019, medical review showed that Cherop's illness was clearing "but doctors warned that the condition might recur. We held on faith, praying that our daughter gets healed fully and we never lost hope," said Biwott.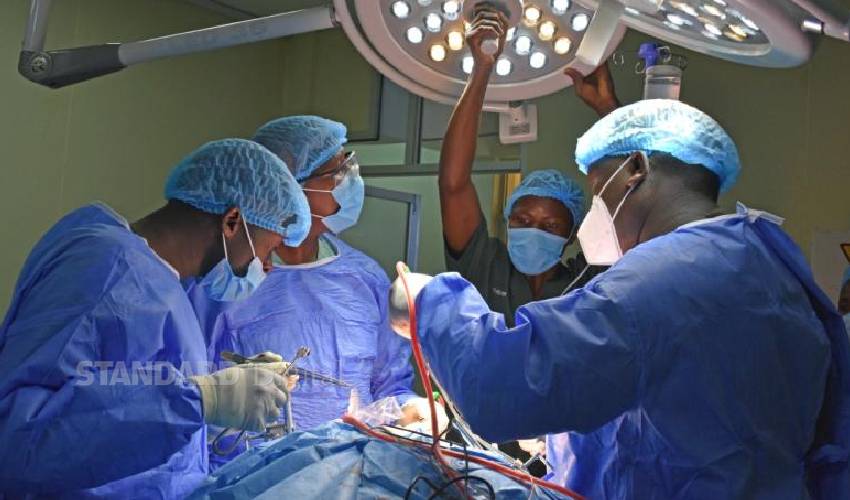 But a trip to India for her annual review was affected by the outbreak of the coronavirus and its attendant effect on international travel, but she continued with her regular medication until early this year when the severe headache and shivering recurred.
The family thought it was malaria but further examination in Eldoret revealed that Cherop had had another rupture in the brain. The doctors advised the family to consider an open-head surgery since the embolisation had not achieved the desired outcome.
"I had my own fears," said Biwott. "We have the assumption that we do not have required facilities in the country. Most of us trust medical services abroad more than what we have here locally."
Doctors warned that even as they signed the consent forms, they were to be alive to the dangers, including loss of sight, speech, consciousness, paralysis and even death.
"It is a miracle that our daughter sailed through the operation. And she was able to see and recognise us and even speak minutes after she came from the theatre," said Lydia, Cherop's mother.
Cherop on her part reckons "I now feel better and I believe that I am going to live a normal life like others. God has fought for me."
Related Topics