Home
/
Health & Science
Uproar after MoH sends erroneous vaccination messages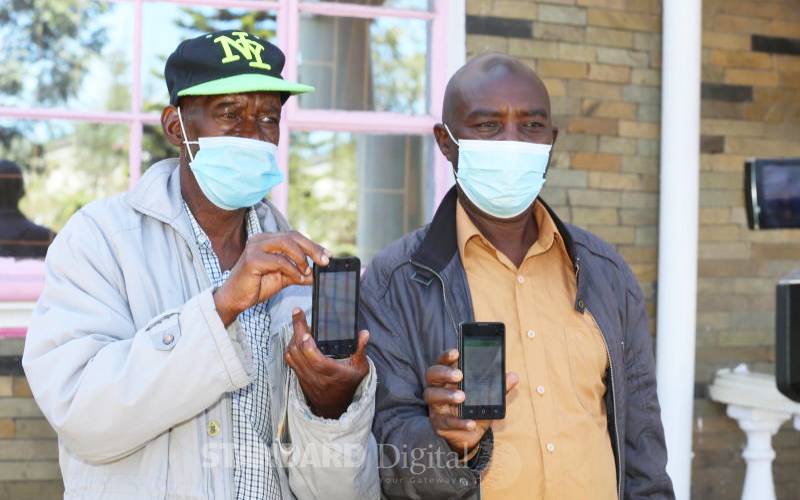 A section of Nakuru residents has raised concerns after they erroneously received text messages from the Ministry of Health (MoH) indicating they had received the Covid-19 vaccine jab.
The recipients cited failure in the health information system, saying they were yet to be vaccinated.
Samuel Chege, 61, said he visited Nakuru Specialist Hospital, a private facility last week, but found a long queue at the vaccination centre.
"I registered my name on a manual list on Wednesday but wasn't vaccinated. On Thursday we were told they had run out of the vaccines. On Tuesday we were told to wait at home until another batch is delivered and we would get a call," said Chege.
At 1.15pm shortly after leaving the facility, Chege received a message indicating that he had received the jab and when his second dose was due.
"Congratulations Samuel on receiving your 1st dose of the Covishield vaccine batch no 4120Z030. Next dose is on Tuesday 01/06/2021. Powered by MoH," the text message read.
This came as a shock to Chege who immediately reached out to Joseph Abuti, 67, whom he had met and exchanged contacts at the vaccination centre.
"I received a similar message at 1:23 pm. At first, I thought it was meant to give me an appointment for the first dose. I read it several times and was shocked to realise I had [supposedly] already been vaccinated and would be due for a second dose on June 1," said Abuti.
Word spread among the registered but not vaccinated residents as they shared similar tales raising suspicion of a possible foulplay.
"There has been growing mistrust with government programmes and my first thought was that someone else had received a jab that I had registered for, perhaps at a fee," said Abuti.
On his part, Chege explained that with the looming shortage of the free vaccine, they had every reason to get worried as some of the health facilities administer different vaccines at a fee.
A group of concerned residents drawn from various villages in Lanet with similar predicament visited the facility demanding explanations.
Nakuru Specialist Hospital Chief Executive Officer Dr Babu Mwinga calmed the senior citizens assuring them that the incident was a technical hitch.
"We received the complaints and immediately raised the same with the Health ministry which is capturing all data on an integrated portal. It emerged the messages were erroneously sent and this is being corrected," said Mwinga.
He added that a manual backup will be used to countercheck those whose records had been affected.
"We had received 120 doses but 600 people turned up. We have over 400 who registered for vaccination at our centre. Once more doses are available they shall be administered to the registered persons on a first come first served basis," said Mwinga.
Nakuru Governor Lee Kinyanjui said the county was anticipating running out of the vaccines by tomorrow evening if there won't be additional supplies received.
"We received 30,000 doses and by Wednesday morning we opened vaccination centres with a cumulative total of 1,000 doses. These will be depleted by Thursday," said Kinyanjui.
The governor noted that the county was recording a drop in the number of infections reported per day since the government put in place stringent measures on five counties, Nakuru included.
Meanwhile, Uasin Gishu health executive Dr Evelyne Rotich has dismissed reports that a local died from adverse reaction to the Oxford-AstraZeneca jab.
Rotich told The Standard in an interview that the deceased was ailing, and did not succumb to Covid-19 injection.
The woman, she said, was been ailing at home, and had not been hospitalised.
According to Rotich, the woman died five days after injection.
"Nobody has died in the county after receiving Covid-19 jab. We have one death, of a woman who died, but she had been very sick. She did not die because of Covid-19 injection," she said.
Dr. Peter Ikamati, the Deputy Director, at the Pharmacy and Poisons Board, said the death could have been as a result of miscarriage and not the jab.
Related Topics