Home
/
Health & Science
Oparanya secures Sh1.2b for HIV initiatives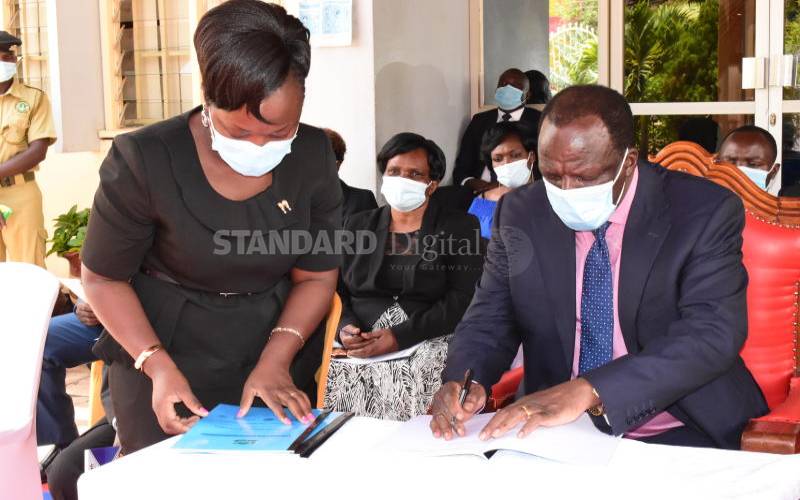 The County Government of Kakamega has inked a Sh1.2 billion deal with the United States Agency for International Development (USAid) for funding of HIV/Aids programmes.
Governor Wycliffe Oparanya said the deal would benefit more than 47,000 HIV/Aids patients in 12 sub-counties.
The memorandum of understanding was signed on Monday, and will see his administration receive Sh240 million towards the initiative annually for five years.
The deal proposes establishment of a clear framework for management of the donor facility, with Moi University, AMPATH and Moi Teaching and Referral Hospital (MTRH) being co-opted into the arrangement to ensure smooth running of the initiative.
Mr Oparanya hailed the USAid gesture, saying it would ensure the success of the HIV/Aids healthcare programmes launched by his administration.
"USAid has been so supportive to us. It has assisted my county in hiring additional staff to bridge the gap of medical personnel, providing healthcare to the people living with HIV and other healthcare initiatives," said Oparanya.
Part of the funding will go towards payment of salaries for 501 health workers and community health volunteers involved in the HIV/Aids programme.
According to the 2020 Kenya HIV estimates, Kakamega County has 47,000 people living with HIV, with a prevalence rate of 4 per cent. Oparanya said the county has 91,362 orphans. He said 19,361 of them lost parents HIV/Aids.
Last year, the county enacted into law the Kakamega HIV, Aids and Sexually Transmitted Infections Management Act that allows for direct funding from the US government.
The law is meant to promote realisation of rights and fundamental freedoms of persons with HIV/Aids and STI.
Besides, it seeks to promote public awareness on transmission, management and control of HIV/Aids and STI.
Present during the signing of the MoU were AMPATH representative Sylvester Kimaiyo and MTRH Chief Executive Officer Dr Wilson Aruasa.
Related Topics