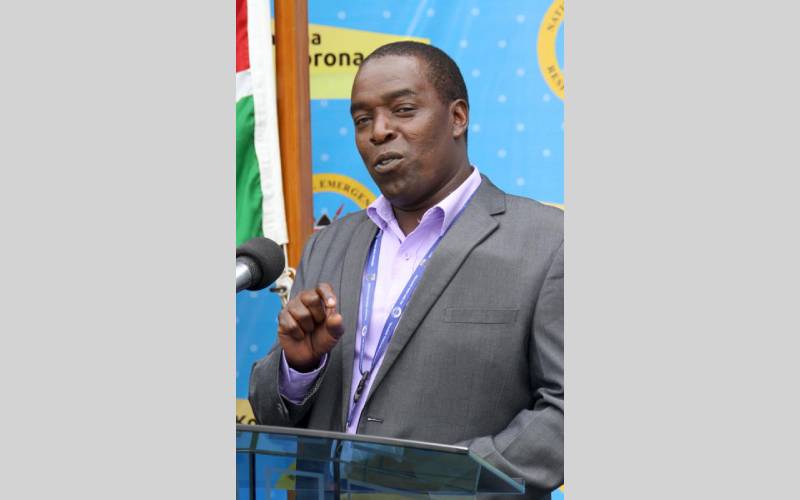 Last year, when he got the job to head the oldest and largest referral hospital in Kenya, Evanson Kamuri would find himself holding a title that a majority of his predecessors didn't fare too well at.
Especially because they left office on less than glorious terms. And that may have been what prompted the two separate telephone calls he received soon after his appointment.
A minister and a former PS whose names he will not reveal, had some wisdom to impart to this man they hardly knew. They felt he needed a warning.
"To put it simply, they advised me to never take threats. That anyone who wanted anything, whether in the president's name or some powerful person's name, should put it in writing. There is a lot of politics involved here."
Busy man
He has been careful alright. Professionally, he says, he will not allow anyone to drag him to hell. And on a personal front, he has been swindled more times than he cares for. A friend once relieved him off a good chunk of money that was supposed to be invested in stocks. Another time, he lost a house.
And again, he and his friends had to pay back borrowed money after an old man conned them when they tried to get into real estate. And so his index of suspicion is high.
Probably that is why he eyes me warily as I place a recorder infront of him.
I am in a plush office at the hospital. On a huge brown ornate desk is a gizmo and a Bible. Upon close inspection, I realise that the gizmo is a walkie-talkie. It hums softly with intermittent bursts of scratchy voices interrupting the lull. Security updates, I am informed by the man seated behind the desk. He needs to know what is happening at all times. And email updates just won't do. Not when his charge covers 45.7 hectares.
"I have a staff base of 6,000 workers and families that live within the hospital compound. We have about 15,000 to 20,000 visitors at any given time, medical students from the university and KMTC and facilities like the national laboratories. I have to know the state of security at all times," he says.
Kamuri is tall, besuited and mild-mannered. He would pass for intimidating were it not for his warm and fatherly aura. He pushes his phone to the side, and asks how much time I need. He is a busy man after all. But the moment the conversation begins, he comes alive.
As we speak, he is nursing a flu. Not coronavirus, he says pointedly. He has already tested negative for that. He knows he should be resting.
But duty calls, and Covid-19 just won't let him.
"I also oversee KNH Othaya and Mbagathi's Infectious Disease Unit that is now an isolation centre for Covid-19 patients. And I am charged with ensuring that the response to the pandemic even on the county level countywide is up to scratch. I also still have to do my ward rounds in my capacity as a skin specialist. There is no time to rest," he says, sitting back in his chair.
But even a dynamo needs to recharge, and while he has no chance in hell of getting a holiday anytime soon, he has his ways.
"I sleep four to five hours at night and that's enough. And I play golf at least once a week. When I am home with the family, even though my phone rings off the hook, at least I am there. I have teenage children who sometimes advise me on my work issues, and tell me that I should rest more. They are very involved in my work," he smiles.
Mental health
Years ago, he would never have considered applying for the CEO position at the hospital, largely due to the stress and external interference that comes with the job. He was comfortably enjoying his dermatology practice and making big money while at it.
But then, he had started toying with the idea of taking on the challenge when he realised that there was a lot that he could do for the country if he got the position.
"I lost three-quarter of my earnings when I became the CEO. I could earn more than my salary now by just practising dermatology. But I knew that I could really do more in this position, and here I am."
The stress was just as he had imagined, and especially when a few months after his appointment, Covid-19 became a reality. However, the biggest struggle for him was not the pandemic itself, but rather the mental health of the medics he is responsible for.
"We knew coronavirus would get into the country. What we didn't know was how draining it would be. Right until it arrived at our doorstep. Remember we have about 2,000 other patients coming in for other issues."
He goes on to explain how anxious the medics got, especially when they received the first patient.
"The level of anxiety went up among staff. We had to put in a lot of counselling and debriefing. And we had to make sure we had enough supplies. But now we have learnt to manage it, and fortunately haven't had much in the way of casualties among the staff. We have done a lot of psycho-social support for the medics," he says.
His glance moves towards the bright blue Bible on his desk. And I ask him just how spiritual he is.
"This book has everything you need. Read it from Genesis to Revelations. And I read it every day, first thing in the office. I used to go to church, I don't go anymore. But I believe in Jesus. One needs to believe in something, especially when you run this institution," he says.
The country, he feels, has handled the pandemic well.
"Even as the numbers go up, I think we have done well to manage it. At some point, the pandemic will blow over, even the Spanish Flu did. The bigger worry is the damage that will be done by then. So please, wear your mask, observe hygiene, avoid crowds and seek medical help if you feel unwell."
He admits that KNH suffers a bad rap, and he is working on changing the reputation of the institution.
"The hardest part about running KNH is that the majority of the clients are poor. They can't pay, and not by choice but by circumstance. People also come with the wrong attitude that they won't be served. But this is something that I have been tackling since I came in. I want anyone from the village to come and get quality service and go home. That's my ultimate goal."
He denies that there are any people who are detained for not paying their hospital bills.
"We have a robust social work department that evaluates every individual. We evaluate your ability to pay. We have waived amounts like even Sh10 million. We have discovered that even though we keep you here for a year, you won't pay if you can't pay. We want to waive for those who are in dire need. And the process takes a bit of time," he explains.
One thing that he is still getting used to, nine months into his tenure, is the deferential way people look at him by virtue of his position. It wasn't always like that.
"People forget that even though I control a big budget, the money isn't mine but rather the hospital's. I haven't changed one bit; I still live in the same government housing. But people now fear me and will not often tell me the truth even when that's what I need. But thank God for my old friends because they will give it to me straight. Always. And again, I will leave this position sometime. These things don't last forever."
Then a loud voice mingled with static from the two-way radio fills the room and the moment is lost. Soon Evanson retrieves his phone. The interview, my gut says, is over.
"One more thing, to that last bit," he says, rising from his seat.
"What?"
"As you keep the old friends close, keep your enemies closer. You need to know what they are doing," he says with a laugh.
Related Topics