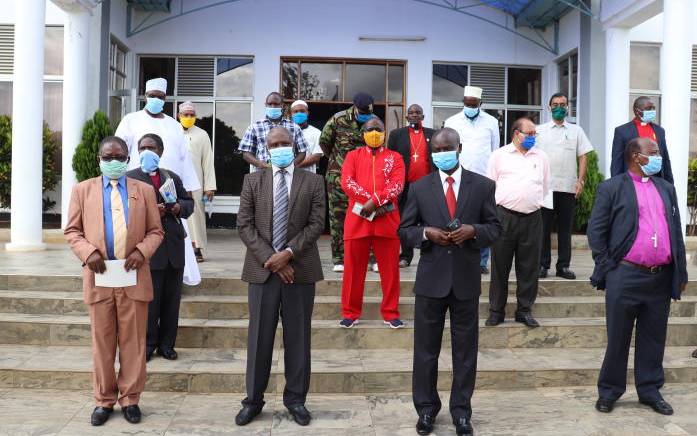 Places of worship could soon reopen under tough guidelines in a bid to safeguard congregants from contracting Covid-19.
Cabinet Secretaries Dr Fred Matiang'i (Interior), Prof George Magoha (Education) and Mutahi Kagwe (Health) are today expected to hold a closed-door meeting with religious leaders to discuss Covid-19 protocols in places of worship, setting the stage for reopening of the sanctuaries.
Places of worship are waiting on the presidential announcement on June 8, which is expected to give direction on how and when to reopen.
Proposed guidelines have limited the number of congregants to a few people who will be required to stay at least 1.5 metres apart, while those aged 60 and above as well as those with underlying conditions would be required to follow the services from home due to the risk of infection.
All places of worship will be expected to provide hand-washing stations and hand sanitisers at the entrance.
"The religious leaders recognise that part of the congregants are vulnerable populations. These include the elderly and those with underlying health conditions. When conducting services, ask all attendees who have an underlying at-risk health conditions and the elderly to stay home and if possible watch the services online," the document reads.
The guidelines were drawn from recommendations made by World Health Organisation, Centre for Disease Prevention and Control, the Ministry of Health and Central Texas Conference Guidelines for Returning to In-Person Worship.
In his Madaraka Day speech on June 1, President Uhuru Kenyatta directed ministries of Interior and Health to expedite talks with religious leaders on how best places of worship could reopen amid the coronavirus pandemic.
Dr Matiangi and Mr Kagwe were expected to come up with protocols to guide gatherings in churches, temples and mosques, and ensure worship services resume without exposing congregations to the Covid-19.
In the proposed guidelines, every house of worship is encouraged to put measures in place to monitor temperature of worshippers.
"Any person with temperature reading 37.5 degrees or more will not be allowed into the place of worship. Temperature monitoring will only be done by using appropriate devices like digital infrared thermometer gun," said the document.
It was, however, noted that some places my not access the thermometer guns due to cost implications and could be allowed to operate without temperature monitoring.
Some religious leaders have appealed to the Government to assist places of worship with infrared thermometer guns.
Physical contact will strictly not be allowed. Instead, it will be replaced with greetings with friendly words and smiles, a peace sign or using a greeting in sign language while maintaining physical distance.
"Laying on of hands by the clergy is temporarily prohibited during service in the current context of Covid-19. Instead, congregants will receive prayers and blessings from at least one metre away," said the document.
Gathering size will be limited, and multiple services with fewer attendees embraced.
Scheduling of services will be far apart to allow enough time for cleaning and disinfecting high-touch surfaces between services.