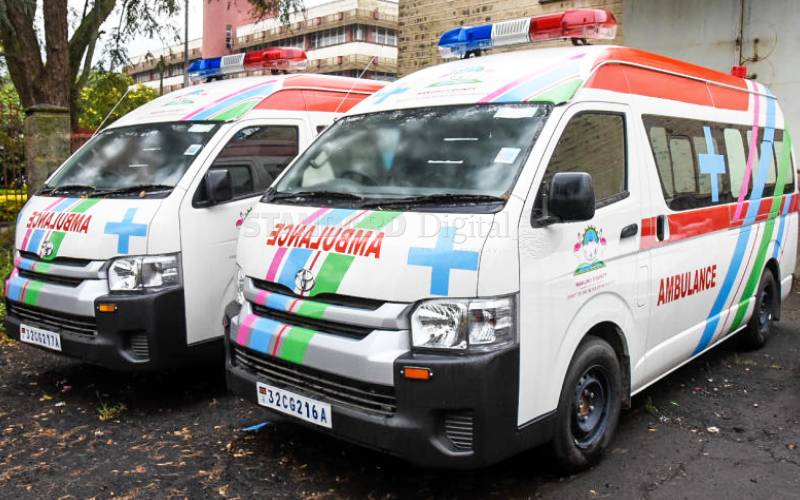 Fifteen ambulances that were grounded for years in various health facilities and national government yards in Nakuru County have been refurbished.
Public Health Chief Officer Samuel King'ori said it cost Sh1 million to repair the ambulances that will boost referral services.
Most of the ambulances had been abandoned in hospital grounds due to mechanical problems while others had been written off by the national government and the defunct local government.
Mr King'ori said the ambulances have been fitted with emergency kits and lights, and branded for uniformity.
"We are spending at least Sh70,000 to fix each of the ambulances so that they can offer quality health care to patients. Most of the ambulances did not meet life-saving standards," King'ori told The Standard in an interview.
Following the refurbishment, the number of functional ambulances in the county has risen to 33.
Last year, the county government bought 10 modern ambulances at a cost of Sh100 million.
Five of the ambulances are equipped with advanced life-saving equipment while the others are for basic support.
The modern ambulances are used during hospital-to-hospital referrals while the other ambulances are used to transport patients from various locations to the nearest hospitals.
King'ori said the county is also setting up a dispatch and control system to enhance emergency medical services response in the region.
"The command centre at the Nakuru Level 5 Hospital will inter-link all hospitals in the region and enhance systems functionality to improve communications and dispatching," said the chief officer.
In December, the county placed an advertisement in the daily newspapers seeking to employ 30 drivers and 20 paramedics to man the ambulances.
In July last year, the Kenya Roads Board donated an ambulance to the Naivasha Sub-county Hospital as part of its corporate social responsibility programme.
The referral hospital is situated along the busy Nairobi-Nakuru-Mai Mahiu highway. It is the nearest facility where most road accident victims are taken for treatment.
Related Topics