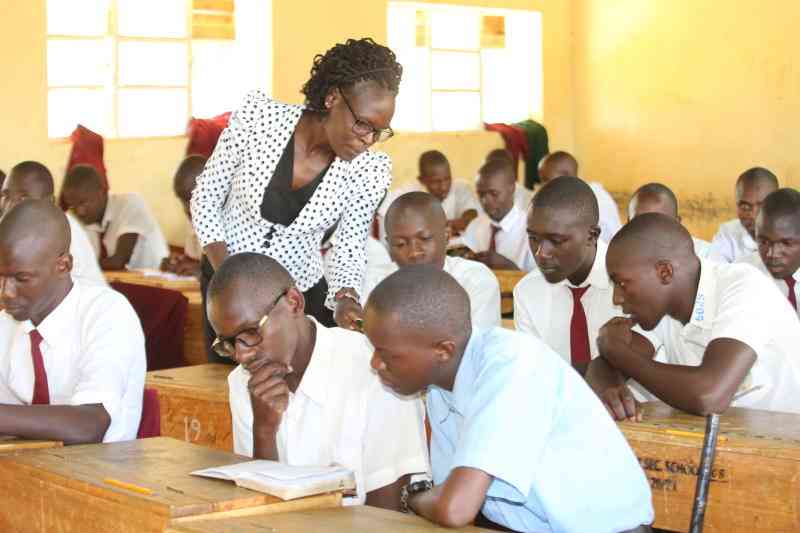 Parents with children in private schools may soon start paying national examinations fees for their children from next year if a proposal by MPs is adopted.
MPs argued that the government's move to pay fees for children in private schools has crippled operations of the examination's agency, which has been cash-strapped.
And now, the legislators want these parents to pay examination registration fees to help the Kenya National Examination Council (KNEC) stay afloat.
The details emerged when KNEC chief executive Dr David Njengere appeared before the Parliament Investment on Education and governance.
The Council's CEO appeared before the Committee to answer questions raised by the auditor general.
The MPs said the government has been paying exam fees for learners in private schools hence making it hard for KNEC to meet some crucial obligations to the council.
Currently, the government pays about Sh800 per learner sitting for five subjects in primary school.
For secondary school, the state pays Sh5,000 for those sitting seven subjects, Sh5,400 for eight subjects, and Sh5,800 for those sitting nine subjects.
Committee chairman Jack Wamboka said private schools are in business and if parents pay fees, then they should pay for learners' examination fees.
Wamboka said his committee will ensure enough money is set aside for the council to deliver its mandate.
"We have the best interest of this country at our heart. We will ensure you are financially sound," Wamboka said.
"The purpose on which private schools are operating is to make money and there is no need for the government to fund their exams," said Wamboka.
The response was an answer to Imenti South MP Shadrack Mwiti who had raised the matter of none payment to teachers who administered national examinations.
"Teachers who administered exams and police officers who secured the exams have not been paid their money after delivering their services," MP said.
Njengere told MPs that the council is unable to deliver its obligations for lack of sufficient funds.
"We are unable to fund most of the obligations. We administer exams and pay some money in advance. We are waiting for supplementary funds so that we can pay the balance," Njengere said.
The government had announced a waiver of examination fees to all students in both public and private schools sitting for national examinations.
While presenting the national budget for the fiscal year 2020/2021, then Treasury CS, Ukur Yatani committed that the government allocated Sh4 billion towards billing learners sitting KCPE and KCSE examinations for that year.
This may be the last year for the government to foot the bill for examination fees for students in private secondary schools.
Primary schools will not feel the heat since this year's KCPE candidates will be the last lot before the full rollout of the Competency-Based Curriculum.
Related Topics