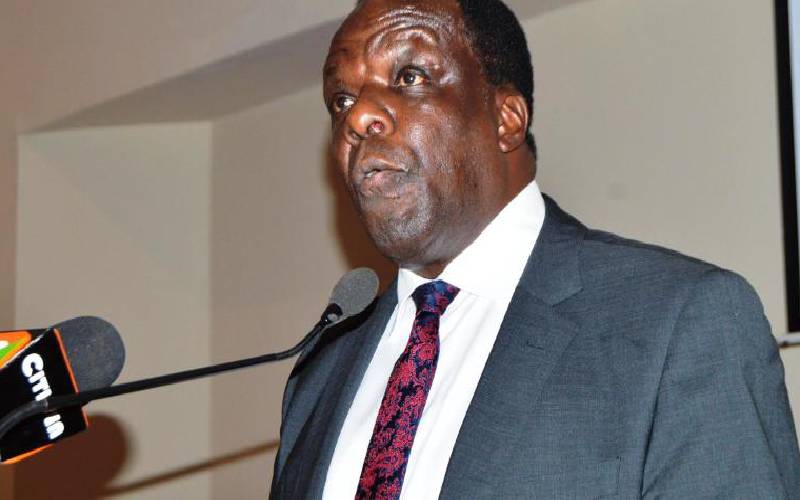 The nurses' union wants Council of Governors' chairman Wycliffe Oparanya (pictured) to instruct all 47 counties to resume deductions and remittances of members' dues.
Lawyer Tyson Kinoti, acting for the Kenya National Union of Nurses, said Mr Oparanya was yet to abide by a court order issued in Mombasa on July 16.
Justice James Rika had directed the governor to inform the counties not to implement a circular dated February 15.
In the circular, Oparanya had told his fellow governors that it was not going to be the responsibility of their administrations to deduct union fees from health workers and remit to their union.
The governor said nurses were to be paid their full salaries to enable them pay their union dues if they wished.
Filed a suit
The union had sued the county public service boards of Kilifi, Kwale, Tana River and Taita Taveta counties, the Ministry of Public Service, Youth and Gender, the State Department for Public Service, and Oparanya.
The union has also filed a suit against the county public service boards of Nakuru and Narok counties in the Nakuru Employment and Labour Relations Court over the same matter.
David Omulama, the union's industrial relations officer, said the two counties had refused to deduct the expected dues from eligible employees.
Court documents show that Nakuru has been remitting between Sh150 and Sh200 to the union, which is far below the Sh650 stipulated in a gazette notice.
The union accused the counties of interfering with its activities, as well as contravening the rights of workers to belong to a trade union.
"The deduction of trade union dues is part and parcel of the obligation of the employer following the exercise by employees to join trade unions of their choice."