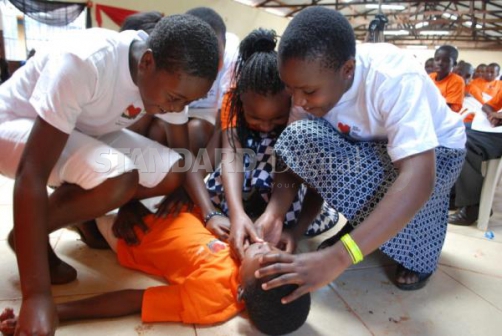 Nurses are reportedly charging Sh500 to aid girls undergo female genital mutilation in Nyamira and Embu counties.
Speaking during an anti-female genital mutilation (FGM) campaign day in Nyamira town on Monday, Samson Onchera, 69, said he was shocked to learn that his 10-year-old granddaughter, whom he thought was ailing from malaria, had been circumcised.
"I could not believe it later when the girl came to disclose to me that she had been cut by a female medic who was called to a neighbour's house to do the rite on seven other girls," Onchera said.
He said the medic was reportedly paid Sh500 per girl.
The National Anti-FGM Board chairperson Linah Chebii Kilimo said Onchera's story is typical of what is taking place in most areas where the outlawed rite is still being practiced.
Addressing the same function, Kilimo vowed to use all means possible to ensure the medic who circumcised the girls was exposed to face legal action.
BROKEN OATH
"It is now shocking that nurses and doctors have turned against their oath of practice which prohibits any act of causing pain and exposing to emotional suffering to young girls," said she.
During the function attended by Nyamira Woman Representative Alice Chae, 100 girls aged between five and 14, who were taken in for alternative rites, graduated.
However, the Medical Superintendent at Nyamira County Referral Hospital Dr Syrus Ayunga said the claims on nurses abetting FGM could not be substantiated but promised to co-operate in investigations.
"It will be a serious offence if any of the staff is found to be involved in such acts," said Dr Ayunga.
Director of Health and nominee for Health Principal Secretary Dr Nicholas Muraguri said there had been such allegations, especially Kisii and Kuria, "but we have not had any formal complaint against the medics".
Dr Muraguri said any nurse or doctor confirmed to have circumcised any girl or woman would not only be criminally liable but would be deregistered.
"We are warning any medic caught involved in the cases that is part of professional negligence... such an offence would get one kicked out of the profession and they will not be able to practice anywhere else in the world," said Dr Muraguri.
John Bii, Kenya National Union of Nurses national chairman, however, said they have not received any formal complaint concerning their members' involvement in conducting FGM.
Alternative Rite
Separately, Embu Woman Representative Rose Mitaru has also revealed that unscrupulous health workers and quacks were circumcising girls and charging them as low as Sh500.
Ms Mitaru said parents, grandparents and even aunts coerce girls to undergo FGM .
Noting that FGM is outlawed, Mitaru called on law enforcement agencies to investigate the rogue medics perpetuating the cut and punish them.
She was speaking at Riandu Primary School during a ceremony to celebrate the graduation of Diana Mwende as a medical doctor.
Meanwhile, more than 1,100 young girls from Embu and Kirinyaga counties graduated in an alternative rite of passage programme of the Catholic Diocese of Embu aimed at fighting female circumcision.
Sister Francisca King'oo, the Embu Pontifical Missionary children co-ordinator, said most of the girls were class eight candidates who are yet to join secondary school.
Report by Stanley Ongwae, Jacob Ngetich, Joseph Muchiri
Related Topics