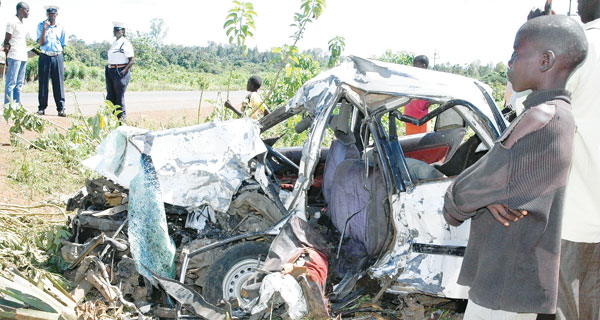 An accident scene. Some people involved in such accidents face lack of proper medical attention in public hospitals. [PHOTOS: FILE/STANDARD]
By JOB WERU
KENYA: When Cyrus Kanyi Nderitu left his home in Othaya for Suguta Marmar and Mugie ranch area in Laikipia, he was optimistic of a good deal ahead.
A butcher and supplier of meat in Nyeri County, Kanyi, 35, was going to the pastoralist district to purchase goats for his prospering business.
But his trip saw his dreams shattered when, on December 8, 1999, he was involved in an accident along the Nyeri-Nyahururu road. A Peugeot 504 station wagon he was travelling in collided head-on with another vehicle at Wiyumiririe area.
Kanyi was knocked unconscious and only came to in hospital. The trader had Sh80,000 in cash on him, Sh20,000 of it stuffed in his shoes. Only Sh60,000 was presented to him when he came to at Nyahururu District Hospital.
The following day, Kanyi was referred to a mission hospital in Nyeri County that was to be his home for the next one year as he recuperated. It is at this hospital that his condition allegedly worsened subjecting him to years of suffering and creating a huge medical bill.
Kanyi had suffered fractures on both feet and surgery was recommended to repair the damage. He seems to believe only one operation was needed. During the procedure, Kanyi claims, the surgeon left a foreign object, a broken surgical blade fragment, in his body.
This led to post-surgery complications and a dozen other operations to try and rectify the complications.
Foot amputated
At least five x-rays taken during the course of 27 surgeries have shown the presence of the blade fragment. Despite this medics, he claims, could not find the foreign body when conducting the surgeries.
He was then discharged on November 17, 2000, and he continued attending clinics at the hospital for the next one year.
"But my condition did not improve and the doctors even advised me to have the foot amputated, which I opposed," he said, noting that he was on crutches. "I could not support myself on the foot. The left one also had a fracture and had been operated on and it had not recovered."
On December 2001, Kanyi's condition deteriorated and he suffered a lot of pain. He decided to seek opinion of doctors from a different institution, and he decided to visit Mt Kenya Hospital in Ring Road area in Nyeri town.
"I was again admitted at Mt Kenya Hospital for five months, where I also underwent four operations," said Kanyi. The doctors there did not suggest amputation.
"All this time, the blade in my foot had caused infections, which caused me an unexplained pain and delayed recovery."
The infection was detected and treated at Mt Kenya Hospital. He was then discharged and stayed at home for eight months on crutches.
"The problems recurred and I sought another admission at Outspan Hospital in Nyeri," he said. "The foot was producing some fluids and pus."
At Outspan, he was admitted for nine months, all this time with the foreign body still in his foot. Doctors conducted at least seven procedures, but the condition did not heal completely. He was discharged and during his stay at home, his cousin, Ms Irene Wambui, who was a nurse at the Provincial General Hospital in Nyeri advised him to seek treatment from Kikuyu PCEA Mission hospital, which specialises in orthopaedics.
"Wambui took me to the hospital in 2008, and I can say that I saw a ray of hope," he said. "I met a Dr King'ori who, at our first meeting, told me he would not cut the foot. He also told me the bone had sustained some infections, which would take longer to treat," said Kanyi.
Dr King'ori, who has been treating Kanyi since prescribed another surgery, this time to remove the blade and also heal the infection.
"He also told me that during the operation, he would also graft the infected part with a bone derived from my ribs, and that is what he did," said Kanyi.
The doctor promised Kanyi, a father of two, he would not need crutches for long, although the bone infection would take longer to heal. And true to Dr King'ori's words, Kanyi could walk unaided in 18 months.
So far, he has undergone seven operations at Kikuyu Hospital and is scheduled to undergo another early next month at a cost of about Sh350,000.
"I only pray that my friends and relatives will help me raise it," he said.
Kanyi estimates he has spent more than Sh4.8 million in treatment and owes almost Sh1 million to Outspan and the mission hospital where he first sought treatment.
Following the discovery of the foreign body, Kanyi has sought legal redress from court, in a suit to be heard on July 11 this year. He has sued the hospital over what he thinks was a bungled operation.
"I am convinced that if the doctor was competent and careful enough, he would not have caused me all this pain and suffering," Kanyi said.
Related Topics