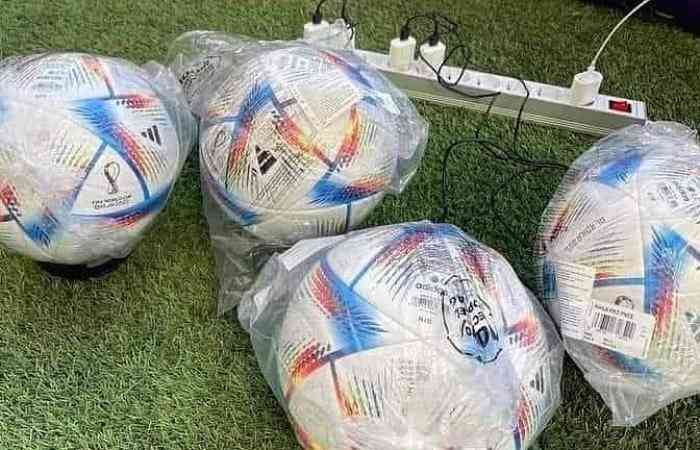 A picture went viral showing four balls being plugged into power sockets on extension leads, in the same way, that you charge up your mobile phone.
It is hard to believe that balls can be charged right? Well, Adidas are behind the technology.Adidas have been known to produce magnificent footballs for the World Cup tournament.
The global sports manufacturer has outdone itself this year after producing a football for the future.
The Qatar World Cup's 'Al Rihla' - which translates to 'the journey' in Arabic will transform the game of football in terms of technological advancement of the 21st century.
The balls have a high-tech sensor that needs to be charged.
However, there is a major difference spec-wise, as the 2022 balls have been fitted with 500Hz motion sensors that completely change the game.
They track the location, impact, and movement of every kick and header on the pitch, at 500 frames per second.
The sensors have also been crucial in the implementation of the new semi-automated offside calls, which have been a feature of the showpiece and resulted in many goals being chalked off.
Fun Fact: The World Cup introduced a new ball this year with a sensor that collects spatial positioning data in real-time to make offside reviews more accurate.But it needs to be charged before each match ? pic.twitter.com/plbNz0VmSq
— Joe Pompliano (@JoePompliano)
November 30, 2022
But the new technology means that the balls have to be fully charged to function properly.Any time the ball is kicked, headed, thrown, or even so much tapped, the system picks it up at 500 frames per second.
Data is sent in real-time from sensors to a local positioning system (LPS), which involves a setup of network antennas installed around the playing field that take in and store the data for immediate use.
When a ball flies out of bounds during the course of play, and a new ball is thrown or kicked in to replace it, KINEXON's backend system automatically switches to the new ball's data input without the need for human intervention.
Related Topics