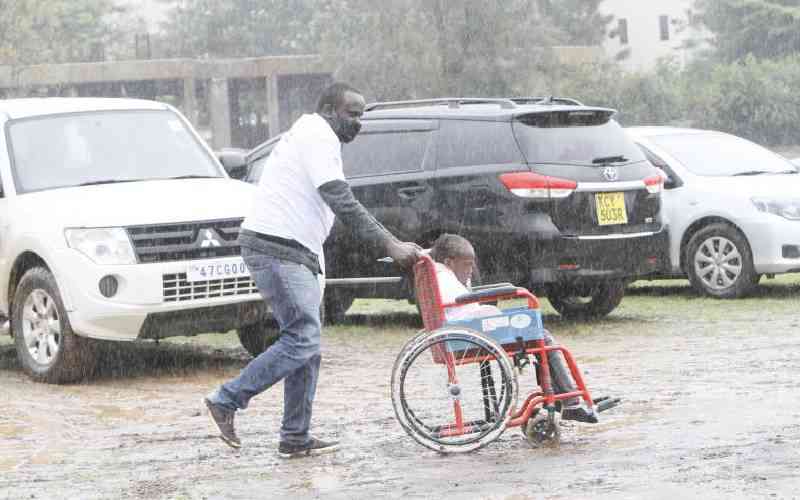 In Muriri, Meru County Agnes Kaburo has been living in distress for last 10 years.
Ms Kaburo who is in her 50s has been single handedly taking care of her three blind daughters.
Her daughters' blindness started with an itch on their eyes before they became blind.
She says taking care of Pamela Kendi, Jennifer Kalayu and the youngest, 11 year old Linet Kamathi, has been tough since she does not have a farm where she can grow food and make an income.
"They were born in good health but later on complications developed at different times. Some years ago a strange disease hit my family and my daughters went blind," Kaburo said.
Kendi says her troubles started at Standard Sux at Lailuba primary school.
"It started as itches of the eyes. Then I noticed whereas in the past I could see clearly what was written on the blackboard the letters gradually became blurred," she said.
Kaburo said she worked on people's farms to earn something to sustain her family.
In North Imenti Grace Kawira has a five-year-old son who seldom leaves her arms, because of a physical deformity.
Kawira said her son was born with deformed limbs and she has to struggle to take care of him.
"My neighbours have been kind. They give me their clothes to wash for a little money to buy food for the baby and I work when he is asleep because all the other time I have to hold him," she said.
It is parents like Kaburo and Karimi that UDA Nominated MP Dorothy Muthoni now wants the national government to pay a stipend.
Ms Muthoni said the government needed to come up with a social protection policy to aid parents of children living with disability.
Muthoni said such parents spend almost all their time at home, taking care of the children and had no time to engage income-generating activities.
"A parent with a disabled child is not able to till the land or go to other work. Their job is to take care of that child," she said at Cottolengo Chaaria where the Catholic Church runs a home for people with various forms of disability.
"If the Government can be able to take care of parents of disabled children it would be good," Muthoni said.
The legislator said children with disability were very vulnerable and many died from their health complications.
Chantelle Njue, a parent of a 15-year-old son confined to a wheelchair said; "As a parent of a disabled child, I would also like the government to train us on how to take good care of such children. Most parents do not have any knowledge of the special care such children need. But the biggest challenge is finances".
Related Topics