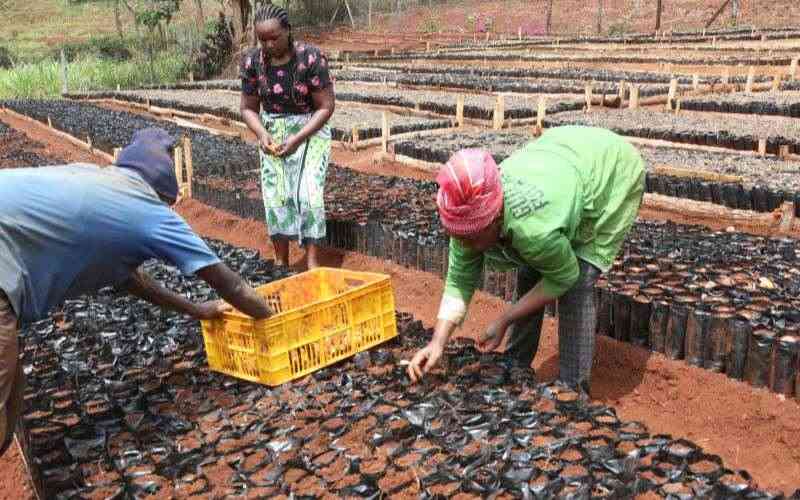 The national campaign to increase the country's forest cover to more than 30 per cent is a blessing to dynamic farmers who have seen a new business opportunity- growing and selling tree seedlings. One such farmer is Lameck Kabuti, 26, who dropped out of a Bachelors Degree course in Planning and Management from the University of Eldoret following injuries from a road accident in 2018.
"I chose to venture into seed propagating business when I realised hopes of getting an office job were minimal," he says.
His is a journey of passion, hard work and commitment despite the odds that faced him.
Over the years, he has managed to build an enviable seedling business christened Mkulima Mdogo Seedlings Limited, seedling by seedling. He has specialised in horticulture and fruit seedlings.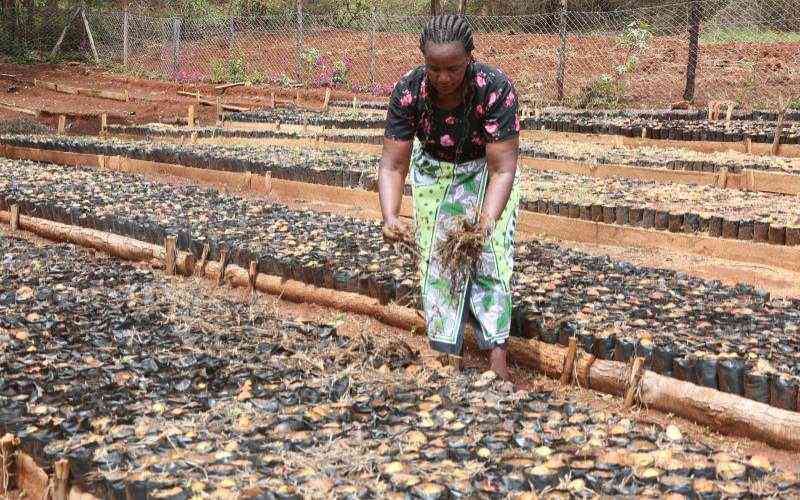 Business Opportunity
Though he started small, he now has a number of greenhouses where he grows more than 100,000 tree seedlings.
"I set up my first tree nursery at my grandmother's farm in Kagaa village, Kahuro, Murang'a while I was still a young boy. I would plant them, water them and watch them flourish. I would also do a lot of weeding to ensure the invasive plants do not compete for water and nutrients with my seedlings. That is how I learned the basics of taking care of the young plants," he recalls.
His grandmother's farm is where he started the project.
Interestingly, back then there were people who would offer him money for a few plants. And that is how he sharpened his business and money management skills from a young age.
Having seen the business opportunity in the seedlings, when the accident happened, to survive, the only practical and easy way to go was to invest in the seedlings business.
The business picked up well and his first clients were the local community.
Over the years, he was able to partner with a close friend to expand the business.
Ploughing back profits
"The secret of expansion is prudent management and ploughing back the profit," says Kabuti.
Kabuti now has more than 100,000 seedlings which are propagated on five acres of land along Kagia road near Kenol market.
So established is the business, today, the young man is a leading seeds propagator in Mt Kenya competing with larger producers based in Naivasha.
"Today I manage five acres of certified seedlings with markets in various parts of the country, including Turkana. There is a client in Zambia who orders seedlings from Murang'a county," says Kabuti.
The youthful entrepreneur is contracted by thousands of farmers from Murang'a, Kirinyaga, Laikipia, Turkana Kiambu, and Trans Nzoia counties.
Though the business was on an upward trajectory from the word go, the national campaign that is currently ongoing has propelled the business to greater heights as demand for tree seedlings grows.
"In an effort to mitigate against the effects of climate change, everybody is being encouraged to grow trees. So there are tree-planting drives everywhere. But what I noticed is that there is a shortage of quality certified seedlings in the market leading to importation. I saw that gap and filled it," says the youthful farmer.
Right now he says he cannot meet the demand for quality seedlings and gets overwhelmed with orders.
"I am contracted by large commercial farmers and sometimes I cannot meet the orders," says Kabuti.
So lucrative is the business, he encourages other young people to join the bandwagon instead of looking for office jobs.
"There is no need to tarmac for years after graduating yet you can make a decent living from growing and selling tree seedlings," Kabuti challenges graduates.
Big dreams
Like Kabuti, Phyllis Wanjiru is also earning a decent living from the seedlings business.
Ms Wanjiru wears many hats, as a farmer, researcher and environmentalist at her farm in Thunguma, Nyeri County.
Her love for nature led Wanjiru to set up a tree nursery that now has 500,000 seedlings. Her initial goal was to grow the plants as a way of mitigating the effects of climate change, but along the way, she saw a business opportunity.
"I was moved to action when I noted that a nearby stream - Thunguma - which for decades has been our source of irrigation water had dried up. That is when I knew something was off and there was a need for the planting of trees," she says.
To start off, she invested more than Sh500, 000 to set up seedling nursery beds consisting of indigenous trees and grafted fruit seedlings. She started with avocado seedlings sourced from Marigiti Market in Nairobi.
A visit to the nursery shows the painstaking process of collecting the seeds to the final stage of transferring the seedlings to the final destination. The process starts by preparing the nursery using red soil and mixing it with goat manure which Wanjiru says is fine and can mix thoroughly.After which the soil and manure mixture is packed into black seedling bags waiting for the seed.
"The seeds are put in the bags and covered waiting to germinate for an incubation period of two months. Afterward, the small seedling is grafted (cut and a scion from another improved seedling is tied on the stem using a special thread to make an improved tree). Wanjiru explains that an incubation period of two months is needed for the grafted seedling to become stronger and ready to be planted.
Afterward, the seedling is left out for a month for observation before its ready to be transplanted.
High cost of inputs
"This improved tree can take only three years to start producing the avocado, unlike the traditional one which takes almost five years," says Wanjiru.
Though she has broken even, challenges abound.
One is the high cost of red soil which costs Sh5, 000 per 13 tonnes and Sh35,000 for goat manure of the same quantity.
"Sourcing for quality labour has been a challenge. I have employed 15 youths but sometimes I need more. I hire youth from Mathira and Mukurwe-ini, as locals here do not like 'dirty' jobs," Wanjiru says.
She sells a seedling at Sh100. She plans to open more nursery beds to employ more youth and train them in environment conservation. Wanjiru was trained by Kenya Agricultural and Livestock Research Organisation on environment conservation and management and attends training at Wambugu farm in Nyeri to sharpen her skills.
She notes that post-planting weather is the main challenge facing the replacement of ingenious trees.
In addition, during the dry weather season, it is difficult to maintain the seeding after planting since they take a long time to mature.
Related Topics