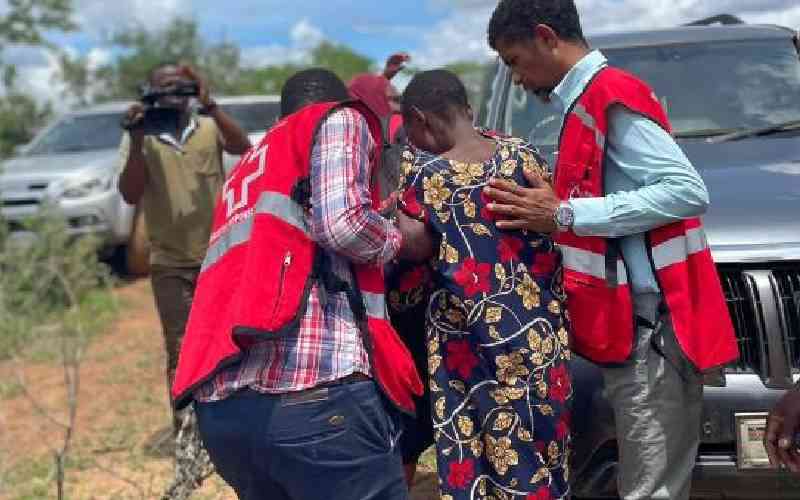 A middle-aged man rescued from Shakahola Forest this week died on Wednesday at the Malindi Sub County Hospital.
An official at the hospital said the victim was taken to the facility in a bad state and died of organ failure due to severe starvation.
The official sought anonymity following a directive by the State that all inquiries be handled by the Director of Homicide at the Directorate of Criminal Investigations, Martin Nyuguto.
But Mr Nyaguto did not return our calls.
This is the first reported case of rescued person succumbing to the effects of starvation.
"Most of the victims brought to the facility are in a very sorry state of health, and it is the severe starvation that leads to some organs of the body failing to function," said the official.
Yesterday, Nyaguto said the Malindi Hospital mortuary and the Malindi blood bank premises hosting the Shakahola victims' information desk were no-go zones for journalists.
At the same time, postmortem on 128 bodies is expected to resume today morning at the Malindi Hospital Mortuary after it was postponed because of the unavailability of the Interior Cabinet Secretary Kindiki Kithure.
Counsellors from the Kenya Police Service are also helping gravediggers in Shakahola and families of missing persons at the hospital.
The 24 gravediggers drawn from Shakahola and other villages are given daily counselling sessions to help them cope with the trauma associated with the exercise.
"Debriefing is carried out on grave diggers, pathologists, homicide team, human rights personnel, the forensic team, morticians and the DCI officers every morning before they venture into the grave sites," said a junior government counsellor.
"When we started, we had 50 people to work with but currently, we have 74, including all the disciplines and the gravediggers. The effect and nature of the assignment is affecting our officers."
The counsellor described the exercise as the most difficult job they haver undertaken.
Related Topics