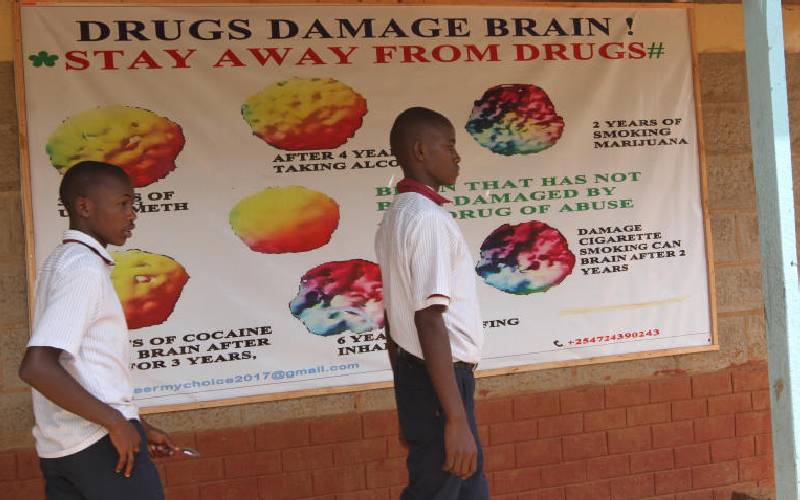 The government has time and again formed task forces to investigate causes of student unrest in schools. More often than not, these teams have found substance abuse to be the main cause of unruly behaviour among students. And the negative effects of drug abuse on a learner's character formation cannot be overemphasised.
Stakeholders should therefore join hands and address this issue of drug abuse and save our children and their future. This also calls for teachers and school administrators to adopt new approaches in addressing drugs abuse.
Traditionally, students found in possession of drugs or those caught using them were either expelled or suspended from school. However, over time, this strategy has proved to be ineffective. As a matter of fact, it has only aggravated the problem, transferring delinquency to the community.
But there is some good news. The government, through the Ministry of Education, in partnership with National Authority for the Campaign Against Alcohol and Drug Abuse (Nacada), has developed guidelines to boost the war on drug abuse in learning institutions. Education CS George Magoha launched the National Guidelines for Alcohol and Substance Use Prevention and Management in Basic Education Institutions early this month.
A survey titled Status of Drugs and Substance Abuse among Primary School Pupils in Kenya, commissioned in June 2018, revealed that the average median age of onset of at least one drug or substance of abuse is 11 years. The study covered 3,307 pupils from 177 primary schools in 25 counties. The pupils targeted were those between Standard Five and Eight. The survey listed tobacco, prescription drugs and alcohol, respectively, as the widely used drugs among the pupils.
About 30 per cent of the learners said they mainly abused drugs during school holidays. A good number (22 per cent) said they got the substances while on their way home from school. Another 21 per cent said they got the drugs when they attend weekend lessons, while 20 per cent during inter-school competitions.
These findings were startling. They also reveal the monster schools are battling. Other surveys Nacada has carried out have revealed that many schools lack a comprehensive policy to control alcohol and substance use. Schools try to manage cases involving drug abuse mainly through suspensions. Sometimes, parents would be summoned and affected students may also be referred to guidance and counselling.
Other efforts schools are making include lectures, where teachers and even experts explain to students the dangers of using drugs. In most cases, students are provided with facts about specific substances. However, these lectures, at times, only leave the students more informed consumers rather than deter them.
Some of these methods have been counterproductive. They include scare tactics and frightening examples by those who have abused drugs in the past. Some have given personal stories but which are at times exaggerated thereby misrepresenting facts about dangers of substance abuse. They forget that some of the students are abusers or have friends who do, and from their experiences, they are able to tell these are just but stories to scare them.
The guidelines are aimed at providing a plan to effectively respond to drug and substance abuse in schools. Their implementation, it is hoped, will support creation of student-friendly environments to promote learning and transition into responsible citizenship. The guidelines spell out what authors consider are effective preventive and management approaches to help schools respond to the problem.
They are to be used by basic education institutions and will apply within the school premises and during school events. The guidelines seek to address alcohol, tobacco, inhalants and any other chemical substance that when consumed, alters the functioning of the user's normal behaviour.
They address various thematic areas such as supply reduction, and the goal here is to eliminate access and availability of drugs in schools. The guidelines also address preventive education provided in the broader context of a health education programme. The guides are delivered in a way that supports a school, targeting teachers, non-teaching staff, parents and learners. Finally, the guidelines recommend procedures to be used in managing incidents involving alcohol, tobacco and drug use in schools, which include counselling, treatment and support.
While the document is not necessarily the magic bullet in ending substance abuse in schools, it provides a systematic and evidence-based approach as far as prevention and management is concerned.
Let us note that this problem requires concerted efforts from all stakeholders to conquer it. These guidelines are among the many strategies that, it is hoped, will help address the problem of drug and substance abuse among students.
Mr Mwangi is the Corporate Communications Manager at Nacada
Related Topics