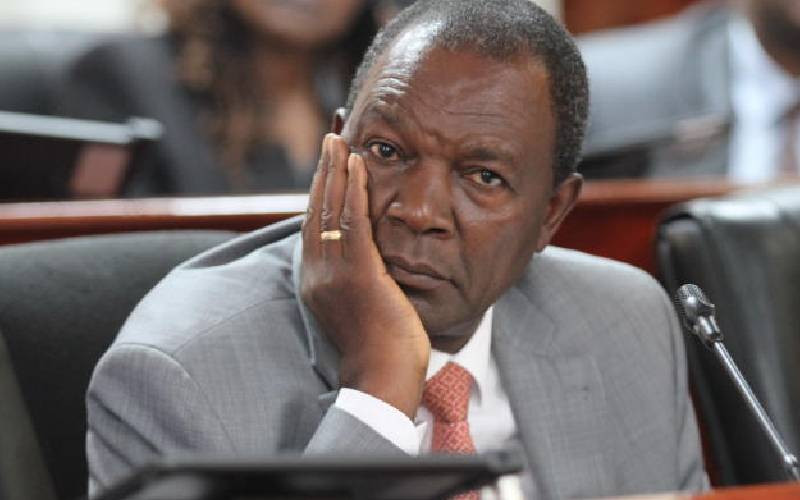 National Treasury CS Njuguna Ndung'u will be in hot soup if he fails to help the government address the high cost of living.
Prof Ndung'u could lose his job for failing to maintain the inflation rate – which measures the cost of living – within the government's target range.
This is part of the stringent conditions set by President William Ruto for his top money man as he moves to enhance personal responsibility for his top ministers.
"To ensure macroeconomic stability and growth is maintained, the Cabinet Secretary will: Develop and implement a macroeconomic framework that fosters; a strong economic growth of 5.5 per cent in 2023," says part of the performance contract signed by the CS under the watchful eye of Ruto this week.
"(He will) collaborate with the Central Bank of Kenya to maintain the inflation rate at five per cent +/-2.5 per cent."
The Ruto administration, which took over last September, has been under pressure to bring down the cost of living and create jobs. But some of its proposed tax and policy measures have been questioned by various interest groups, which has stoked social tensions.
According to the Kenya National Bureau of Statistics (KNBS), the overall cost of living in the country eased in July by six basis points to 7.3 per cent compared to 7.9 per cent in June.
This was the first time in many months that inflation has entered the government's target range of between 2.5 and 7.5 per cent amid a persistent high cost of living.
The prices of key food items have increased significantly over the past couple of months, adding pressure on cash-starved households still reeling from the economic hit of the Covid-19 pandemic.
KNBS said Kenyans received a slight reprieve last month as prices of electricity and cooking gas dipped slightly.
Kenyans face a record hit to living standards after the Court of Appeal last week paved the way for implementation of the controversial Finance Act, 2023, signalling more pain for consumers at a time inflation has eroded incomes.
The CS, as part of other wide-ranging economy targets, is also expected to mobilise Sh198.6 billion from external sources and Sh521.5 billion over the next financial year from domestic sources to bridge the budget deficit and fund State programmes.
The mandate of the National Treasury is to "formulate, implement and monitor prudent economic and financial policies at national and county levels of government."
"It is my responsibility to provide leadership in designing suitable plans that will contribute to sustainable socio-economic development. It is my undertaking to ensure the National Treasury and Economic Planning has a credible Strategic Plan and Performance Contract that will deliver the desired goals," reads the contract.
Related Topics