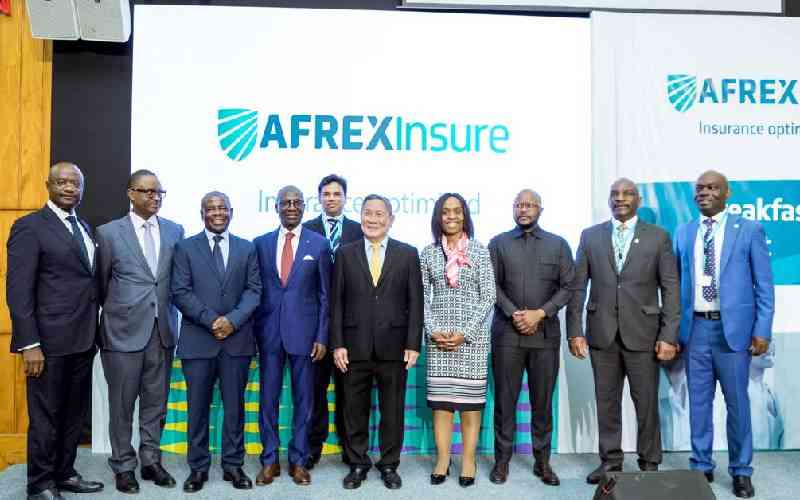 The newly launched insurance arm of the African Export-Import Bank (Afreximbank) is scouting for Kenyan insurance sector partnerships to grow the segment.
AfrexInsure, which is a wholly owned insurance management services subsidiary, of the regional lender Afreximbank plans to provide a single-entry point for all specialty insurance to Kenyan firms in trade, energy, marine and construction sectors.
In a statement, AfrexInsure CEO Jonas Mushosho termed the new outfit Africa's "latest financial weapon," adding the new insurance agency will leverage on its risk expertise by using its Africa-wide presence and local partners to provide solutions around cargo handling, construction, operations and energy – sectors critical for the growth and establishment of trade and investment.
"The establishment of the new insurance firm is a significant step forward in increasing insurance penetration in the continent," he said in a statement. "It meets the needs of those funding trade in Africa," he added.
According to Kanayo Awani, Executive Vice President, Intra-African Trade Bank, AfrexInsure will facilitate the insurance of specialty risks in order to support businesses in Afreximbank member countries to mitigate the problem of Africa having to rely on external partners to architect the continent's economic resilience and development.
"By reducing the risk of transactions or investments, insurance can help drive forward business strategy for those engaged in intra-African trade and enable global partners to further their commercial interests and ambitions in Africa," said Ms Awani.
Ruto turns to regional lenders as Kenya gets Sh407b funding
Insurance penetration is relatively low in Kenya compared to other regions.
But AfrexInsure will not only therefore, strengthen efforts to address this need in African countries like Kenya but also help retain insurance premiums in Africa and assist in ploughing back Africa's investments into the continent for the enhancement of trade and economic development for the prosperity of the continent, she said.
Kenya's insurance industry comprises 56 insurers, five re-insurers, 220 brokers, 10,471 agents (including 26 bancassurance agents), 35 medical cover providers, 138 motor assessors, 144 investigators, 33 surveyors, 31 loss adjusters, and eight claims settling agents.
Insurance penetration in Kenya remains fairly low at under 3 per cent compared to the global average of over 7 per cent.
Related Topics