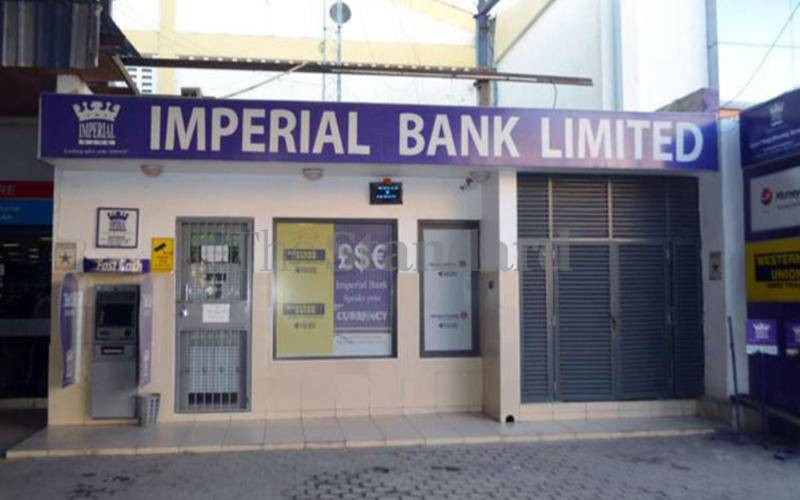 Large depositors of collapsed Imperial Bank have expressed dismay at the expected disbursements of deposits in the collapsed bank.
This is after the Kenya Deposit Insurance Corporation (KDIC) started the process of making the payments.
KDIC told The Standard on Monday, April 3, it projects to pay a total of Sh2.05 billion as the protected amount to depositors.
"This represents a payment of the insured deposit amount for the next two years effective today. Additional payments are subject to collection of outstanding loans and realisation of funds from the disposal of Imperial Bank Ltd (IL) assets," said KDIC.
Speaking separately, Imperial Bank Depositors Lobby Chairman Mahmood Khambiye said depositors expect to receive about Sh500,000 each.
"We are very disappointed," said Khambiye.
"We will never be able to recover all our money, and Sh500,000 is too small if you had deposits of between Sh10 million and Sh1 billion. We have no faith in banking in Kenya," he added, terming the compensation "a drop in the ocean."
He said none of those responsible for the collapse of the bank had been brought to book despite "glaring fraud" on their part.
"Depositors have been taken for a ride none of the officials has been convicted in the seven years," said Khambiye.
Imperial Bank collapsed eight years ago with money belonging to depositors, bondholders and creditors and has since been under the receivership of the KDIC.
During the period, KDIC has been looking for cash to pay depositors, including the sale of assets and liabilities worth Sh3.2 billion to KCB Bank last year.
Analysis shows about Sh24.1 billion have so far been paid out of the estimated Sh58.1 billion in deposits at the time of the collapse.
Large depositors are still waiting for Sh31.8 billion, which will be recovered after the assets are liquidated, a painful process that depositors fear could take decades going by previous trends.
Central Bank of Kenya (CBK) says only 4,300 depositors, representing eight per cent, are yet to get back their money in full.
The State deposit insurer said yesterday access to the insured amount will be immediately upon validation of the deposit claim lodged by a depositor using the prescribed forms that are accessible on its website.
"Protected payments will be disbursed once upon validation of claims," said the agency.
KDIC consequently asked the depositors and creditors this week to lodge their claims with the deposit insurer.
"Notice is hereby given that the Kenya Deposit Insurance Corporation…will commence payment of protected deposits to depositors of Imperial Bank (In liquidation)."
"To receive the payment depositors of Imperial Bank Limited are therefore advised to download the claim forms from the KDIC website fill and return duly completed forms with attachments to Imperial Bank branches at IPS building Nairobi and Kaunda street, Mombasa or Central Bank branches in Eldoret and Nakuru."
KDIC said in a public notice that the payment process could take up to two years.
"Please note that the payment is valid for a period of two years from 3rd April 2023," it said.
The banking regulator appointed KDIC to liquidate the bank and process payment for the remaining depositors, creditors and bondholders.
"Following four payment disbursements, 45,700 out of the 50,000 (92 per cent) depositors have accessed their funds in full," CBK Governor Dr Patrick Njoroge said in 2021.
"KDIC will release information about the liquidation of IBLIR and payment of depositors in due course," he had said.
The lender was placed under receivership on October 13, 2015, after CBK learnt of massive frauds committed by the managers or administrators through illegal transactions, which milked Sh34 billion from the bank.
Other banks that collapsed are Chase Bank, Dubai, Prudential, Trust, Euro and Charterhouse.
The difficulties of dealing with collapsed banks have inspired reforms in the sector, which has seen the execution of bargains and fire sales for several lenders. They include the sale of National Bank (NBK) to KCB Group, Jamii Bora to Co-operative, Transnational to Access Bank, and Mayfair to Commercial International Bank.
Related Topics