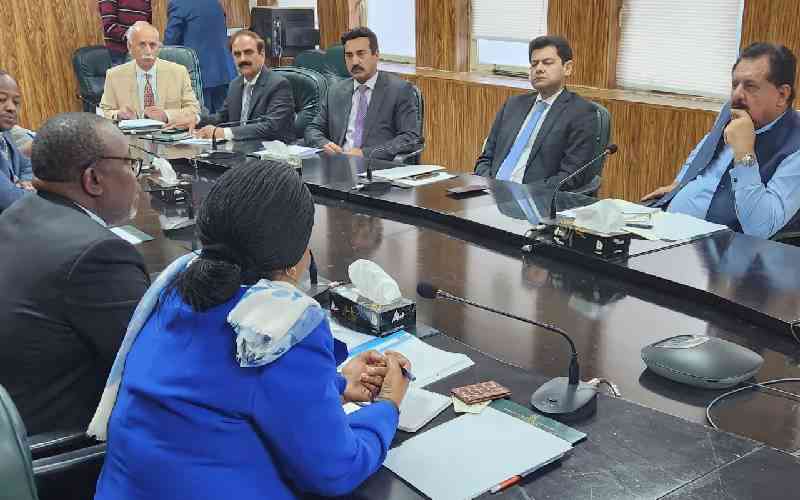 Kenyan tea farmers could soon smile all the way to the banks as Pakistan lists the commodity among its essential commodities.
The move will boost Kenya's export earnings from the tea industry after the Pakistan Central Bank approved the use of US dollars as the transaction currency in the tea business.
Kenya exports 50 percent of its tea to Pakistan, making it the biggest market for the Kenyan major export product.
Agriculture and Livestock Development Cabinet Secretary Mithika Linturi welcomed the new move, terming it as a huge boost for the local economy and tea farmers.
"I am excited to announce that our recent trip to Islamabad has borne fruits in barely three weeks. I wish to thank the Pakistan government for accepting our requests during the trip," said Linturi.
The move also comes after Linturi recently led a Kenyan delegation, which included Kenya Tea Development Agency (KTDA) officials to Pakistan.
During the meeting, Linturi requested for tea to be classified as an international essential commodity.
Pakistan Federal Minister of Food Security and Research Chaudhary Tariq Bashir Cheema promised to enhance bilateral trade between Kenya and Pakistan by removing trade barriers in the tea sector trade.
KTDA Managing Director Wilson Muthaura has hailed the new policy by the Pakistan government.
"The new policy will increase volumes of Kenyan tea export to Pakistan and increase our foreign exchange leading to more earnings for our farmers," added Muthaura.
Pakistan imports over 45 per cent of Kenyan tea, making it Kenya's largest trade partner in the tea sector.
The tea industry is one of Kenya's leading foreign exchange earners, accounting for 26 per cent of the foreign exchange earnings and 2 per cent of the National Gross Domestic Product.
Last month, Linturi attended the Pakistan Tea Association annual gala event in Karachi, where he declared the Ministry's intention to ensure Kenyan tea is exported with added value to increase earnings for farmers and tea exporters.
He further added that the Ministry of Agriculture and Livestock Development will implement the establishment of Special Economic Zones (SEZ) in Mombasa to replace the current Export Promotion Zones (EPZ) in a bid to improve value addition to the Kenyan export tea.
"Kenya is rated among the highest quality producers of tea worldwide with 77 market destinations worldwide, but our export earnings are not higher than other countries like Sri Lanka and China who export their tea with added value," said Linturi.
Related Topics