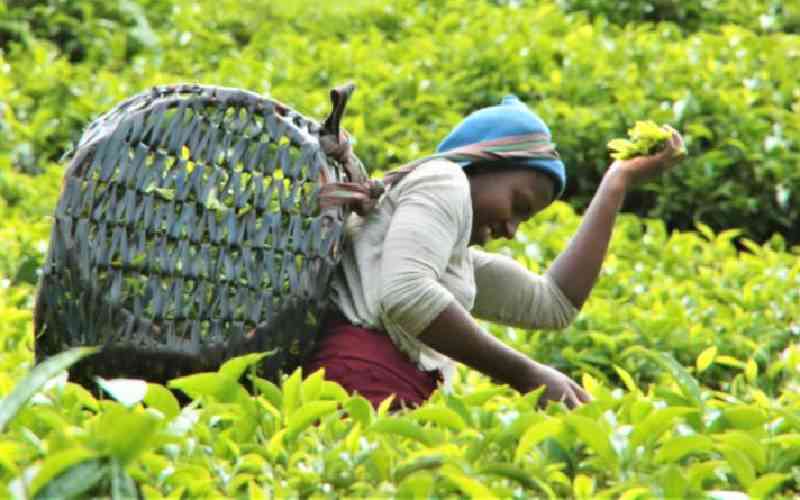 Members of Parliament from tea-growing regions have vowed to review some policies implemented by President Uhuru Kenyatta's regime, which they claim led to the commodity being overtaxed.
The 13 lawmakers led by Githunguri MP Gathoni Wamuchomba said tea attracts 42 taxes and levies charged by the national and county governments.
Some of levies include the contentious 16 per cent value added tax (VAT), one per cent ad valorem, port and health charges, and county taxes like green leaf cess.
Ms Wamuchomba said they will also revive amendments to the Tea Act that were drafted by the Senate before being abandoned by the 12th Parliament over claims the regulations had been mutilated.
The leaders said there were cartels in the tea industry who were behind farmers' woes.
"We have been convinced by East African Tea Traders Association that there is need for a comprehensive review of tea policy to address problems facing the industry," said Wamuchomba.
In 2020 and 2021, Agriculture Cabinet Secretary Peter Munya spearheaded reforms to address challenges in the tea sub-sector. Some of the policies were opposed by tea brokers at the Mombasa tea auction.
The lawmakers, who were yesterday taken through how tea is auctioned after being transported to Mombasa, said they want to end the blame game in the tea industry.
"We want to improve farmers' earnings by removing impediments facing them and having a comprehensive policy framework," said Wamuchomba.
Kipkelion West MP Hillary Kosgey said there had been 'misinformation' about the Mombasa tea auction, which is the largest in the world.
He said they had resolved to ensure tea farmers were rewarded for their hard work.
"We want to get enough returns from our products by coming up with strategies on how to add value to our tea," said Mr Kosgey, who is also a tea farmer.
The MP said that to enhance value addition, the government must find ways to remove VAT on tea products to lure investors into the industry and create jobs.
He regretted that some investors interested in venturing into the tea industry had kept out of Kenya because VAT was eating away at their profits.
Kosgey said after being taken through the tea auction, they were satisfied that MPs must move fast and come up with amendments to the Tea Act.
"We consider the removal of VAT charged on packaging materials and machinery to encourage value addition initiatives to make Kenyans create employment," he said.
Global Tea and Commodities Director Peter Kimanga said lack of goodwill from the government was the main cause of problems in the tea industry.
According to Mr Kimanga, if the State had played ball, some bad laws that had been pointed out would have been amended a long time ago.
Kimanga, who packages Kericho Gold Tea, said taxes for materials used to pack tea were high hence why most businesses had no interest in venturing into value addition in the country.
He regretted that tea was classified as a trade item "which makes it attract VAT and other levies which should not be the case if the tea industry creates employment and increases foreign exchange."
"We need zero-rating of tea. It should be classified as a staple diet for households like other foodstuff such maize flour and rice," he said.
The MPs were also told that the Mombasa tea auction would not be moved because its proximity to the port made exports easier.
East African Tea Trade Association Trade Development Manager Brian Ngwiri said having tea auctions in various parts of the country would be too costly.
Related Topics