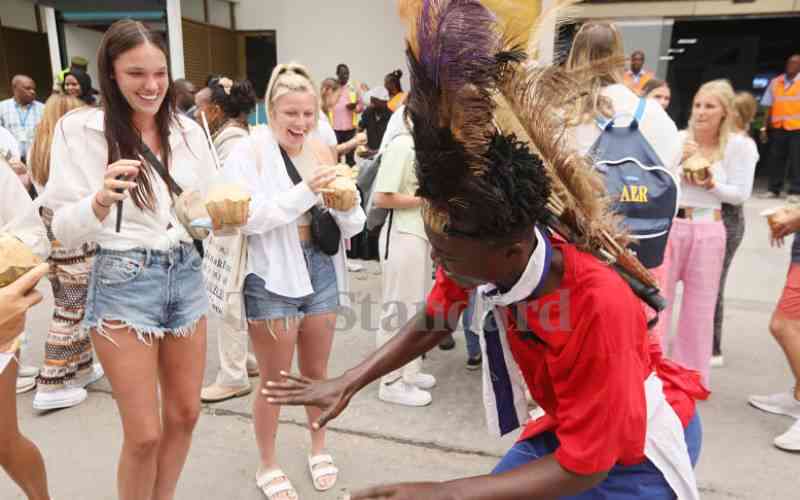 A ship docked in Mombasa with 795 guests for the second time in months, signalling rebound in cruise tourism.
MV World Odyssey had called at the Port of Mombasa last November. Its arrival marks the third cruise ship visit in three months. The vessel will depart Mombasa for Aqwaba in Jordan after five days.
Speaking at the port on Thursday, Tourism Principal Secretary John Ololtua said that with improved infrastructure and security, cruise tourism will receive much-needed attention.
"The return of this ship within two months exhibits confidence in our magical Kenya destination," said Ololtua.
Ololtua, who was representing Tourism Cabinet Secretary Peninah Malonza, said that MV World Odyssey's unique mix of guests, including students, would have ample time to sample what Kenya has to offer.
"The students will apart from going on safari also have time for an exchange programme with college students from the Kenyatta University, Mombasa campus," the PS said.
Ololtua was accompanied by Acting Kenya Tourism Board Managing Director John Chirchir and Tourism Fund boss David Mwangi.
The visitors, the PS added, were also lined up for safaris within Tsavo and Shimba Hills national parks, and city tours within Mombasa.
The PS said that in a bid to market magical Kenya destination, they had deployed full use of digital media to reach a wider global audience.
All arriving guests have had the pleasure to use the ultra-modern cruise terminal built at Sh1.4 billion.
"We are telling visitors that Kenya is fully open for business and wish as a government to assure them of comfort and safety," the PS said.
Kenya Ports Authority General Manager in charge of Corporate Services Edward Kamau said that they are confident that the completion and operationalisation of the modern cruise terminal will attract more cruise ships to Mombasa.
"We are happy that this facility is operational. Another cruise ship is due to call at the Port of Mombasa early next month," he said.
Chirchir said that as the country's top tourism marketer, they were delighted to have visitors access Kenya by sea.
"The return of MV World Odyssey to Magical Kenya shows that the destination has tourism opportunities that suit every visitor who lands here. With the enhanced experiences at the Kenyan Coast and other parts of the destination, we take pride in being able to accommodate global visitors of diverse interests and tastes. We are certain that the voyagers will enjoy their stay here," he said.
Mr Ben Green, a librarian aboard World Odyssey, said he was happy to return to Kenya after his first visit in 1999.
"We are going out on a city tour and will have two full days to travel to Tsavo National Park to see wildlife in their natural habitat," he said.
Related Topics