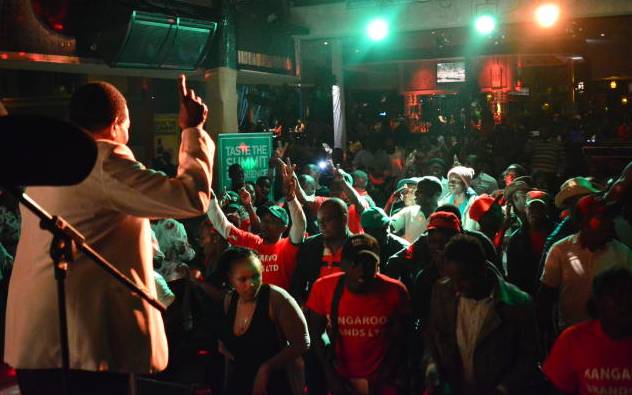 Until recently, mugithi music had no place in uptown entertainment spots or in the hearts of the young and reckless.
Rather, the genre was preferred by the elderly who would move to its conservative beat and heavily intoned lyrics with deep cultural messaging.
From social, political and cultural gatherings, whether in church or a small-town club, the buzzing guitars would complement the vocals gracefully with a timeless and ageless sound.
From Joseph Kamaru to Peter Kigia, Timona Mburu, John De Matthew and Mike Rua, all took the stage in the Don Williams signature look, which in itself was a statement that implied you were a man of means.
But things are not the same anymore. Mugithi has evolved. It is now more youthful and trendy. It has gone high-tech and is packaged with a rhythmic touch for a more vibrant uptown class.
As the moneyed men fade away, weary of being connected with this emerging mugithi nightlife crowd, the elderly wealthy woman has found her new place in the show.
It is Sunday evening and we are at the new Kiambu Road joint, The Fuse, where mugithi singer Samuel Muchoki, alias Samidoh, is performing. The car park is full, sending clear signals of the kind of crowd in there.
The Sh1,000 cover charge is an easy tactic by the club's management to keep away mall brats and riff-raffs and so is the Sh10,000 five-people table which includes 'nyama choma', beers, whiskey and wine.
The smell of meat — roasted and steamed — heavy drinking, noisy conversations and loud music are the signs of the new-age mugithi night.
Notably, the crowd is predominantly female, the wealthy 'Auntie wa Harrier' kind, who have now replaced the contemporary sugar mummy, for those who care to know.
They are the lot fueling the mugithi train as they embrace the man of the moment — Samidoh — whose sex-laced lyrics are ecstatic.
Mature and well-dressed, these women seem exhilarated as they move from their tables to the dance floor where they flaunt their derrière to the call of the sexual undertones of the lyrics.
From the tables, their eyes keep roving unapologetically towards the young men with whom they seek to exchange glances. Their intention is clear. They are here to seek male company and they will pull all the stops to win over their prey.
"The ladies at that table sent this bottle with compliments," the waiter whispers and the four ladies who sent him wave at us. Shortly afterwards, one of the charmers struts towards our table.
"Let's dance and have a good time. Our friend just landed from the United States and she had really missed listening to this kind of music. We can all be friends," she says.
Minutes later, our tables are joined — the hunter and the hunted — and the free-flowing conversation would almost convince you that we have been acquaintances for ages.
"My name is Goldie," prompts one before she takes a sip and requests that we raise a toast.
"What a name? Why Goldie?"
In response, she utters no word but rather flaunts her golden jewelry accentuating her silver dress and glittering nails. Bling, they call it – the scent of love, romance, wealth.
She then reaches in to her designer bag, fetches a 100 dollar bill and calls the waiter. This is to order for another round of drinks. And she does not operate with the Kenyan shilling.
"These are the popular women you will always find in mugithi gigs nowadays. They are say single, elderly and rich individuals seeking young men's company," says Daniel Kamau, a die-hard mugithi fan.
"From politicians to businesswomen and widowed entrepreneurs, you will find them offering all good things to the willing young men who they take home some times."
And it is not just about the young men. These women in their 50s and 60s are said to be the power behind most of the upcoming musicians whom they bankroll into fame and fortune.
They fund the artistes' lives — from paying for their recordings, buying them homes and cars as well as hooking them up with their well-connected political and business friends.
"Who doesn't care for a little excitement to remain young and glowing. Ama kuna mama ya mtu hapa (or is anyone's mother here)?" poses Goldie, as her friends giggle and roll their eyes. It's a watershed hour.
Related Topics