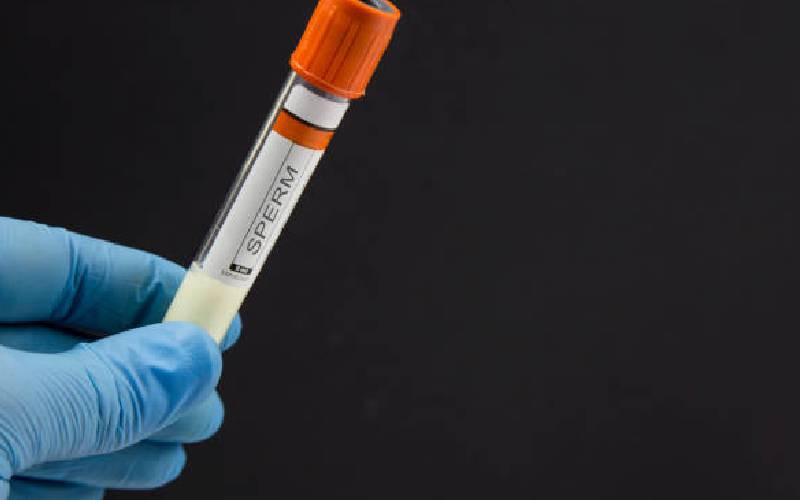 Researchers are concerned over the rapid decline of sperm concentrations, saying it could "threaten mankind's survival".
The latest study found that the average sperm concentration and counts have declined by 62.3 per cent in the last 50 years.
A precursory study had first been conducted in Europe, North America, and Australia in 2017, but this latest report released earlier this month included countries across Africa, Asia, and South America, confirming that the decline is a worldwide phenomenon.
The research analysed findings of over 250 studies done across 53 countries globally. It was done on men who were unaware of their fertility state. It emerged that the average sperm concentration fell from an estimated 101.2m per ml (million per millilitre) to 49.0m per ml in 45 years – a drop of 51.6 per cent.
The decline was observed to accelerate since 2000, with an increase from 1.2 per cent each year before then, to 2.6 per cent each year after the turn of the millennium. In Kenya, doctors and researchers expressed concerns over the increasing number of Kenyan men unable to father children.
Data released in 2020 showed a dramatic rise in cases of men unable to produce quality sperm.
"The number of men presenting with the inability to produce sperm almost doubled within five years," said Dennis Chalo, a researcher at the Kenya Medical Research Institute (Kemri).
Chalo spoke while presenting data from the University of Nairobi's specialist semen analysis laboratory at Kemri's annual scientific conference in Nairobi. The study involved records of 85 men referred for semen analysis from hospitals across the country.
The biggest problem, affecting about a quarter of the men (24 per cent), was low sperm count, a condition called oligozoospermia.
Having a low sperm count, which is less than 15 million sperm per millilitre of semen and is the international red line, decreases the chance of one making a baby. Another 14 per cent did not produce sperm, a condition called – azoospermia. This number had almost doubled from 7.6 per cent recorded in 2013 at Kenyatta National Hospital (KNH).
"This is a worrying development, and we suspect the huge increase could be due to rising hard-to-treat sexually transmitted infections (STIs)," Chalo said.
The data suggests sperm problems in about 35 per cent of the group were due to infections. Especially worrying is the increase in cases of hard-to-treat gonorrhoea.
According to an article by the Guardian, in view of the latest global study published in the Human Reproduction journal, it is unclear what might be the cause of the apparent trend.
The hypothesis provided includes lifestyle changes and exposure to environmental factors which disrupt the endocrine system. Other factors include alcohol consumption, smoking, drinking, obesity, and poor diet.
Tina Kold Jensen of the University of Southern Denmark told the Guardian that the latest study reiterated a concerning shift and serves as a wake-up call.
"The study should serve as a wake-up call for researchers, clinicians, governments and the public, to confront the reduced sperm crisis by investing in research for both unknown causes and mitigating the known causes."
Related Topics