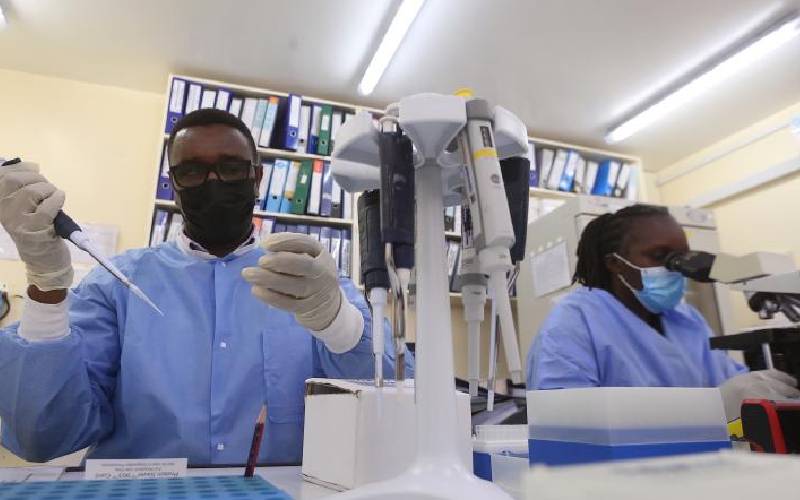 Nyanza has one of the highest burdens of sickle cell disease, but patients will soon access specialised care and treatment from the region's largest referral hospital.
Data from the Kisumu County Department of Health shows that about 1,500 children are born with sickle cell disease annually, meaning three to four out of 100 newborn babies have sickle cell disease – with 50 to 90 per cent of them not celebrating their fifth birthday.
But why the high sickle cell burden in Western Kenya?
Dr George Rae, the CEO of Jaramogi Oginga Odinga Teaching and Referral Hospital (JOOTRH), says sickle cell disease is a painful, major blood disorder, which in Africa was historically common among Nilotic communities living near rivers and water bodies, where malaria was common.
"Sickle cell was body adaptation to fight malaria in endemic zones, genetically people are born with it," explains Dr Rae. Dr Bernard Awuonda, a pediatrician at JOORTH, adds that Nyanza's high burden of malaria led to sickle cell gradually evolving as a protective mechanism against malaria. However, the sickled red blood cells do not survive for long compared to normal red blood cells.
Rae cited malaria and carbon monoxide (use of charcoal) as the common triggers that precipitate a crisis among sickle cell patients, including stroke, destroying red blood cells used for transporting oxygen and hence low blood levels and a need for transfusion.
However, it is not all gloom for sickle cell patients, as JOOTRH is partnering with Novartis Pharmaceuticals to strengthen access to pharmaceuticals and healthcare delivery.
Combination of approaches
Dr Lutz Hegemann, Novartis Group Head of Corporate Affairs and Global Health, says they will consider a combination of approaches to better health delivery, including partnerships with the Kisumu County government.
Patients like Miriam Adhiambo's four-year-old son, who had been admitted for seven days at the paediatric ward, will be the biggest beneficiary.
"My son was diagnosed with the disease when he was one and a half years old, since then life has been unbearable as cost of treatment and care has been a tall order for my family," says the 28-year-old.
George Moturi, the Franchise Head – Oncology – at Novartis, acknowledges that sickle cell is endemic in the lake region where there is a prevalence of about 4.5 per cent.
"So JOOTRH is a centre of excellence that we would like to partner with to assess the plight of the patients and families affected by sickle cell disease. We have come together with JOOTRH to improve aspects to do with training and capacity building so that patients coming to the hospital can be taken care of well."
The JOOTRH pediatric ward admits about 30 patients with different types of sickle cell crisis every week but the cost burden will be eased with the Novartis partnership.
According to Dr Rae, this will not only reduce dependency on supplies from the Kenya Medical Supplies Authority (Kemsa), but also ensure specific drugs are accessed at half price from Novartis, including those for sickle cell, leukemia, multiple sclerosis, malaria, cancer and epilepsy.
He says beyond the partnership, Novartis will carry out researches, which JOOTRH will take part in "towards advancing our pharmaceutical products to improve the treatment of sickle cell disease", which will also be made easier with the installation of a multimillion-shilling machine to detect and manage sickle cell.
Novartis Country President Racey Muchilwa says, "Screening will help in genetic counselling for parents who could potentially be having sickle cell trait as well as prepare them to take care of their children."
Through a partnership with American Society of Haematology (ASH), JOOTRH will not only get expertise, training and research to address the burden of sickle cell, but also equipment, including a special apheresis machine, which will diagnose and replace defective red blood cells with normal ones in a therapeutic process.
Rae says the hospital currently does tests for sickle cell using mechanisms that also diagnose other ailments and which thus "do not present accurately the volume of the cells that have been sickled".
He says many sickled cells pass out as normal and healthy and that is the major reason "we have opted to import a machine, which can detect sickle cells in anybody whether one is a carrier or has the disease."
Rae says with advanced treatment, interventions can be done to ensure children transition and live productive adult lives.
Screening
"We plan to screen 38,000 newborn babies for sickle cell annually for the next five years," says Dr Awuonda. "This will help reduce mortality among children born in the region as it's the epicentre of sickle cell disease in Kenya."
Many patients report to hospital when it's late and bones destroyed, making rehabilitation a challenge, but Dr Rae adds that "ultimately the centre will be equipped to offer bone marrow transplant services, which will also be useful for haemato-oncological conditions like leukaemia."
Rae also notes that Norvatis is keen on supporting JOOTRH carry out kidney transplants, hence the establishment of a kidney transplant unit. The partnership with Norvatis will give JOORTH a footing in the region's healthcare sector.
"Such a partnership should enhance evidence-based, people-centred, focused leadership that is result-oriented and promotes cohesion among patients and healthcare providers," said Kisumu Governor Anyang Nyong'o.
Statistics show that about 30 out of 100 people in Kisumu County are carriers of sickle cell gene. Data from JOOTRH indicates that between 20 and 30 per cent of patients have sickle cell traits, with annual new cases at three per cent.
Related Topics