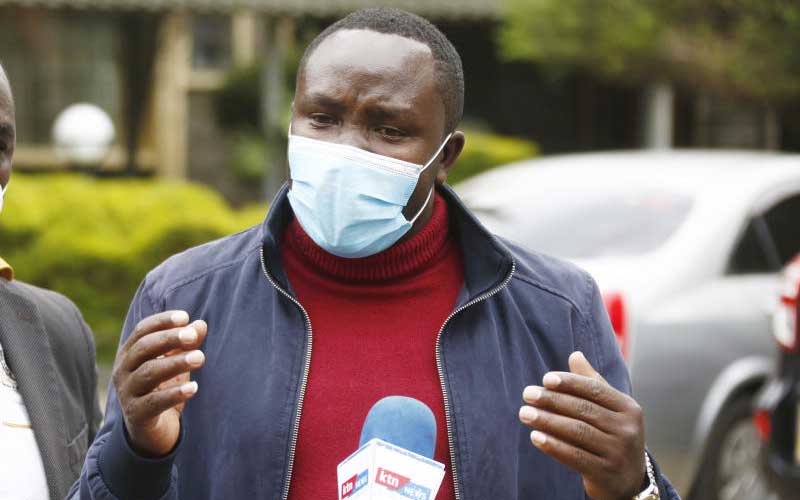 Clinicians have given the government 14 days to provide them with personal protective equipment (PPE) and a medical cover failure to which they will withdraw their services.
The strike notice issued by Kenya Union of Clinical Officers (KUCO) yesterday comes a week after doctors, under Kenya Medical Practitioners and Dentists Union (KMPDU), vowed to start their nationwide strike on December 6.
Clinical officers are demanding standard PPE in all hospitals.
The union is also demanding a comprehensive medical cover for its members and all salaries of Universal Health Coverage (UHC) personnel be paid within 14 days.
Additionally, it wants the government to allow healthcare providers in vulnerable groups to work from home.
Other demands include health risk allowance to be harmonised and increased to cushion them from financial constraints and employment of 3,000 clinicians on permanent and pensionable basis.
They also want a constitutional health commission, promotions and payment of arrears.
KUCO Secretary General George Gibore said government was unprepared and had mishandled Covid-19 management.
"It is unfortunate that as clinical officers devout their lives to combat Covid-19, the government continues to neglect their plight. They have not been provided with recommended PPE and comprehensive medical cover, which is tantamount to abdicating their core responsibility as the employer," said Gibore.
Gibore said the union has been engaging the government on safety of healthcare workers and provided advisory to take prompt and proper practical measures, but instead, it has remained adamant.
So far, more than 2,700 healthcare providers have contracted Covid-19, with 33 succumbing.
Out of the 33 deaths, seven are clinical officers and 12 senior specialised doctors.
"As patriots and as a responsible union, we cannot negotiate on matters pertaining to the sanctity of the life of our members and colleagues," he said.
According to the union, health providers who succumbed to the coronavirus belong to vulnerable groups of elderly persons (above 55 years), pregnant women and those with pre-existing conditions and diseases.
"These deaths would have been avoided had the government heeded to our advisories and those of WHO to exempt categories from active duty as with other countries like Ethiopia, Rwanda, Ghana, Egypt and Australia," he said.
The union regretted that even with measures to handle shortage of healthcare providers, the government has not paid employees under UHC for the last six months.
"Most of our members in counties such as Meru and Kitui have experienced prolonged delay in payment of salaries sometimes up to three months, yet they are expected to purchase their own PPE and pay medical bills when they contract the disease," added Gibore.
The employees also want designated equipped hospitals for treating healthcare providers who contract the virus. Currently, only Nakuru, Nairobi and Makueni have designated hospitals for medics.
On the other hand, KMPDU wants the government to employ 2,000 more doctors to help in the fight against the pandemic. According to data by KPMDU Council, the number of doctors licensed to practice in Kenya as at November 9, 2020, was 9,826. Out of this number, 2,606 are specialised doctors from various fields of medicine.
National census
The doctors are serving an estimated 47 million people as per the 2019 national census, documented by the Kenya National Bureau of Statistics.
Doctors who have since succumbed to the coronavirus disease include Nira Patel (dental surgeon specialist in orthodontics) and Kenyatta National Hospital's head of Renal Unit and kidney specialist Anthony Were.
Othes are Doreen Adisa (obstetrics gynecologist), Ndambuki Mboloi (pulmonologist), Daniel Alushula (orthopaedic surgeon), Vladimir Schukin (bariatric surgeon), Hudson Inyangala (public health specialist), Robert Ayisi (paediatrician) Hudson Alumera (periodontology surgeon), Faith Mbuba (pharmacist) and Jackline Njoroge.
Related Topics