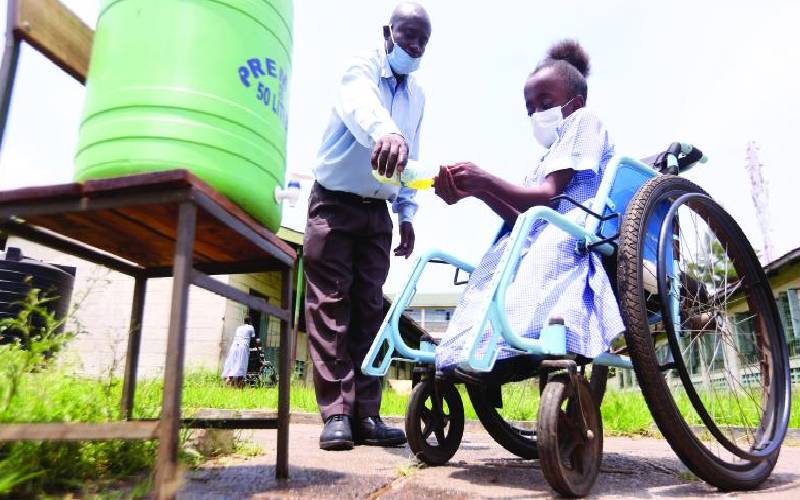 "Have your mask on," Pauline Ochingo interrupts our interview, as she rushes to assist her pupils adjust their face masks.
"Do not get close to each other, you need to keep some distance," she adds, before coming back to proceed with the interview.
Ms Ochingo is a teacher at Joyland Special School in Kisumu, a job she has done for the last four years. If the job had been challenging, then the last three weeks presented the biggest chunk of the challenges.
Following partial resumption of learning in schools after the long holiday caused by the coronavirus pandemic, Ms Ochingo has to be extra vigilant with her pupils.
At the school, she takes care of children with various forms of disabilities such as mental, physical, all competing for special attention.
Work station
When we caught up with her at her work station yesterday, Ochingo was in high spirits, occasionally interrupting our interview to go and help out the children.
After teaching in the regular schools for three years, she developed interest in working with children with special needs.
"My brother had a child with Down's Syndrome and I could not stand the ignorance we had as a family in caring for him," she said.
This made her enroll at Kenya Institute of Special Education (KISE) in 2001, a year after joining Joyland Special needs school as a teacher.
Ochingo later joined Kenyatta University with the same focus on physically handicapped training.
The mother of five says she has found satisfaction in training the physically challenged children and is dedicated to holding their hands every step of the way even as Covid-19 rages on.
"My bonding with them has made me realise that since they resumed school from the long holiday, they have not been the active children I knew," said the Maths teacher.
During pandemic
For Hussein Anyoso, teaching during the pandemic has seen him dedicate more of his time to his learners.
The Grade Two teacher took to the challenge and started teaching Social Studies to Grade Four learners since the pandemic started.
Before he starts his lessons, Asonyo ensures that he takes five minutes just to remind his learners on how to put on their masks properly, hand washing techniques and the importance of keeping social distancing.
At break time, he keeps a close watch of his learners to makes sure that they don't touch their eyes or mouth with fingers, then ensures they wash hands property before resuming classes.
"You have to come down to their level and avoid being harsh in order to win their trust. Since we no longer go to the assembly, we dedicate some of our time in teaching them these regulations that help fight the disease," Asonyo says.
Just like Ms Ochingo, Anyoso started teaching at a regular school in 1988 where he taught for 15 years before developing interest in teaching in a special needs school.
The 58-year-old joined KISE college in 2001 and has a child born with epilepsy.
The school's head teacher Athur Ayoti says that the performance of the children, 24 in Grade Four and 17 in Class Eight, has dropped due to the long period they learners have been home.
Sense International, an NGO, came up with an initiative to support hygiene in special needs schools.
The school is among three others - Maseno School for the Deaf, Okok Special Needs School and Awanya Special Needs School - that received five handwashing facilities and a dustbin each from the organisation.
The hand-washing facilities have been made especially for the physically handicapped learners.
According to the organisation's Programmes Officer Mercy Akumu, they are targeting 15 schools in the region with similar assistance.