Home
/
Health & Science
Medics now demand risk allowance over Covid fear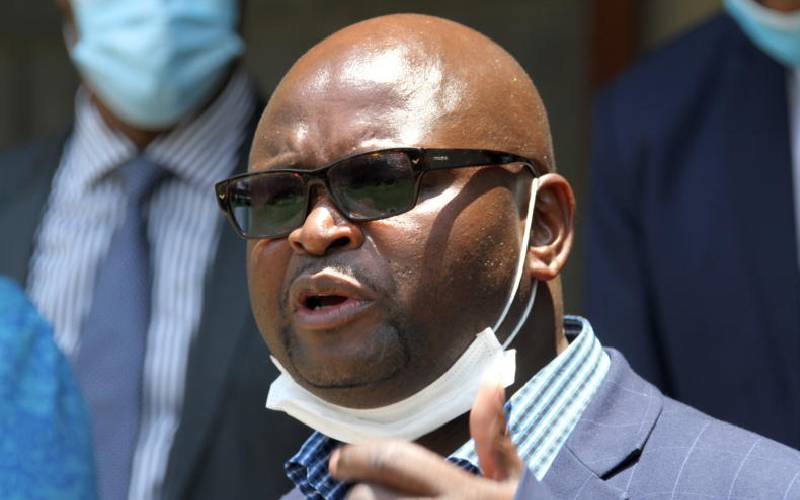 A simmering row between health workers and county governments threatens to cripple health services.
The heath workers have vowed to down tools over what they termed poor working environment, which has caused a number of Covid-19 deaths among doctors, nurses and laboratory officers.
Kenya National Union of Nurses (Knun) Secretary General Seth Panyako (pictured) said yesterday representatives of health workers will meet in Nairobi this week to discuss their plight.
"We have been losing colleagues almost every day because most health workers, especially nurses, take care of Covid-19 patients in isolation facilities, where they are exposed to infections," said Panyako.
Speaking in Kakamega town, Panyako claimed most deaths reported among the health workers were as a result of contracting Covid-19 in line of duty.
The union wants the government to declare Covid-19 a deadly occupational hazard so that heath officers who contract it receive adequate compensation in the event they die.
"Health workers must also be offered a comprehensive medical cover scheme and Covid-19 risk allowances (only paid for three months since March and not all received them). We would also like the health workers to be supplied with quality Personal Protective Equipment (PPEs) and face masks," argued Panyako.
Mr Panyako said medics need friendly working environment and it will not be business as usual until the grievances are addressed.
"We are dealing with an employer who is insensitive to our welfare, this cannot be the case if the government is serious about combating pandemic."
According to Panyako, at least 30 per cent of the nurses exposed to coronavirus have tested positive for the disease.
Related Topics