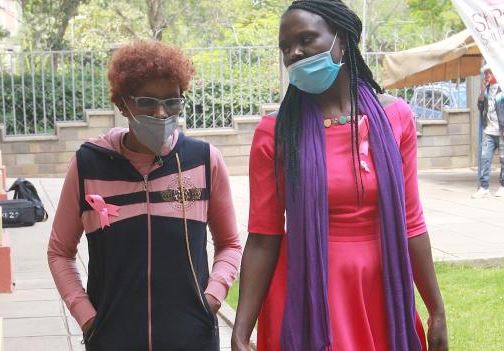 Corletta Mwende discovered she had a lump in her left breast in November 2019, and in January doctors confirmed it was Stage Two cancer. However, her plans to go to India for treatment were halted after all international flights were suspended due to the Covid-19 pandemic.
"Since I was unable to go to India, my doctor gave me some medicine to manage the pain. However, after three months the lump had increased in size from 1.8cm to 2.7cm and also moved to my right breast," says Mwende.
In August, Mwende's doctor advised her to do a positron emission tomography (PET) scan that confirmed the disease had spread to her bones.
She adds, "I am now on chemotherapy. My doctor told me that I will go through treatment for two years. It was hard during the inter-county lockdown, and the report that cancer patients were vulnerable also demoralised most patients to visit health facilities. So getting treatment was quite a challenge."
Catherine Wanjiru, a Stage Four colon cancer survivor, talks about the challenges she underwent to get permits to travel during the inter-county lockdown to assist patients who underwent colorectal cancer surgery and needed assistance on how to use colostomy bags.
A colostomy bag is used if your bowel needs to heal or part of your colon needs to be taken out following a severe disease.
During the surgery, the end of your stomach is brought through an opening in your abdomen to form a stoma, a hole where your stool will come out instead of the normal outlet. Your stoma does not have muscles to control when your stool can come out so a bag is used to collect your stool.
Colostomy bags
"After my surgery, I used the colostomy bag for two years. Then I went back to India to get training so that I could assist and sensitise colon cancer patients after realising that there was a lot of stigma around usage of the bag. I get calls from hospitals and I train nurses on what to do," says Wanjiru.
However, Wanjiru says during the inter-county lockdown some patients were unable to get the bags and that some even died.
"Two patients died during the lockdown because they could not access the bag. I had to do something, so I went to the chief and the DO to get the permit; it was a whole process and a file full of papers. But finally, I was able to travel and assisted some of the patients," says Wanjiru.
Wanjiru says people often feel uncomfortable when she talks about assisting patients on how to use and clean the colostomy bags.
"I always tell people poop is processed food, so there is nothing to be uncomfortable about. I always clean and show patients how to use the bags until they are confident enough to do it themselves," says the cancer survivor.
Prisca Githuka, a breast cancer survivor and chairperson of The Cancer Survivors Association of Kenya, while addressing cancer patients and survivors at St Paul's University Chapel yesterday during their first meeting since the first Covid-19 case was reported in the country, encouraged them to reach out for help.
"We have a WhatsApp platform and we made sure all members are active. Times are tough but we helped where we could, but sadly lost some patients during the lockdown," says Githuka.
She adds, "The association is a psycho-social group, we call our members and sometimes have virtual meetings to encourage them as they go through their treatment."
During the annual global week for action on Non-Communicable Diseases (NCDs), the Non-Communicable Diseases Alliance of Kenya talked about the wave of later-stage diagnoses and dire complications following disruptions in routine people living with NCDs underwent.
The biggest was difficulty in accessing medication and treatment and postponement of appointments. For example in Mwende's case, her earlier diagnosis indicated that she had Stage Two cancer, and a few months later the disease had progressed to Stage Four and spread to other parts of her body.