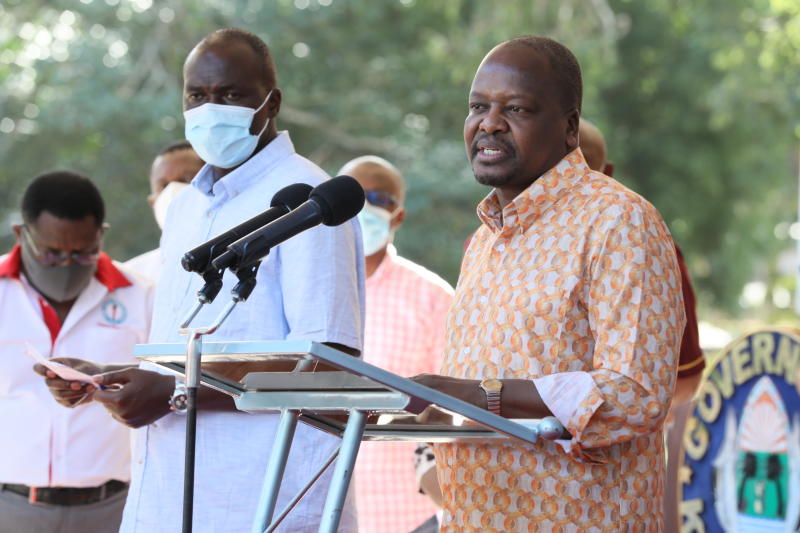 The State yesterday called for enhanced self-discipline as it announced the highest number of coronavirus cases and death of the first doctor to the virus. Health Cabinet Secretary Mutahi Kagwe said the recent unlocking of the country required strict observance of the Covid-19 protocol to combat spread of the virus. Addressing the media in Kilifi County yesterday, the CS announced that 473 people tested positive for coronavirus in the last 24 hours who included 324 male and 149 female. The ministry announced that 44 patients were fighting for their lives in intensive care units across the country. This compares to 447 positive cases and 40 cases in ICU announced on Thursday. The CS said the coronavirus cases were likely to increase sharply and hence need for compliance through individual discipline and change of behaviour and lifestyle.
SEE ALSO: Why reinfections are making search for vaccine hard
Kagwe yesterday led healthcare workers and Kenyans in mourning the death of Dr Doreen Lugaliki, who died of Covid-19 at Aga Khan Hospital, Nairobi. She was among the eight people who succumbed to the virus in the 24 hours under review. The ministry also announced that 292 healthcare workers who are in the front line in battling coronavirus have tested positive for the disease, most of them female nurses. "It is unfortunate we have lost the first doctor after she contracted coronavirus while working to save lives of others. I have since talked to her sister. It is a sad day for the healthcare workers in the country," he said. Kagwe, who was flanked by Kilifi Governor Amason Kingi told Kenyans to be more vigilant than ever if the country is to contain spread of the virus. "Opening the country does not mean we have contained the virus. Citizens and government will have to tackle the virus together. It shifted responsibility of containing the virus to individual Kenyans," he said. The governor said the county that has so far recorded 71 positive cases of coronavirus will enhance its surveillance to contain the disease. "Now that the country's lockdown has been lifted, it provides an environment for a possible spread of coronavirus. We must change our behaviour through self-discipline. Our victory against the coronavirus is to keep our Covid-19 centre free of patients," said Kingi.
SEE ALSO: State now links virus spread to weather
Ministry of Health Director General Patrick Amoth said 44 Covid-19 patients were in the ICU, 22 of them on supplementary oxygen. He said the Government was putting emphasis on home-based care because it was less costly. "I urge Kenyans to embrace home-based care because it is less costly," he said.