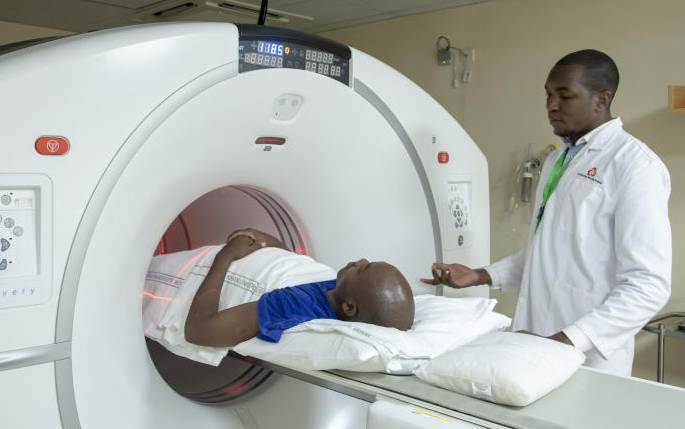 The latest and most advanced scan for evaluation of patients with prostate cancer is now available at the Aga Khan University Hospital, Nairobi.
The Prostate-Specific Membrane Antigen (PSMA) PET CT scan has been available for only a few years and in the most advanced medical centres in the world.
In a statement, the hospital said the scan allows for better treatment options of the disease while still in an early stage.
In view of its higher sensitivity, this scan can identify sites of early prostate cancer spread before they are picked up by conventional imaging modalities.
"This is bound to have a major impact on the successful outcomes of the treatment for those with prostate cancer," a statement from the hospital read in part.
Prostate Cancer PET-CT scan can detect the location and extent of cancer that has recurred after initial treatment and spread to other parts of the body. Prostate PET-CT scans can also detect cancer earlier than either CT scans alone or MRI scans.
"Following advancement in our PET CT scan technology and growth in the expertise of our radiology and laboratory departments, AKUH, N is now able to produce the radioactive substance required for this scan as well as conduct the test," the statement further stated.
Prostate cancer causes at least 1,663 deaths every year out of 2,864 cases recorded.
According to a report tabled in Parliament by National Cancer Institute of Kenya (NCI-K), Globocan 2018 estimates show that there are 47,887 new cases of cancer daily and 32,987 deaths annually.
Compared to the presently established methods of imaging prostate cancer such as MRI and bone scan, PSMA PET CT scan has a higher sensitivity for identification of sites of prostate cancer spread, be it in the bones or in any other organs such as lymph nodes, liver and lungs.
"It can be used for this purpose at the initial diagnosis of the disease, during follow-up and when disease recurrence is suspected," the hospital said.
It added: "The capacity to conduct this test adds to the expertise of our PET CT Scan and Cyclotron, a technology we acquired in 2018 at a cost of Sh600 million."
After the initial diagnosis of prostate cancer, patients undergo treatment such as surgery, cryotherapy or radiation. In some cases, cancer may recur. Following treatment, patients are monitored with periodic PSA blood tests.
Related Topics