Home
/
Health & Science
Kenya registers 97 Covid-19 recoveries as positive cases rise
Health & ScienceBy Japheth Ogila | Mon,Jun 08 2020 16:16:47 UTC | 2 min read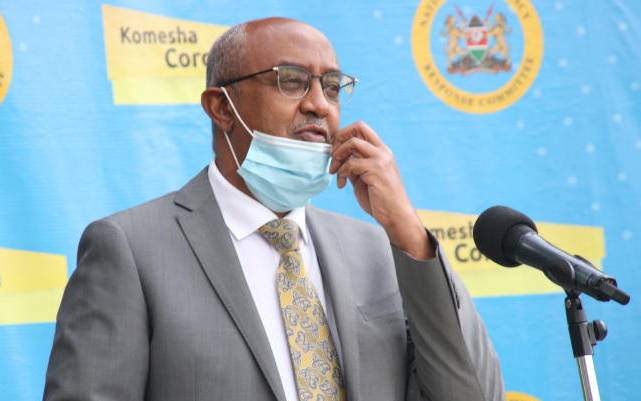 It was a mixed bag of fortunes as Kenya registered 97 recoveries and 95 new Covid-19 cases in the past 24 hours.
According to the Health Chief Administrative Secretary Dr Rashid Aman, this is the highest number of recoveries noted in a day since the country started battling the virus. Kenya has now discharged 849 from the facilities after healing from the bug.
Dr Aman (above) praised the efforts of the frontline healthcare workers saying that their hard work and dedication to service have translated into those recoveries.
While addressing the media during the briefing on Covid-19 pandemic, the CAS said that the higher number of recoveries was good news because it eased the strain of health care facilities. He tied the higher number of cases registered in a day to the increased testing capacity.
"This is commendable and is proof that contracting the virus is not a health sentence," he said.
"We expect that these numbers will be able to rise…this doesn't mean that we should lose hope. As a matter of fact, most hospitals dealing with these cases have done exceptional jobs," he said.
He urged Kenyans to continue observing hygiene and strictly follow containment measures such as wearing face masks, using hand sanitisers and avoiding crowding.
With the government announcing the home-based care, Dr Aman said that caregivers at home will have to abide by the new World Health Organisation safety rules. Such for instance, would include using N95 face masks which is the highest-rated efficient mask against the virus. The same he said applies to those above 65 years or persons with underlying conditions especially when heading to public places.
He said that the rest of the population with less exposure to the virus may continue wearing layered surgical masks or cotton ones proved to be effective.
Out of the 95 cases, 57 were males while 38 were females. Mombasa registered the highest number of cases with at 56, Nairobi 13, Busia 10, Kajiado 6, Kilifi 3, Nyeri 3, Kitui, Kwali, Garissa and Marsabit county with one case each. He revealed that 38 counties have so far registered Covid-19 cases after Marsabit noted her first case.
One patient succumbed to the virus in Nairobi. This brings the number of deaths to 85. Another area of concern Dr Aman highlighted is the infection of healthcare workers where three cases noted in Nyeri County were of such workers.
Related Topics