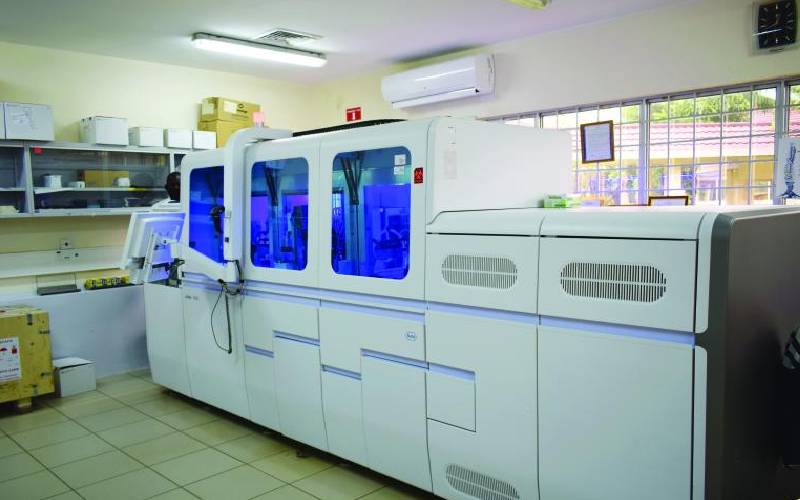 The Kenya Medical Research Institute (Kemri) has gone back to 'manual' testing of coronavirus due to lack of reagents. This revelation comes amid protests by more than 100 Kenyans flown home from abroad that they were yet to receive results of samples taken one week ago. The group, quarantined at the Kenya Medical Training College (KMTC) in Nairobi, yesterday protested that the ministry had abandoned them. "Nobody is talking to us. We have finished the mandatory 14-day quarantine and we need to go home, yet they are not giving us our results," said Bakari Ahmed who was repatriated from Dubai on May 14.
SEE ALSO: No KCPE, no KCSE this year
Acute shortage
Initially, Matilu Mwau, the Kemri deputy director, said the delay could be due to the fact that they have resorted to manual testing caused by lack of reagents needed for automatic tests. But last evening, the returnees were told they have to be tested again as their samples could not be traced. Even though Kemri had said they have the capacity to test thousands of samples in a day, it has become impossible to do so because of what Prof Mwau terms as an acute shortage of reagents globally. "The automated kits have not been delivered. We have gone back to using manual kits and it is tedious. We are working all day, but we cannot do large volumes of tests. It is challenging, but we are doing our best," he said, adding that they are expecting more than 180,000 reagents for the automatic machines, and once they receive them, they will be able to relay results faster. In early April, Kemri announced that they have an automatic machine, Cobalt 8800, that has the capacity to test more than 30,000 samples in a day.
SEE ALSO: Central, Eastern may suffer most Covid-19 deaths – Kemri
"The machine has the capacity to test 37,938 samples in one day. The results are also very fast, and this is good news because people will not have to wait too long to know if they have the virus," Mwau had said. It is now emerging that the use of automatic machines has not been sustainable because the reagents have to be imported, and there are not many flights that are willing to come to Africa. "As soon as we get the kits, things will start moving faster. We are excited about the possibility of getting them as soon as next week," said Mwau. Kenyatta National Hospital, Kemri, Moi Teaching and Referral Hospital and Coast General Hospital were listed as some of the institutions expected to scale up the testing, but they are also grappling with low number of test kits. Joel Migwi, who is quarantined at KMTC, said even the normal tests such as checking their temperature and other symptoms that were being done by medics at the institutions have since stopped.