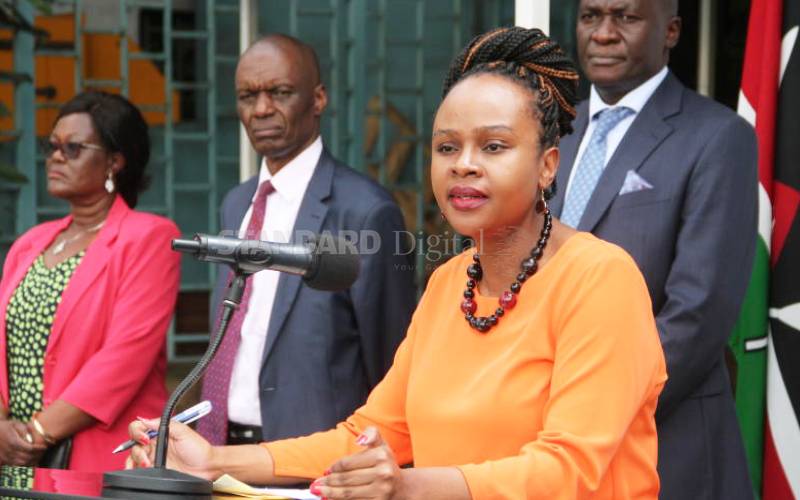 The country has recorded its first coronavirus death.
The 66-year-old man, who had been at the Intensive Care Unit at Aga Khan Hospital, died.
The man, who was suffering from diabetes, had arrived in the country on March 13 from South Africa via Swaziland, Health Cabinet Secretary Mutahi Kagwe announced last evening.
It is said the man was admitted to the hospital on Sunday as his health had deteriorated. Sources said prior to admission, he had been at the hospital's casualty department for treatment as he was also hypertensive. Medics said they were not told he had travelled outside the country all this time until Sunday. It is now feared that more than 10 medical personnel who attended to him are in isolation.
The body has to be buried within 24 hours. Ministry of Health officials will handle the body in full protective gear. The immediate burial is to avoid storing the body in a mortuary with others that might put their relatives at risk.
Meanwhile, the government confirmed three more cases of coronavirus, bringing the total of those infected to 31. This even as the country entered a crucial phase during which actions taken will inform its destiny with the pandemic, according to the World Health Organisation (WHO).
WHO has advised countries that have introduced so-called "lockdown" measures - closure of schools, working from home, and dusk-to-dawn curfews like the one that comes into force in the country today - to use this time to attack the virus by implementing six key actions.
Six action points
The global health body has said if implemented, the six measures are effective to curb the spread of the pandemic and avoid its devastation on lives and the economy, particularly for more than 150 countries that still have fewer than 100 cases like Kenya.
"Aggressive measures to find, isolate, test, treat and trace are not only the best and fastest way out of extreme social and economic restrictions, they're also the best way to prevent them," WHO Director-General Tedros Ghebreyesus said on Wednesday during a media briefing.
Yesterday, Health Chief Administrative Secretary Mercy Mwangangi, while announcing the three new cases, said authorities were now monitoring 906 people who were in contact with the 31 patients. Initially, 1,029 close contacts were under surveillance but out of these, 123 have been discharged from the monitoring programme.
"As we speak, there are consultations going on how our teams are going to handle Kilifi and other areas that are emerging as hot spots. I therefore urge people at the Coast and particularly Kilifi to observe social distancing with self-determination," said Dr Mwangangi.
She disclosed that the infections are spread across five counties of Nairobi, Kajiado, Mombasa, Kilifi and Kwale. At the heart of the WHO six-point action plan is aggressive tracing and isolation of suspected cases.
The six key actions that WHO recommends are expanding, training and deploying health care and public health workforce. The second is implementing a system to find every suspected case at community level.
Third is ramping up the production, capacity and availability of testing while the fourth is identifying, adapting and equipping facilities that will be used to treat and isolate patients. Fifth is developing a clear plan and process to quarantine contacts and sixth is refocusing the whole of government on suppressing and controlling Covid-19.
"These measures are the best way to suppress and stop transmission so that when restrictions are lifted, the virus doesn't resurge.
"By taking the same aggressive actions now, these countries have the chance to prevent community transmission and avoid some of the more severe social and economic costs seen in other countries," said the WHO boss.
"This is especially relevant for many vulnerable countries whose health systems may collapse under the weight of the numbers of patients we've seen in some countries with community transmission," Dr Ghebreyesus added.
The Ministry of Health had earlier singled out Nairobi, Mombasa, Kilifi and Kwale as high risk areas, but the entrant of Kajiado points to the risks involved. The 25,000 testing kits received this week are expected to step up testing, which could uncover more cases.
MoH Acting Director General Patrick Amoth said since the first case was announced on March 13, 2020 close to 600 samples have been tested.
"Going forward, we are increasing our capacity to enable Covid-19 cases to be tested at the Moi Teaching and Referral Hospital so that the facility can serve the North Rift region," said Dr Amoth.
Apart from the Kenya Medical Research Institute (Kemri) in Nairobi, Kemri Kilifi and the National Influenza Centre, Covid-19 tests can also be done at Aga Khan Hospital, and Kemri Kisumu under Centre for Disease Control and Prevention (CDC).
The new positive cases were part of 74 samples which were tested between Wednesday and Thursday at the National Influenza Centre in Nairobi and Welcome Trust Kemri in Kilifi.
The three new cases, Mwangangi said, are females between the ages of 30 and 61. Two of them are from Kilifi while one is from Nairobi.
"Tracing of contacts is ongoing," she said.
The CAS said all the 31 patients were doing well except two from earlier cases whose condition was severe, but they were being monitored.
Some patients discharged
President Uhuru Kenyatta on Wednesday announced that one of the patients had tested negative. Yesterday, Amoth confirmed that the patient, whose details are still being kept under wraps by the government, was discharged.
The patient, however, is patient number two, and not the first one who tested positive.
"We follow World Health Organisation protocols and we do serial tests until we have two negative (tests)," explained Amoth.
The patient, though discharged, is under the watchful eye of the government and monitoring team from the Ministry of Health, as it is being proven globally that one can turn positive even after testing negative.
"Potentially, re-infection is possible so even if we release them, they still have to take the necessary precautions," said Amoth.
At the moment, the government has 18 people admitted at Mbagathi Hospital who are awaiting test results.
Since Health Cabinet Secretary Mutahi Kagwe reported the first case, a total of 1,029 people have been traced by government agencies for being in contact with individuals who tested positive.
Of these, 123 have been discharged from the monitoring programme while 906 are still being watched.
Related Topics