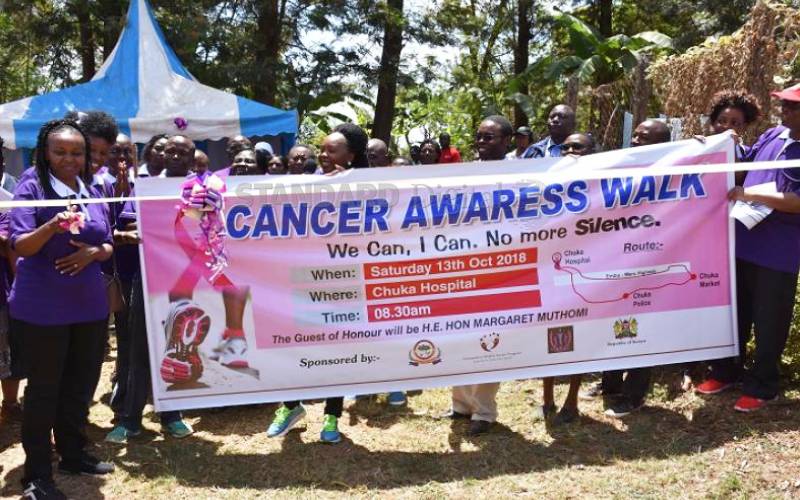 Meru region has some of the highest cases of stomach cancer in the world, a new study at Meru Hospice shows. The study published last week shows among all cancers in the area, that of the stomach is highest. The cases of stomach cancers in Meru, the study found to be equal to those in countries with the highest globally. "Stomach cancer rates are strikingly elevated and equal to those in countries with the highest stomach cancer rates globally – making it the commonest cancer in this region at 14 per cent of all cancers," says the study appearing the journal
AAS Open Research
.
Research team
A team from Meru Hospice, Mount Kenya University, Aroha Cancer Centre, and Meru University of Science and Technology, did the study and concluded the region a stomach cancer hotspot. The team had analysed data on 2,349 cancer cases seen at the Meru Hospice between 2003 and 2018. "Our analysis suggests that the Meru region is a stomach cancer hotspot and that it also experiences elevated esophageal cancer levels." Stomach cancer was found to affect men more frequently than women, with 60 per cent of cases occurring in men.
Stomach cancer accounts for 17 per cent of all cancers in men. The analysis revealed that stomach cancer peaked in the age group 60–69, in which a third of the cases were diagnosed while a quarter occurred in men between 50 and 59.
Under 50
Significantly, the report says, 16 per cent of stomach cancers were diagnosed in men under 50 years. Citing global figures, the authors led by Francis Kobia of the hospice, explained that stomach cancer is the fifth most common cancer in the world. "Our data show that in this region of Kenya, stomach cancer is the commonest cancer in both sexes combined, constituting 14 per of all cancers," the study says. This rate, the team says, is similar to rates in Eastern Asia with the highest stomach cancer incidence globally, including Japan, Republic of South Korea and Mongolia where it constitutes 13.1 per cent, 13.4 per cent and 14.4 per cent of all cancers, respectively. Globally, stomach cancer rates are two-fold higher in men than women. "Consistent with this observation, our analysis shows a 1.5-fold higher stomach cancer rate in men than in women," the researchers say. Meru, and specifically Kiegoi Sub-County, has been in the news lately over claims of excessive cases of cancer. "We are yet to establish why the area seems to have so many cases of cancer compared to other parts of Meru. A research is being undertaken to establish what is causing this," County Hospice coordinator Gladys Mucee had earlier told
The Standard
. While this study was independent of these claims, it did not answer two crucial questions; whether Meru has more cancers than the rest of the country and the cause of the disease. "The patient register we analysed does not capture important information like occupation or lifestyle, thereby limiting its capacity to inform about possible cancer causes in the region," said the study. Though combined, the study says stomach cancer cases are top in the region, by gender, prostate leads in men while in women breast cancer was most frequent. "Our results indicate that cancer is almost evenly distributed across genders, with men accounting for 49 per cent and women 51 per cent," the study says. The three top cancers by gender thus were prostate, stomach and food pipe in men while breast, cervical and stomach were highest among women in that order. Concerned over the high cancer cases in Meru and that it is diagnosed almost a decade earlier than in the rest of the world, the authors call for more research on the disease in Meru. Generally, the main risk factor for stomach cancer, the authors say, is the bacteria Helicobacter pylori or H. pylori known to cause stomach ulcers which may go on to develop into cancer.
H. pylori connection
"There is a need to establish if and how H. pylori contribute to stomach cancer in this region, suggest the authors. A study published in May by Meru University of Science and Technology and Chuka University showed significant use of complementary and alternative medicine among cancer patients in Meru. Most common alternative treatments used, the study indicated, as spiritual therapy, vitamins and supplements and herbs in that order. Church elders and pastors, friends and the local pharmacists are the main sources of alternative medicines, reported the study.