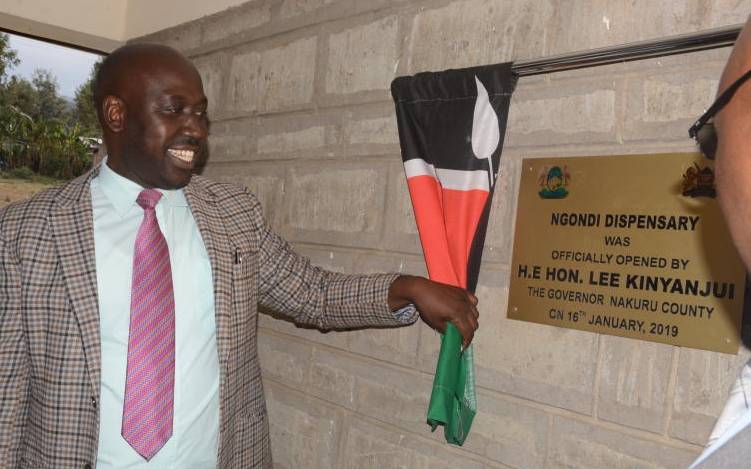 The Nakuru County government has protested the closure of eight of its health facilities by a State agency. On Wednesday, the Kenya Health Professionals Oversight Authority (KHPOA) gave a notice for the facilities to be closed over poor services. Health Executive Gichuki Kariuki said his docket was yet to be furnished with a report detailing why the facilities had been closed. "We have asked for clarification on what is wrong with the facilities for us to facilitate their closure," Dr Gichuki said.
SEE ALSO: Nakuru County sets up handwashing stations to fight Covid-19
KHPOA has ordered 811 health facilities closed across the country. Of these, 36 are in Nakuru County. Eight are public and 29 private. The eight public facilities are, Bagaria and Naishi Game in Njoro, Banita in Subukia, Mbaruk and NYS Dispensary in Gilgil, Namuncha, Ndabibi and Ngondi dispensaries in Naivasha. According to the KHPOA notice, the facilities do not meet the standards set by the Government to effectively serve the population around them. The notice was issued through the office of the Council of Governors. Acting Director-General for Health Wekesa Masasabi told the county governments to shut down the facilities.
SEE ALSO: Claims of abortion, rape, rock police unit
Minimum standards "The attached list of facilities do not meet the minimum standards in order to be issued with a licence," the notice read. They are therefore ordered closed until a time when they comply with requirements from the relevant regulatory bodies." Nakuru Health Chief Officer Samuel King'ori pointed out that Ndabibi, which is on the list, was recently equipped. "Ndabibi is one of the oldest facilities in Naivasha and we equipped it less than two months ago," Dr King'ori said.
SEE ALSO: Hospital births rise with reduced curfew hours
"It has modern structures and has not recorded any drug shortage of late. KHPOA may have visited the facility way before we made the improvements." In Nakuru County's Sh21 billion 2019-20 budget, the health sector got an allocation of Sh6.6 billion. The money went into upgrading health facilities and hiring new staff. The private clinics to be closed in Nakuru are Vinet, Van Den Berg, Thayu, Mauche, Kimsaw, Karura Community, Joamu, Holy Spirit, Gilgil Community, Dr Wambore Medical, Development Pamoja, Denticheck, Consolata and Cherryl Care. Others include Carepoint Dental, Capital Medical, Calvary, By Faith, Salgaa Medical Diagnostic, Orive, Ngata Medical, Mau Medical, Majani Mingi Community Kambi Ya Moto, Kahoya, Gekay, Cephas Medical and Dental and African Health Services. The notice comes two days after the Nakuru county assembly adopted a report by its Health Committee recommending the rehabilitation of two health facilities in Njoro - Mau Narok Health Centre and Mwisho Wa Lami Dispensary. The committee ruled that the facilities, which have a maternity wing, are inadequately staffed and need better equipment to remain functional.