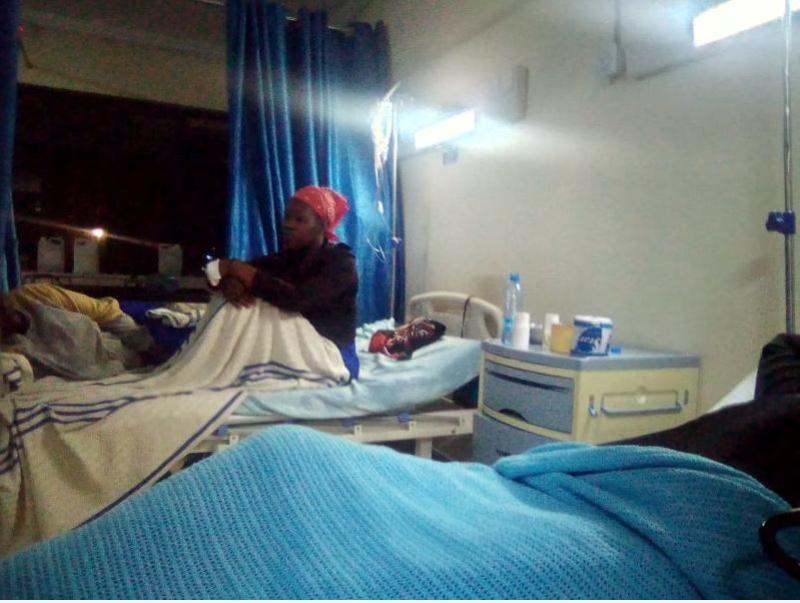 The opening of the Margaret Kenyatta Mother Baby Wing at the Nakuru Level Five Hospital birthed hope for many expectant mothers.
Beatrice Cherono is one of them. She was rushed to the Margaret Kenyatta Mother Baby Wing at the Nakuru Level Five Hospital on the night of July 16 after she developed labour pains.
On arrival, there was no medic to attend to her. Several women due for delivery queued. Some were in pain while others wailed.
The first-time mother was confused but patient, she hoped that a nurse in a white coat walking hurriedly towards her would attend to her but that did not happen. The nurse was rushing to handle an emergency and Cherono had to find her way to the delivery room, where she delivered safely without assistance.
"I thank God I did not develop any complications. Nurses here only concentrate on mothers in critical condition," she says. At the post-natal unit, at least two women share a bed with their newborns. "Most mothers prefer sitting, to make room for their babies. I cannot wait to go home," says the mother from Rongai.
This is just a glimpse of the sorry situation in Nakuru's biggest maternity hospital which was opened in October last year by First Lady Margaret Kenyatta.
The number of patients seeking treatment there has risen significantly, leading to congestion considering that there is also a shortage of staff.
The maternity boasts four modern theatres with shade-less lamps, antenatal and postnatal clinics; a neonatal intensive care unit for newborns, gynaecology and isolation wards for babies born with complications. About 50 to 70 deliveries are recorded daily.
Lagat, a medical student from Egerton University says that she reports to the hospital at 8am and leaves as late as 8pm due to shortage of nurses to handle the patients.
She confesses that resources are limited, and that nurses wear up to seven pairs of gloves at once then they remove one by one after every delivery because of lack of time.
"There are many deliveries and it is difficult for a nurse to leave the delivery room to go and wear fresh gloves," says the intern.
An employed nurse who requested anonymity says that a ward that should have at least 34 caregivers has been operating with only 13, putting a strain on the available ones.
"We offer services, but the amount of work is overwhelming. This is why a number of patients are placed under the watch of caregivers, to allow us handle critical cases," she says.
The previous maternity wing that was located at the main Nakuru Level Five Hospital used to record about 30 births daily. Today, however, the number of cases surpasses the facility's capacity.
Twenty eight nurses have since been deployed to the new wing, with some already offering their services in the gynaecology, post caesarean, labour, theatre and newborn units.
The gynaecology ward has 13 nurses, but their work schedules and shifts have left only three to man the ward that has a bed occupancy of 55.
Doctors at the facility cannot afford to take time off because of the amount of work as there are only five doctors at the wing serving four wards, two theaters and a clinic.
"At any given time, there is too much work at the new facility; a doctor is expected to man the ward, observe patients and conduct operations," says the official.
She adds that he has not taken leave for the past two years, and that medics at the facility work for more than 168 hours per week, against the World Health Organisation's recommendation of 40.
"I have not gone on leave simply because there is nobody to play my role. I report at 8am and leave as late as 9pm. Fatigue is real and it can affect performance," she says. Normal deliveries are done by an experienced nurse, while doctors handle the complicated ones.
"The new maternity has excellent equipment to tackle reproductive health but we need more staff to deliver quality work," she says. Nakuru Health Executive Kariuki Gichuki admits there are times mothers are forced to share a bed due to the high number of patients at the facility.
However, he is quick to add that the situation has not greatly impacted on service delivery as all patients are attended to.
"There are days two mothers share a bed, while some have complicated deliveries because of the high number of patients. We are planning to employ more nurses," Dr Gichuki says.
The facility also handles referral cases from neighbouring counties of Laikipia, Samburu, Bomet, Baringo, Kericho, Nyandarua and Narok.
At least 27,443 mothers have delivered in the maternity wing this year.
Related Topics