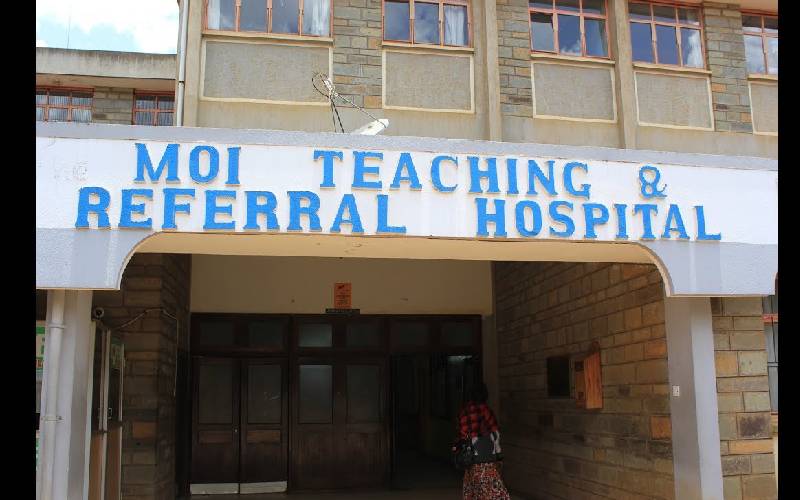 Five members of a family battling a strange ailment that has already killed 11 kin were yesterday taken to Moi Teaching and Referral Hospital (MTRH) in Eldoret. The seemingly frail patients from the family in Kiplokyi-Kapkeley village in Kipkelion East Constituency in Kericho arrived at the facility at 10.30am yesterday. Family members who accompanied the five relatives said some well-wishers came to their rescue after their plight was highlighted by
The Standard
and
KTN News
a week ago.
Half the family
SEE ALSO: Relief as Sh600 million out-patient wing ready
Richard Lang'at, the eldest in the family, said the strange disease had claimed half of his family since it first struck in 1978. Mr Langa'at, 52, said his mother was the first victim of the disease suspected to be hereditary. "We were 10 siblings but so far only four of us are still alive. The other six succumbed to the disease," Lang'at said. He said the family's hopes of survival were pegged on diagnosis being conducted by MTRH, the country's second largest referral hospital. Lang'at said those taken to MTRH were his sister, a brother and three children. According to Lang'at, the initial symptoms of the disease were incoherent speech and difficulty in walking. He said the patients later lost memory, became temperamental, developed sores on the mouth and face, had difficulty swallowing food before the condition degenerated into a mental disorder.
Different hospitals
"We have been taking the sick relatives to different hospitals in Kericho and health workers have been treating typhoid. We have not been able to take them for specialised treatment due to lack of resources," said Lang'at. Doctors at MTRH declined access and interviews with the patients, who were immediately booked in the hospital's emergency unit due to what they termed doctor-patient confidentially. Two of the visibly fatigued male patients immediately slept after a team of medics, including a Cuban doctor, stabilised them. MTRH Chief Executive Officer Wilson Aruasa, while confirming the arrival of the patients at the facility, said the hospital would issue a comprehensive statement as soon as diagnosis was done. Former Kipkelion MP Magerer Lagat, who is among those who facilitated the transfer of the patients to MTRH, called on more well-wishers to support the agonised family. Mr Lagat thanked Kericho County government for providing an ambulance and a nurse to accompany the patients to Eldoret. He, however, faulted the country's healthcare system, saying many families were suffering from strange diseases without intervention.
Unravel mystery
"This family has suffered since the 1970s and no action was taken until the issue was highlighted by the media. We believe MTRH will unravel this mystery," the former MP said. He said the family disclosed that the disease had also affected a five-year-old child of an extended member of the family in Trans Mara, Narok County. Another well-wisher, Wilson Koech, said he approached MTRH CEO after he read about the plight of the family. "It is sad that half of a family has been killed by an unknown illness. I urge Kenyans to come out and support the family," Mr Koech said. The family had previously said the Kaparangwek clan members had performed traditional Kipsigis rites several times to try and appease the gods and rid the family of deaths resulting from the diseases, but the situation did not improved.