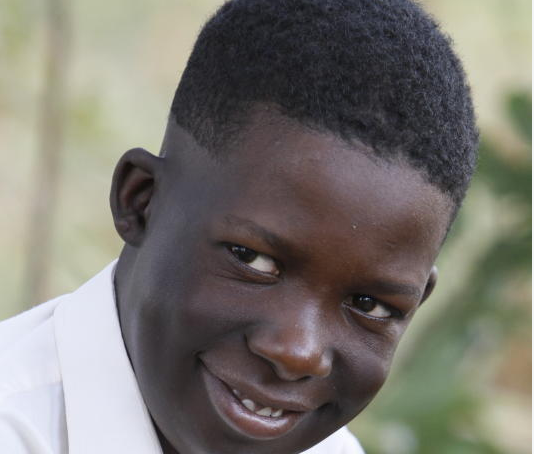 David Mambo, 15, believes he has the 'coolest' hair cut in the country. The sleek straight line stretching from his ears to neckline gives him a Mohawk look he is sure his parents would not have approved of.
"I will never grow hair around my hairline, so I will always be trendy," he says.
When he went through 33 rounds of radiotherapy, the rays killed hair cells at the back of his head, leaving a strip of curly front hair
Behind his new hairstyle lies a warrior. His story is that of a teenager in Kakanjuni village, Kilifi County, who battled cancer and is the sole survivor among several victims felled by the disease. His name is unmarked in the black book in which social worker Florence Kitsao record details of patients from low income families in Kilifi who have cancer.
The founder of "Mulika Saratani," a community base organisation, says she sees patients dying in rapid succession. When they die, she strikes off their names. Mambo's name stands out on the page as the only one who lived to tell what it takes to battle cancer in a region far from the capital.
Kitsao says there are months when she strikes off many pages of people who die because they are too poor to afford cancertreatment.
For Mambo, it started in 2016. He had debilitating headaches and ear pains. He describes it as feeling as if a set of drummers are playing uncoordinated percussions in the skull; a pain that steadily rises until everything is blacked out.
"When he screamed, people would stop to ask if someone was killing him," his father David Kahindi says.
They gave him strong painkillers, including one that knocked him out and sent him into a 16-hour slumber. But when he woke, he experienced excruciating pain. The many hospital trips and cocktails of medication yielded nothing.
Examined the lump
His mother Ruth Konde says she watched for eight months as Mambo tore off clothes from his body and ran around the compound yelling. In the scorching sun of the Coast, he would request to sit by the fireside.
"Sometimes he would chant, telling God that if He took away the pain, he will never make any mistake. It was driving him crazy," she says.
Towards the end of 2016, they noticed a mass of flesh through Mambo's left ear.
"When doctors examined the lump, they said he had head and neck cancer," Mr Kahindi says.
The diagnosis cast a glow in the gloomy reality. They could start the journey towards a cure.
Kilifi did not have facilities to treat his condition. He was referred to Kenyatta National Hospital – the place where Kahindi says he discovered he is raising a real man. One who would take dozens of needle pricks a day, without shedding a tear. When chemotherapy drips overwhelmed him, causing him to topple and fall onto the bucket where he had thrown up, he rose.
"This is a man! He would not wait for anyone to pick him. He would steadily lift himself," Kahindi says.
Deep in debt
Mambo smiles and gives a playful two finger salute. Like a typical teenager, he enjoys when conversations revolve around him. He admits that he was worried when the medication caused his skin to become charcoal black. His classmates are now KCPE candidates, but Mambo will have to enrol in Class Five.
"I will catch up. I cannot wait for Mathematics lessons. I hope they will not treat me like a sick baby," he says.
Kahindi hates discussing what is ahead. He does not like talking about the fact that his son's condition sunk him deep in debt he believes he will pay until he dies.
When the hospital bills got to almost Sh1 million, he had a discussion with his employer at Sokoke Secondary School where he is a messenger.
"I told them to give me a loan, and I will pay by doing manual jobs in the school," he says.
Deputy Head teacher Gerald Levu says they drew their savings to give him some money, and that it would take a 'miracle' for him to offset it.
"Even if he works for 24 hours every day, it will be forever before he pays it back," Levu says.
Kahindi has burrowed inside clogged toilets, dug farms, pushed handcarts and has now taken up painting to reduce the loan.
"I ask myself when it will all end…Mambo is a brilliant boy. All those internet things people do in Nairobi, like watching news on the phone…he shows us," he says
Mambo joins him to do odd jobs. Neighbours say they always see the duo walking with paintbrushes every morning, determined to settle the bill.
"Even when we are working, he does not complain. I have a real man!" Kahindi says.
Related Topics