Home
/
Health & Science
Yes, HIV positive mothers can safely breastfeed their babies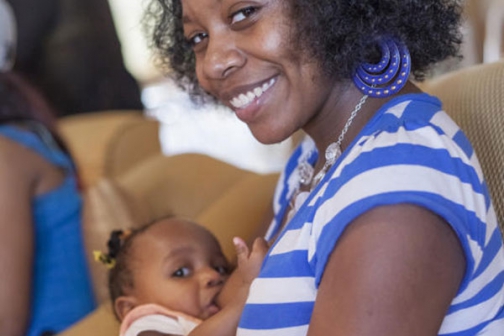 NAIROBI: Lucy Mukami, 23, exclusively breastfed her three children for six months despite being HIV positive.
The children aged eight, three and six months went for the confirmatory HIV test and were declared negative.
"Exclusive breastfeeding is possible even for HIV positive mothers like me. It's a journey that needs commitment and thorough mentoring, I have chosen to walk with mothers in ensuring infants are HIV negative," Mukami tells The Standard on Sunday.
She encourages women irrespective of their status to embrace exclusive breastfeeding in Mathare North, Nairobi, where she works as a volunteer mentor mother.
Her husband has also been encouraging her to meet the six-month mark for all their three children while still adhering to her ARV treatment.
"Naturally as mothers, we are protective thus even as I live with HIV, I made a personal promise to give them the best nutrition and guard them from being HIV positive," she said.
Her last born son who is now six months was born at 3.2kgs and now weighs 5.6kgs and attributes the gain in weight and not falling sick to her dedication on exclusive breastfeeding.
According to WHO guidelines, the current exclusive breastfeeding and the use of ARVs significantly reduces the risk of transmitting HIV to babies. Mothers who are HIV positive are advised to breast feed until one year while those who aren't not infected should breastfeed until the baby is two years.
Based on this empirical scientific evidence, from November 30th, 2009, WHO released new infant feeding guidelines by HIV-positive mothers that antiretroviral drugs should be taken throughout during breastfeeding and until the infant is one year to reduce risk of infection.
Nutritionist Jane Gathogo, who is based at Mama Lucy Kibaki Hospital in Kayole said: "Preventing Mother to Child Transmission of HIV is an all-inclusive journey that begins at the Ante Natal Clinic where we assess the health status of the mother from pregnancy to birth and thereafter with the sole aim of ensuring both mother and baby are in perfect health."
She said they address all nutritional concerns including craving for non-foods by giving folic, iron and other supplements and also checking that the mothers weight, blood pressure and other issues are addressed at all stages of pregnancy.
Mariam Salwa, 42, a mentor mother at Mama Lucy Kibaki clinic, says one of her children aged 22 is HIV positive while her last two children, aged 11 and eight are HIV negative.
"When I gave birth to my son two decades ago, there were mixed messages, myths and stigma on preventing mother to child transmission for breastfeeding HIV positive mothers and I ignored calls to seek expert help," Ms Salwa said.
Today we are seeing more HIV negative children because science and policy has encouraged breastfeeding by also ensuring that all mothers take ARVs during and enroll in a PMTCT programme.
Jane Njoki, a team leader who works at the Kenya Mentors Mothers Programme in Mathare North that encourages women to breastfeed exclusively, said HIV positive mothers face a unique challenge that needs to be comprehensively addressed.
Once HIV positive mothers are identified, they are allocated a mentor mother who ensures they understand their status, treatment and management, disclosure of status to relevant persons at appropriate times and drawing a birth and breastfeeding plan.
"We begin by counselling them and assuring them that a healthy mother and child are our key goals. We are committed to raising a generation of healthy HIV negative infants thus we have enrolled mothers in a programme where we walk with them from pregnancy, to delivery and the breastfeeding journey," Ms Njoki says.
For those who are HIV positive, she cited the delicate yet critical role of mentor mothers who are breastfeeding advocates having successfully breastfed their own children for six months.
"It's easier to emulate a person who has walked the same path thus mothers like Lucy are an integral part of the programme," she said adding that weekly support groups held on Wednesday allow for a more experiential interaction.
Unicef Kenya representative Werner Schultink acknowledged Kenya was doing well in encouraging exclusive breastfeeding but called for concerted efforts at the individual and national level.
"With its exclusive breastfeeding rate of 61 per cent, which is well above the global average, Kenya has made great progress in recent years. However, in the long-term, more needs to be done for more children to benefit from this natural and cost-effective life-saver," he said.
"Along with decreasing childhood asthma and obesity, breastfeeding can reduce the chance of diabetes and heart disease later in life. By improving maternal and child health, breastfeeding has a powerful role in the achievement of the Sustainable Development Goals," he noted.
Head of the Nutrition and Dietetics Unit at Ministry of Health Gladys Mugambi cited the importance of women being enrolled in a comprehensive programme to prevent transmission of HIV from mother to child. "We encourage this so that they can receive all the services required in a timely manner and this begins by ensuring they deliver under the care of professional birth attendants to prevent infection," Mrs Mugambi said.
And as Kenya joins the world to mark World Breastfeeding week that began on August 1st to 7th, Mukami reiterated the global call to 'support mothers to breastfeed anytime, anywhere,' and also recognises this as an anchor for sustainable development.
Related Topics