Home
/
Health & Science
Victim of blood disorder lends hand to those with same condition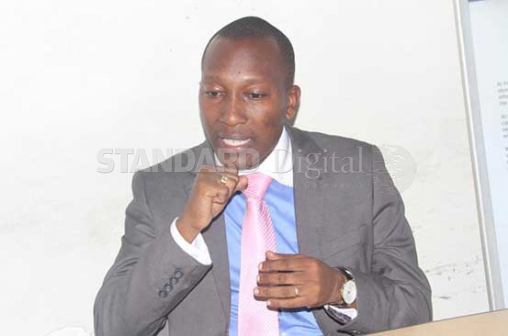 Bubbly and not deterred by a genetic blood condition that predisposes him to frequent bleeding, James Kago still exudes oodles of a positive spirit. He has since found a way to live life fully with haemophilia, a condition he was diagnosed with when he was only one year old. Born in Gachocho village in Murang'a County, Kago (pictured) remembers outgrowing his mother's and grandmother's laps to explore the exciting world around him.
"Crawling was painful; my knee joints ached endlessly and navigating outside was worse. I always had bruises that bled longer than usual and also took longer to heal," says Kago.
The swellings were worse and would take ages to heal, little Kago was discouraged from playing with his peers. Not long after, further medical investigations led to a diagnosis of haemophilia.
His mother and grandmother were told by the doctor to ensure that Kago did not engage in play that predisposed him to injuries, since the ability of his blood to clot was severely reduced, causing him to bleed severely even from slight injury.
However, these medical warnings only made a growing Kago less popular among his friends. "Playing the 'soft' games was not fun at all. I was always isolated because if I got injured, my grandmother would reprimand my friends," Kago says, recalling that this only led him to rebel against his family.
Favourable pastimes
"I wandered beyond our homestead and got involved in the dangerous games to prove that I was a worthy playmate. However, I would go home with swollen ankles and lots of bruises that gave way to painful nights," he says. And the play got dangerous. When Kago was eight years old, together with adrenaline-filled peers, they hang on the back of a pick-up to quell their desire for adventure.
"As we were enjoying our free ride, the driver noticed us and took emergency breaks to discourage us.
I hit my chin against one of the metallic guards of the vehicle, leading to uncontrolled bleeding of my gums," he says. His friends deserted him and when he got home, he paid the price for defying authority.
"I could not be treated at the local clinic and was referred to the Kenyatta National Hospital (KNH) where I got a series of stitches and was admitted for one month to ensure the wounds were well-healed," says Kago.
Kago had to learn to take up more favourable pastimes like swimming that gave him even more gratification than an aggressive game of football.
"Haemophilia is a painful and expensive disease to treat yet learning how to cope provides an almost normal lifestyle," says Kago, a human resource practitioner.
At 33 years of age, married and father to six-year-old Tifanny, Kago has also taken up the role of being mentor and big brother to his male cousins who also have the same genetic condition.
He counsels his five younger relatives aged between 32 and eight years old, taking them through pain-and-bleed-free lifestyles.
Kago, who is also the Kenya Haemophilia Association treasurer, cites the need to create nationwide awareness on the condition in order to improve the quality of life for individuals living with the condition and for families unaware of how to cope with it. "Once you know what you are dealing with, a normal life is possible," he says.
But just what is haemophilia? Haemophilia is a genetic condition where the gene that causes it is located on the X chromosome.
For this reason, males are usually affected as they are born with one X and one Y chromosome, (although one out of every three patients has no previous family history of the disease) while females bearing XX chromosomes are usually carriers of the gene.
It is estimated that one out of every 10,000 men in Kenya has the blood disorder. The ability of the blood to clot is severely reduced, causing the sufferer to bleed severely even from a slight injury.
The disease was first described in the second century in Jewish texts where rabbinical rulings exempted male boys from circumcision if two previous brothers died of bleeding after the procedure.
Blood contains proteins called clotting factors that can help stop bleeding but for people with haemophilia, they have low levels of either Factor Eight or Factor Nine, leading to the hereditary bleeding disorder.
A clotting factor is a protein in the blood that helps control bleeding.
Blood Specialist Kibet Shikuku grades the severity of the blood condition three-fold; mild, moderate or severe, depending on the level of clotting factors present in the person's body.
This said, men suffering from haemophilia bleed for a longer time during an injury. If uncontrolled, it could lead to anaemia.
Replacement therapy
"Some of the signs include bleeding in joints, into the skin when bruised, mouth and gums especially after a tooth extraction, after vaccinations or circumcision and having hard-to-stop nosebleeds," says Dr Shikuku.
He cites the available treatment for persons with this condition as replacement therapy, where clotting factors are given during a bleeding incident or as a preventive measure.
"There are 680 patients, including children, in Kenya who need the National Health Insurance Fund to cater for the ports to give medicine that costs Sh45,000 per patient. This would allow easy access to the factors that are currently funded at a cost of Sh650 million annually by the World Federation of Haemophilia," says Dr Shikuku, who also works at the KNH Haematology and Blood Transfusion Unit.
The doctor calls for the support to be increased to an additional Sh260 million from the government kitty to cover the remaining deficit of patients in the three distribution sites at KNH and the Moi Teaching and Referral Hospital in Mombasa.
The disease is normally diagnosed after an injury resulting from a cut or a fall. When it happens, continuous bleeding is experienced.
Kago encourages persons with the condition to embrace it. He borrows a line from Irish playwright George Bernard Shaw: "We do not stop living because we have haemophilia, we stop living because we do not believe life is beautiful".
Related Topics