Home
/
Health & Science
Conjoined twins who share liver born at Coast General Hospital in Mombasa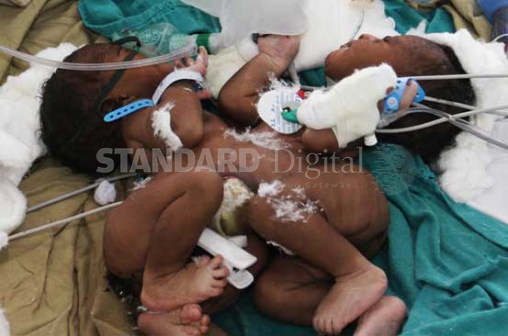 Conjoined twins were born at Coast General Hospital in Mombasa yesterday.
Addressing journalists at the hospital's intensive care unit, Chief Administrator Iqbal Khandwalla said the twins weighed 4.6kg at birth.
Doctors referred them to Kenyatta National Hospital in Nairobi for specialised treatment.
"The babies were successfully delivered after a cesarean section was done on their mother yesterday morning," he said.
He disclosed that preliminary scan tests done of the newborns who are co-joined at the abdomen downwards, revealed that they share a liver and a kidney. Their hearts are separate but very close.
possible operation
He said they have contacted the Amref Medical Emergency team to help airlift the twins to Kenyatta National Hospital for further tests that could lead to a possible operation to separate them.
"We have contacted Amref and as soon as they are ready with the air ambulance, the conjoined twins will be airlifted to Nairobi for specialised medical care," he said.
The twins' mother is said to be in stable condition.
Last week, Lydia Bonareri, 24, gave birth to conjoined twins at the Kisii Level Five Hospital. They died as plans to take them to Nairobi were being made.
Related Topics