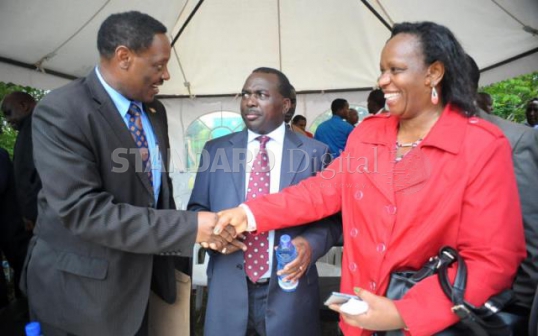 The Kenya Medical Research Institute (Kemri) plans to put up a multi-billion-shilling referral and teaching centre in Mwea, Kirinyaga County.
The facility, according to the Kemri Director Solomon Mpoke, would comprise a university, research centre, modern hospital and state-of-the-art diagnostic laboratory.
The laboratory, Prof Mpoke said, would ensure proper and professional screening is carried out by experts.
The research centre would also carry out various studies and surveys on water-borne diseases as well as malaria, which continue to ravage the region.
The facility will be built on 100 acres, which has since been hived off from Wamumu Approved School after the Cabinet gave a nod to the mega project.
Title deed
Yesterday, Governor Joseph Ndathi presented Mpoke with the title deed for the land, a move which will now pave way for commencement of construction of the Sh10 billion project.
Mr Ndathi said the hospital will be among the Vision 2030 flagship projects being undertaken by the Jubilee administration.
"Our people have had to travel far and wide in search of specialised medical services and some die before they get to Nairobi but this will now be behind us once the project is completed," he said.
The governor also said the presence of Kemri in the region, and with a project of such magnitude, would spur socio-economic growth.
POSITIVE CHANGE
"A univerisy institution coming to area turns the scales of the economy and brings about positive social change and, in this regard, I am urging the community around here to take full advantage and grow up together with this facility," Ndathi said.
Mpoke and his delegation were taken round the land and shown the demarcation beacons by the County Executive for Land Harry Mugo.
The Kemri boss said the construction of a perimeter wall would commence from the first week of January to make sure the land was secure.
"I am urging the community around this land to ensure we have enough skilled and non-skilled labour from this area so that we have everyone on board right from the start as the construction works take shape ," he said.
He assured the community that skilled labour would only be sourced from outside the county in the event there was none available in the area, while non-skilled workers would be sourced 100 per cent from the community.
Related Topics