Home
/
Health & Science
Why you should invest in Equity Banks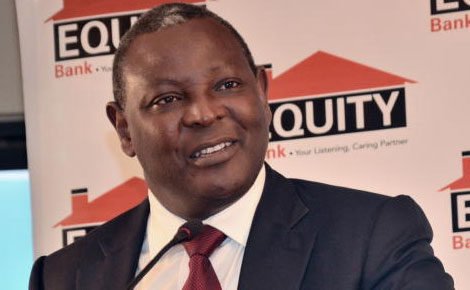 Equity Bank Chief Executive Officer James Mwangi
With the growing middle class, many 'small scale investors' are trying their luck in securities. A piece of advice from me is that any potential investor in Kenya's banking industry should focus his or her investment plans on the Equity Bank Group. The bank that was once ranked number 66 out of 66 in the financial sector ranking is now the largest financial institution by customer base in Kenya.
The world has even appreciated its effort through the various awards that the Chief Executive Officer James Mwangi has received. Its growth is attributed to his take over as the Strategy and Finance Director way back in 1993 with main focus on customer service.
Just months ago, Equity Bank launched the thin SIM–card which will be an open banking system allowing subscribers to send money to any bank account. It will also be linked to the Diaspora community. The thin-SIM technology was initially opposed by Safaricom on the basis that it posed security risks to its Mpesa customers. A Bernard Murage-an equity bank account holder also moved to court saying no public assurance had been made by Finserve and Equity on the security of personal data in their possession before the intended roll out of the thin SIM technology. The Communication Authority of Kenya and Central Bank of Kenya, however, approved the roll-out of the thin Sim over a period during which its technology will be monitored.
This was added potency by President Kenyatta backing the use of the new thin-SIM card technology during the 6th East African Business Summit in Kigali.
About 200,000 SIM cards have already been distributed to consumers. This is expected to boost Equity Bank's market share and generate more income.
Tax collection
Equity bank, through its Tanzania subsidiary has sealed a partnership with Tanzania Revenue Authority allowing tax-payers in the country to settle their taxes through its network.
The partnership is meant to enhance efficiency in tax collection and increase the bank's income following years of investment in the technology and branch expansion.
"As a corporate responsible local bank, committed to fostering national development in Tanzania, Equity Bank is very keen to enhance tax collection efficiencies," Equity Bank Tanzania Managing Director Joseph Iha said.
Plans are also underway to extend the payment of taxes, at all its branches and in all the 330 Agents countrywide, e-banking & mobile platform. With such partnerships, there is no doubt that the bank will increase its market share and be able to raise more revenue.
In the last 9 months, the financial provider has reported 25.6 per cent increase in pretax profit which is Sh15.69 billion from Sh12.4 billion over a similar period last year.
"The bank's successful implementation of its regional expansion strategy saw Equity Bank Tanzania, Uganda, Rwanda and South Sudan subsidiaries collectively posting a 51 percent and 13.7 percent growth in deposits and net profit respectively," Equity Bank Group CEO James Mwangi said.
The increase in the profit is alluded to non-interest income and falling provisions for bad debts. The group's agency banking network now has more than 15,800 agents representing a 70 per cent growth. All these gains are projected to be ploughed back to increase its investments and most probably more profits to investors.
Raise more revenues
The lender also plans to increase its agency services to include insurance and air tickets sales. These services will be expected to not only raise its revenues but also provide better customer services. This growth is attributed to its regional economic activities. With such huge profits in the third quarter of the year, the lender is expected to make more investments and consequently expand its business.
Equity Bank is a Kenya bank based in Kenya which is also present in Uganda, Southern Sudan and Rwanda .It is also the largest financial institution by customer base with over 5.7 million accounts which is 57 per cent plus of all the bank accounts in Kenya.
Related Topics