Home
/
Health & Science
Over a million Kenyans with mental disorders craving for care
Health & ScienceBy Joy Wanja Muraya | Sat,Aug 09 2014 00:00:00 UTC | 6 min read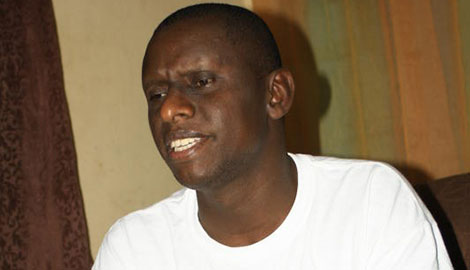 Sammy Macharia Njoroge during the interview with The Standard on Saturdayteam at his home in Thika.
Kenya: Mental disorders are complex. There is no magical cure.
It is even more complicated in a country without appropriate laws to regulate practice and practitioners rely on a Mental Health Act, dating two and a half decades back.
And in the mid of all this, is a society where 40-year-old Macharia Njoroge has struggled with drug and substance abuse, besides having a mental health condition known as bi-polar.
He refuses to be silent and has chosen mental health advocacy after spending nearly two decades in and out of four drug rehabilitation centres, two psychiatric units and prisons due to minor offences related to hard drugs and substance abuse.
"My problems began when I started taking marijuana and bhang in secondary school and later graduated to alcohol addiction as a student at then Kenya Polytechnic College where I was studying Electrical Engineering," says Mr Macharia.
Despite his dark past, he hopes to demystify a common myth that persons with mental disorders are difficult, not intelligent and incapable of making decisions.
The drunken stupors, stealing items in the house for sale to fund his addiction, abuses and violence painted him as the black sheep of the family. This led to stigma that not only cost him jobs, but friends too.
"Due to drug addiction, I could not hold a job for more than a month because I needed to be drunk to work and socialise," Macharia says of his former disastrous life.
He is not proud that he was enrolled at various rehabilitation centres including Asumbi in Homa Bay, others in Karen, including religious based centres to manage what he later came to learn was a dual problem of drug addiction and bi-polar disorder.
The cost of the drug treatment centres was exhorbitant, and he sank deeper into a mental health condition he says was yet to be diagnosed.
"The rehabilitation centres charge an average Sh120,000 for three months and includes medical therapy like detoxification, food and accommodation," says Macharia.
He says persons with mental health condition should be given a chance in society, not stigmatised, and believes the passing of the Mental Health Bill will fill gaps in an area that affects everybody in the society.
"Mental health details how you and I can productively interact in our environment, than setting each other aside," says the father of two aged three years and eight months old.
As an advocate of mental health at Users and Survivors of Psychiatry-Kenya, Macharia dares Kenyans to speak out about the highly misunderstood subject of mental health.
But what is mental health?
Mental health refers to a condition that changes your thinking, mood and behaviour.
The World Health Organisation notes that there is no health with no mental health and challenges countries to be consider their budgetary allocation towards the same and implementation of mental health programmes.
Kenya is yet to meet this target on both legislation and budgetary account for 1.4 per cent of the health budget.
Mental health specialist Lukoye Atwoli regrets that despite ratings showing mental illness is the largest cause of disability globally, Kenya is yet to show budgetary commitment to this condition.
"Mental health budgetary allocation currently stands at 0.0007 per cent of the national budget given that health budget is at five per cent of the entire budget. This paints a grim picture of our commitment to this critical area of health," says Dr Atwoli, also a lecturer at Moi University School of Medicine.
The Mental Health Act of 1989 is not in line with the new Constitution and efforts to discuss the policy and Mental Health Bill 2014 have dragged since the drafting began in 2012.
The current draft law is at the public participation stage and mental health stakeholders met this week at Panafric Hotel to streamline issues before it goes to Parliament for discussions. Between 400,000 to 800,000 Kenyans have bipolar according to global estimates of prevalence of the conditions per population, making it a critical public discussion.
"Bi-polar is highly misunderstood because of the extreme episodes of happiness and sadness that lead to neglected individuals, dysfunctional families and a highly stigmatising society yet when well managed the person can lead a highly productive life," says Atwoli.
When Macharia was diagnosed with bi-polar condition, it took a combination of medical assistance and group therapy to understand that his moods oscillate between extreme periods of happiness and blues.
What is bipolar disorder?
Atwoli says a person with bipolar disorder experiences alternating "highs" called 'mania' and 'lows', known as depression.
During a manic episode, the individual displays a sense of grandiose by believing they are famous, powerful, have a lot of money or that they possess special powers. "It is difficult to dissuade them that their feelings are beyond reality," Atwoli notes.
"During a depressive episode, the person is unusually sad, in in low spirits and have a sense of hopelessness and worthlessness that can lead to suicidal tendencies," he adds.
Other indicators of depression include losing interest in tasks the individual previously enjoyed, change in appetite, loss of sleep and a withdrawal from interactions.
The periods of mania and depression, vary from one individual to another with some having up to three years of normal mood between episodes of mania or depression.
Currently, there is inadequate data and information on the prevalence of mental and behavioural disorders in Kenya though it is estimated that one in every four outpatients and up to 40 per cent of in-patients in health facilities suffer from mental conditions.
Atwoli estimates that one to two per cent of the Kenyan population has bipolar disorder type 1. The condition tends to run in families with those with certain genes having a higher likelihood to develop it.
"In a family where either parents or other siblings have bipolar, the children have higher chances that they will have bipolar though there are other triggering factors like environmental factors and exposure to some illnesses" Atwoli notes.
By studying heredity factors, the scientists believe these genetic "hotspots" may also help explain how environmental factors can increase a person's risk. Bipolar disorder can occur at any age, although it often develops between the ages of 18 and 24 and it is during these two extreme episodes an individual needs medical attention, sometimes hospitalisation depending on the severity.
Further research has shown that in case of twins if one has bipolar disorder this does not always affect both, despite the fact that identical twins share the same genes.
The treatment and management of bipolar disorder includes taking mood stabilisers for specified periods, psychotherapy and when these two do not work, psychiatrists recommend Electro Convulsive Therapy (ECT).
During ECT, electric currents are passed through the brain, intentionally triggering a brief seizure causing changes in brain chemistry thus altering moods of the patient.
According to Atwoli, ECT is a safe and reliable means of treatment for forms of bipolar disorder and depression that have proved dormant to treat using other means with medication. His days at rehabilitation were a turning point for Macharia who says a personal commitment to stop taking drugs and understanding his mental health issues has propelled him to a modern-day health advocate, a husband and a father.
"When I stopped taking drugs, I met Phyllis Wambui who understood that I had mental health challenges, but not incapacitated," said Macharia.
Related Topics