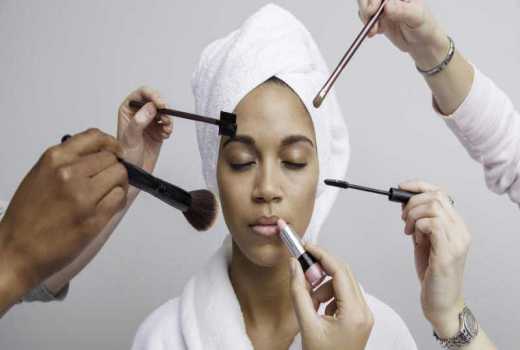 Every day, thousands of Kenyans throng stalls on Dubois Road in Nairobi to buy 'cheap' beauty products.
During peak hours – between 9am and 4pm – the corridors lining the stalls that make the infamous 'Dubois beauty stores' are chaotic. Customers yell to catch the attention of merchants who are often buried behind huge boxes containing counterfeited products of top brands such as Mac, Milani, Urban Decay among other bestselling products.
"We know they are fake, but we use them because they work," says Isabella Adhiambo. She says she has never looked beyond Dubois since she discovered the world of knock offs that the shops offer.
Among the clients are retailers and wholesalers who buy the counterfeits and sell them as original products to unsuspecting buyers. Some of the Dubois merchants tell the Saturday Standard that they supply popular cosmetic shops in major towns.
"Beauty stores come to us and buy products at Sh200 per piece. They then price them 10 times more than we sell to them," says one of the merchants, adding that a higher price convinces buyers that the products are genuine.
Emma Mwai, a Nairobi-based make-up artist says the infiltration of fake cosmetics in Kenya has forced most people in her trade to either make online purchases from international stores, or organise to travel to the US or Europe where they are sure they will get genuine products.
"It is a multi-billion shilling industry, but there are a lot of fakes. You have to be careful when you are buying. You cannot trust anybody," she says.
Emma says dubious make-up artists use fake products on their clients and charge them the Sh4,500-Sh7,000 rates per session that was the average before people discovered the cheap shops of Dubois.
"Fake make-up products make it possible for an artist to charge as low as Sh1,000. It makes business very difficult," she says.
She has also been a victim of fake products. She narrates how she bought an eye shadow pallet from a popular vendor, only to realise it was fake when she took it home.
Watch of regulators
"It was chalky. Almost like putting dust in your eyes. It makes you wonder what they put in those things," she says.
A spot check on cosmetic shops in the city revealed overwhelming numbers of fake products being shipped into the country under the watch of regulators.
A comparison of the original product and the counterfeit showed immense differences in packaging, consistency, smell and pricing.
Kenya Bureau of Standards (Kebs) Managing Director Charles Ongwae says various stakeholders will have to work together to completely eliminate the products and to ensure the contraband does not make it past the borders.
He says even though they have conducted numerous raids and destroyed substandard products, they are working on ways to ensure they do not reach consumers.
"We are currently working with the pharmaceutical board and we have signed a memorandum of understanding to make it mandatory that products must come in the country with a certificate of conformity," Ongwae says.
As they struggle to make policies, vendors are using the loopholes in legislation to cash in on the growing beauty industry that collects billions of shillings in revenue.
Multinationals such as L'Oréal, Unilever, Mac and other players have recently come on board to woo Kenyan buyers by partnering with merchandisers, but the emergence of fake products could choke the market from which they hoped to reap billions of shillings.
"Why would anyone buy L'Oreal foundation that retails for about Sh2,500 in the supermarket, when you can get a knock off at Dubois for Sh400?" paused Amina Abdi, a make-up enthusiast who runs a beauty channel on YouTube.
Johnson Adera, Deputy Director, Enforcement and Legal Services at the Kenya Anti-Counterfeit Agency, says the law does not allow them to act on the products without a complainant. "If manufacturers of the original products do not raise a complaint, it is difficult to act," he says.
He says they often arrest importers of the products at entry points, but are forced to release the products, since the law binds them to return the products after 90 days if there is no complainant.
"The people bringing in the products are conversant with the law. They ask us to give them letters on who has complained," Adera says. He says all is not lost though, as there is legislation in Parliament that will compel sellers to have letters from manufacturers allowing them to sell specific products.
"Their days are numbered. They will go out of business soon."
He acknowledges that there is uncertainty on when the law will be passed, and counterfeit cosmetics will be in the market until then.
Make-up YouTuber Crystal Olisa says consumers should be careful on what they buy, as they can be harmful to the body. "Buyers have to take responsibility for what they are using because your life is yours to protect," she says.
Even as health experts warn of the consequences of using unregulated products, with some warning of possibilities of cancer, and even death, Kenyans continue to use the products, oblivious of the dangers.
Related Topics