Home
/
Health & Science
Covid-19 worsened shortage of condoms, HIV testing kits, ARVs
Health & ScienceBy Mercy Kahenda | Wed,Dec 01 2021 07:00:00 UTC | 6 min read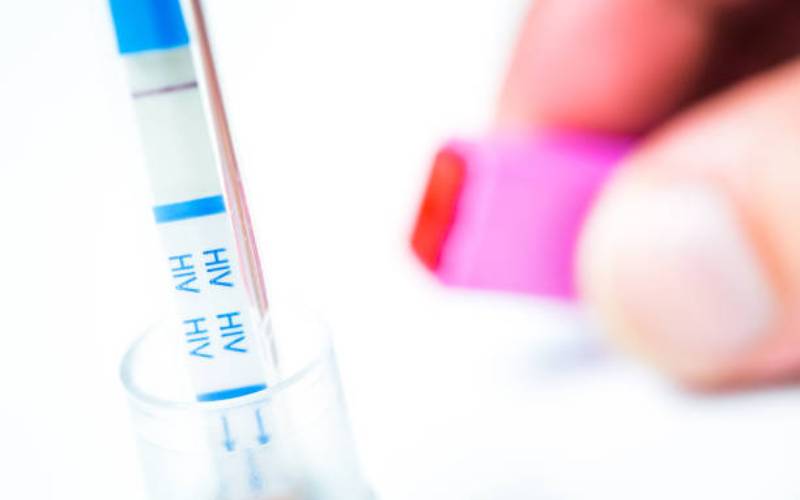 Nancy* a mother of four who is living with HIV was anxious after contracting Covid-19 when she was four months pregnant with twins.
The 43-year-old from Gilgil in Nakuru County was uncertain of her safety and that of her babies.
The viral disease presented with dizziness, persistent dry cough, severe headache, general body weakness and breathing difficulties leading to her admission to the Nakuru Level Five Hospital. She was discharged after ten days, but worries of infecting her babies with HIV grew after failing to undertake viral load tests due to a lack of testing kits.
Nancy nurtured the pregnancy blindly- and at 34 weeks, she underwent an emergency C-Section at the Margaret Kenyatta Mother-Baby Wing, at the Nakuru Level Five Hospital.
Despite successful delivery, the babies HIV status was not known due to a lack of PCR testing kits.
They were instead given prophylaxis and put on zidovudine, nevirapine (drugs that prevent transmission of HIV from mother to child).
"I am blindly raising my babies," says Nancy who requested to remain anonymous. "I do not know if they are HIV positive or negative, neither am I aware of my viral load. I do not know whether we shall live to see tomorrow," regrets the mother who delivered a boy and a girl four months ago.
As Kenya celebrates the World AIDs Day marked annually on December 1, Nancy is among hundreds of mothers who are fighting HIV amidst complications occasioned by the Covid-19 pandemic.
Procedurally, babies should be tested immediately after birth, at six weeks, six months, 12 months and 18 months-when if they test negative, they do not use ARVs. But if infected, are started on the daily lifelong journey of using ARVs and septrin.
Newborn babies should be put on exclusive breastfeeding for six months. Nancy is confused about whether to stop breastfeeding as it poses a high risk of passing the virus to the twins.
"What if my babies already contracted the virus? Would stopping them from breastfeeding keep them safe? This is the toughest encounter in my life. Each day I pray unto God to keep them safe," narrates Nancy.
Prof Matilu Mwau, an infectious disease specialist told the Standard that if a newborn baby who has HIV is not treated within five years, 50 out of 100 of them will not celebrate their fifth birthday.
"Diagnosis is important to help decide on whether a child will be placed on treatment so that within the fifth birthday, they are alive. If this is not done, more than half of them will be dead, before the fifth birthday," said Prof Mwau.
He adds: "If not treated, children will develop AIDs. Someone can only be treated if what they are suffering from is known."
Prof Mwau, also the deputy director at Kemri, explained that the HIV virus damages the immune system, making it difficult for the body to fight diseases.
If someone has AIDs, the immune system is not able to fight infectious agents that are found in special circumstances like TB, flu and candida.
He added that some medicines like nevirapine are given to babies born of HIV positive mothers to prevent infections, both at birth and during breastfeeding.
"If a baby is born, and the mother is positive, most likely, the baby is negative, but during the process of birth, the baby is exposed to HIV from the mother through the placenta. This is why drugs must be given to protect them," he offered.
But at the moment, Kenya is facing an acute shortage of rapid testing kits, viral loads kits and condoms that help prevent re-infection among partners with the virus.
Prof Mwau regretted that the Covid-19 pandemic has tapped resources that are used for managing HIV as,
"Covid-19 is looking for the same money, same hospitals and HIV positive people are getting hammered by the pandemic. We must think through new ways of using the resources we have more efficiently. HIV is yet to have a vaccine, unlike Covid-19 that already has it – it is possible to mitigate effects of HIV by getting vaccinated."
There is also an acute short supply of ARVs, an issue experts say might result in defaulting.
Studies reveal that ARVs prevent a high-risk HIV negative person from getting HIV, through Pre-exposure Prophylaxis (PrEP).
Without daily uptake of ARVs, patients develop resistance to them and they could die within months of stoppage.
They also prevent transmission of HIV from an HIV infected mother to their unborn or breastfeeding child.
The challenge risks reversing gains made in reducing mother-child transmission, which currently stands at 11.5 per cent according to the 2018 data from the Ministry of Health.
The National Aids and STIs Control Program (Nascop) head, Dr Cathrine Ngugi, admitted to a shortage of HIV testing kits, and some hospitals were supplied with PCR testing kits last week, according to sources, but tests are only limited to children between six and eight months old.
By virtue of being a community health volunteer on HIV, Nancy was lucky to test her babies- but it will take about one month to receive results.
"I am so anxious to know the status of my babies," she says. "If they turn negative, I will be the happiest mother, and take more precaution of not infecting them...but if positive, I will know what to do."
As a precaution to prevent infections, she gives the babies nevirapine and septrin daily.
Neverapine are in short supply, while septrins, drugs that protect babies from opportunistic infections are out of hospital shelves.
Nancy spends Sh150 on septrin syrup for the babies every week, and Sh10 every day for her adult septrin to keep opportunistic infections at bay.
"Failure to use septrin compromise my immune system, with diseases like flu causing death. I am therefore keen on the health of my babies," explained the mother who was diagnosed with HIV in 2003 and was later placed on ARVs in 2012.
"I decided to refrain from giving birth, and after learning dos and don'ts in HIV care, I gave birth to bouncing twins, only to subject myself to distress," regretted Nancy who cannot use hormonal family planning methods as she is a survivor of Deep Vein Thrombosis (blood clot) due to use of ARVs.
"I am forced to abstain from sex, because immunity of my babies depend on me, and if I get re-infected, I might carry the virus to them, risking their premature death,"
Prof Mwau explained that just like corona virus that has variants of concern, an HIV person can be infected with a variant that is more aggressive, with mutations that makes it resistant to treatment.
HIV patients are therefore advised to avoid re-infection, by using protections like condoms-which are also in short supply.
At a glance:
32, 000 - New HIV infections recorded in Kenya in 2021, a slight drop from 42,000 in 2020, according to the National Aids Control Council (NACC).
5, 492 - Estimated number of new HIV infections among teenagers between 10 and 19 years.
53, 236 - Estimated number of women living with HIV on ARV prophylaxis to prevent transmission to their newborn children.
635, 500 - Estimated number of HIV-related deaths averted since the scale-up of ART began in 2004 to 2017-the year use of Antiretroviral Therapy increased to 1,388,200 from 627,900 in 2010.
Related Topics