Home
/
Health & Science
CS Kagwe: You should not pay to be vaccinated for Covid-19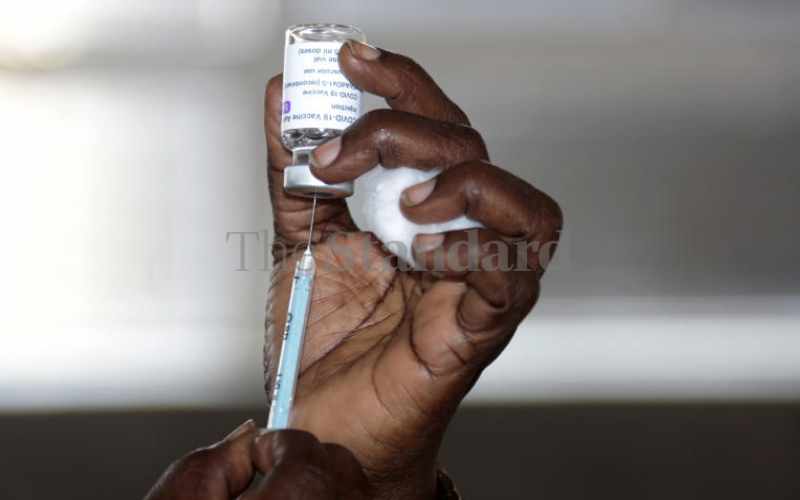 The Health Cabinet Secretary has urged Kenyans not to pay to be vaccinated for Covid-19.
Further, CS Mutahi Kagwe added that only the Health ministry and the county health teams are responsible for vaccination drives.
"If they ask you to pay, take the vaccine, then refuse to pay," he said.
Speaking at Afya House when he issued a Covid-19 update, the CS said healthcare teams are trained to ensure the maintenance of the cold chain system and potency of the vaccine.
Kagwe warned those selling or administering Covid-19 vaccines outside the Health ministry designated sites that they risk being prosecuted.
Vaccines that are not stored and transported per the established protocols are likely to lose potency and will not be of use to those who receive such vaccinations.
CS Kagwe added that the administration of any vaccine should be done by a qualified and duly registered clinician or nursing staff.
"Those staff must also have received recent training on vaccination administration. Any other person doing so will be violating the law," he said.
Vaccinations that are not properly administered will lead to side effects that could lead to death.
Kagwe criticised some politicians, whom he said are hurting gains made in the fight against the spread of Covid-19.
"It is immoral and unacceptable," he said. "This has the potential of endangering the lives of the public."
The CS warned health workers against colluding with outsiders to issue them vaccines without authority from the MoH. Those caught will be subjected to disciplinary action, he said.
Kagwe also urged health facilities to account for all doses received, administered, and those remaining. Facilities that cannot answer accountability questions risk being delisted.
Slightly over 790,000 Kenyans have received both doses against Covid-19, according to the Ministry of Health.
Men are the majority of those who have been fully vaccinated or have gotten the first dose.
Nairobi County also has the highest number of people who are fully vaccinated while Marsabit has the lowest vaccination since vaccination campaigns began this March with the main targets being front-line workers, teachers, security officers and those above 58 years.
Of this cohort, data from the ministry shows that health workers have the highest number of those fully vaccinated followed by those above 58 years.
Dr Willis Akhwale, the chair of the Covid-19 Vaccination Taskforce, asked Kenyans to continue observing the health protocols and regulations put in place as the vaccines do not prevent transmission, but will only prevent severe disease or avert death.
Related Topics