Home
/
Health & Science
CS Kagwe: You will get your second Covid-19 dose, don't worry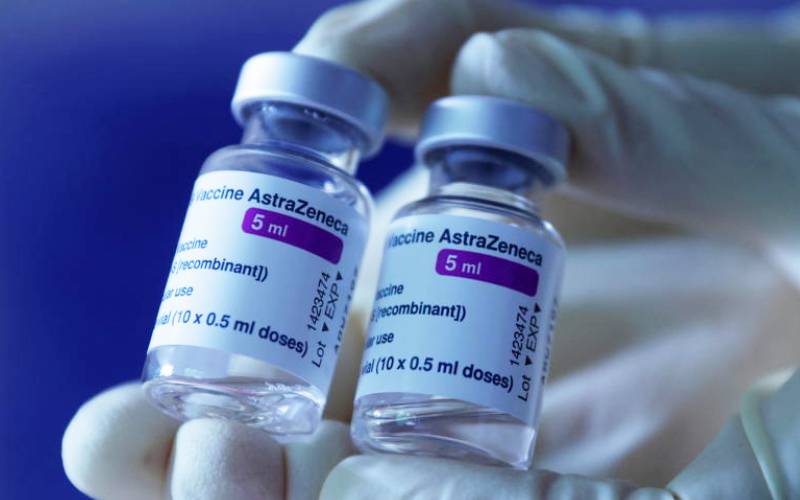 Health Cabinet Secretary Mutahi Kagwe has said all Kenyans who got their first Covid-19 vaccine dose will get their second dose at the expected time frame.
The due date for the second dose will be communicated via an SMS from the Chanjo System, 48 hours prior to the vaccination.
The Ministry also urged all those in the targeted priority groups who received their first dose to ensure they take their second dose as this will give them full protection against Covid-19.
"The first dose only gives you partial protection while two doses give you full protection."
As of today, a total of 1,030,445 vaccines have so far been administered across the country. Of these, the total first doses are 979,955 while the total second doses are 50,490.
The uptake of the second dose among those who received their first dose is at 5.15 per cent with the majority being men at 57 per cent while women are at 43 per cent.
The proportion of adults fully vaccinated is less than one per cent.
Health CS Mutahi Kagwe on Thursday warned Kenyans against getting the Covid-19 vaccine from unauthorized facilities, especially those that claim to offer Covid certificates.
While speaking during the commissioning of KNH microwave equipment which employs non-burn technology on medical waste treatment, Kagwe noted that some hospitals might be vaccinating people with water and making them pay for it.
"The DCI has moved in some facilities that have been illegally vaccinating people for Covid-19 and charging them for that vaccination and I would like to tell Kenyans that such exercises that are going are illegal.
"Chances are that you are not even being vaccinated with proper vaccines. There is every possibility that you are even being vaccinated with water and paying for it and therefore I want to warn the country and Kenyans at large first, vaccination in Kenya is free, nobody should be charging you for it," he said.
Meanwhile, the first man in the world to be given the Covid vaccine has died.
Tributes were paid to 81-year-old William Shakespeare who hit global headlines on December 8 last year when he became the first man to have the jab at the University Hospital Coventry and Warwickshire.
Bill, as he was fondly known, passed away last Thursday after suffering a stroke - at the same hospital where he famously received his vaccine.
His picture appeared on front pages across the world - much to both his and his family's delight.
Related Topics